Summer Stripes ~ Eberjey
May 28, 2012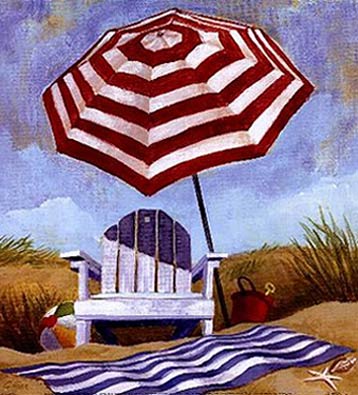 It has been crazy hot this weekend; classic Memorial Day weather, a salute to the arrival of summer. I do not know why this holiday makes me think of all things nautical; beaches, boats, lighthouses and escape, but I suppose growing up on Long Island and living so many years on the ocean watered my psyche.  The strange thing is, because of my proximity to the shore, I never really participated in the NYC summer week-end exodus to Jones Beach, Fire Island and the Hamptons, just to name a few.  Instead, we hunkered down all season and waited for friends to find us.  There is nothing like the casual culture of a sea side community to relax one's winter soul: the early morning bike rides on the boardwalk, the ferreting for starfish and seashells in the jetties with my children, picnicking on fried chicken and grapes under a striped umbrella while watching castles and tidal pools morph in the sand. Dressing light is status quo.
Eberjey's Coastal Stripes Collection with its easy, loose fit is exactly the type of gentle apparel that reflects this easy-going lifestyle.  This brand, known for its soft, delicate and comfortable intimates has expanded its reach by recognizing the growing importance of the loungewear category to the Lingerie industry.  These styles, anchored by the racer back tank (T1100R) and drawstring PJ pant (Z1100) pictured here are designed in a clean, contemporary navy and white stripe confirming Eberjey's grasp on the importance of seasonal separates capable of traveling from the bedroom to the beach.  Constructed in the brands signature viscose/ spandex fabric to fit S-M-L, they are definite crossover pieces.  I would not be surprised if I saw them saunter by me seaside while relaxing in my sand chair with my feet in the water.   Inquiries: Info@eberjey.com
"To Everything There Is A Season" . . . .Ecclesiastes
.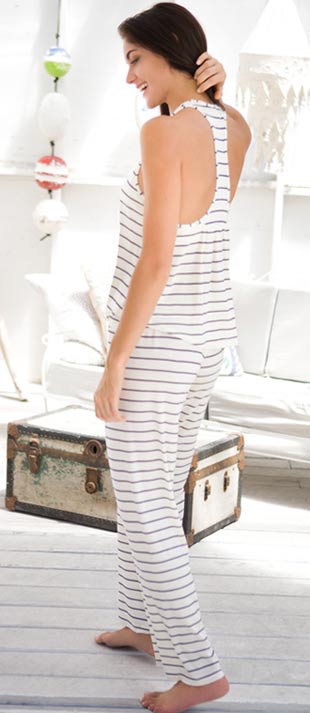 Available At:
Sol Store of Lingerie:  Denver, CO
Allure Intimate Apparel:  Mequon, WI
Hard Rock Intimates:  Las Vegas, NV
A Tropical Affair:  Santa Barbara, CA
Drench Day Spa:  Ridgeland, MS
Cicada:  Oxford, MS
Basics Underneath:  New Orleans, LA
Bonne Nuit:  Jacksonville, FL
Belle Chambre:  Altlanta, GA
Georgie Girl:  Haddonfield, NJ
Sweetest Sin:  Red Bank, NJ
Soleil Toile Fine Lingerie:  New Canaan,CT
Fred:  Old Greenwich, CT
Lulu's:  Guilford, CT
The Hope Chest:  Haverford; PA
Embrasse-Moi:  Pittsford, NY
Jolie Fleur:  Hewlett, NY
Complements:  Easthampton, NY
Qlosette:  New York City, NY
Alure Lingerie:  New York City, NY
Bonne Nuit:  New York City, NY
Pink Slip:  New York City, NY
Petticoat Lane:  Alice Springs, NT
Holt Renfrew:  Montreal, QC
Nordstroms: select stores
ByLangley.com
Shopbop.com
Net-A-Porter.com
Herroom.com
.

READ:  Bridal Briefs:  "A New Focus"
by Ellen Lewis 

READ:  Lingerie That Lingers:  "Impossible Conversations At The Met"
by Layla L'Obatti

READ The Glamour Shrink: "Androgeny, Marriage, What The Hell!"
by Amanda Horan Kennedy

READ Literary Lingerie: "The Literary Woman ~ Intelligent Lingerie"
by Morgan O'Neill

READ Intimate Innovations "That's A Wrap! Shapewear Innovations From Bodywrap"
by Ali Cudby