Frou Frou Living ~ In Cabo
June 19, 2012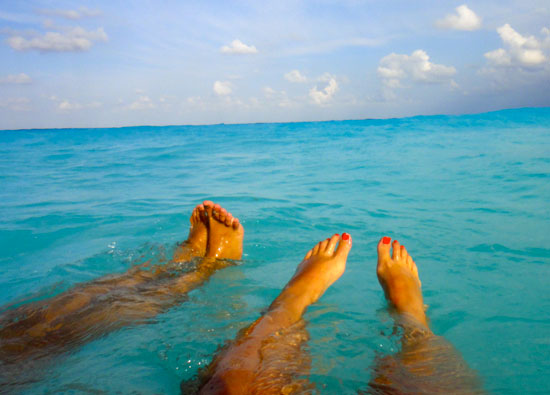 I am a bit late this week with my blog but things slow down in Cabo, and I just could not muster up the creative juices after arriving here Saturday.  Once I had downed my customary first night Margarita and Green Chile Soup at the marina, I was already elsewhere and not in a computer state of mind.  Sunday is my regular writing day, but the beach was beckoning after which I just had to get a $20 Swedish massage that lasted 70 minutes.   We're building a house here and there is much to tackle but the rule of thumb is laid back.  It's something in the air.  It just infiltrates the blood and bursts the New York "gotta get it done bubble"; so please forgive my lapse.
Perfect attire for this relaxed environment is very lightweight cover-ups and so when I learned of the retail success of the Frou Frou Living Collection lounge dress (#5156-F109), it struck me that this would be a perfect item to bring here.  Designed in 100% crinkle cotton voile with stretch lace detail, this tiered sundress has a distinctly Mexican flair.  Available in five colors to fit sizes S-1X; it is the perfect casual solution for a hot summer day. Inquiries: info@kenan.ca
"Relax your Feet" ~ Sir Laurence Olivier
Available At: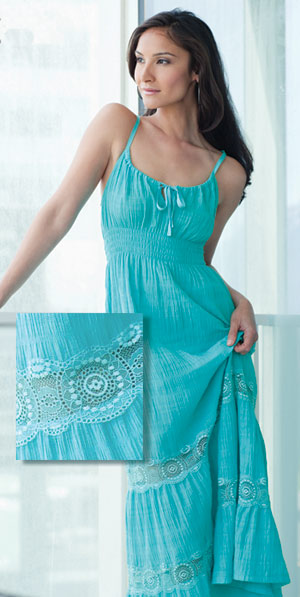 Trousseau: Vienna, VA
Calla Lily:  Sacramento, CA
Couleur Cosmetics:  Shreveport, LA
Winmax:  NYC,  NY
Vidakafka:  Woodstock, NY
The Fitting Touch:  Birmingham, AL
Underthings:  Chicago, IL
Pretty Lady:  Hato Rey, PR
Suzanne's Linens:  Nichols Hills, OK
Johari Lingerie:   Montclair, NJ
Exclusivities Monique Plus: Montreal, QC
Lingerie Mille Et Nuit:  Gatineau, QC
Collange Deux: Montreal, QC
Lingerie St. Germaine:  Rimouski, QC
Les Dessus Dessus: LaChute, QC
Charlotte Fashion, ON
Inside Story:  Mississauga & Oakville, ON
Lingerie Vanessa, ON Mont-Laurier, QC
Mahogany Spa:  Ottawa,ON
Jacquie's, ON
Bigley Shoes & Clothing:  Bobcaygeon,  ON
Creme de la Creme:  Toronto, ON
Infinite Lingerie:  Southhampton, ON
Zihua Boutique:  Bancroft ON
Serena's Ladies Wear:  Blenheim, ON
Silhouette Fine Lingerie:  White Rock, BC
Diva Lingerie:  Winnipeg, MB
Your Finest Things Lingerie:  Tecumseh, Ontario
.
.
.

READ Bridal Briefs: "Bridal Q&A"  by Aimee Gunthinger

READ Legwear Briefs:  "Hitting The High Note ~ Philippe Matignon"  by Cristina Casciano-King

READ Literary Lingerie:  "The Horican~ Nature's Lingerie"  by Morgan O'Neill

READ Intimate Affairs:  "Intimate Insider News"  by Moira Nelson

IN THE DESIGN LAB: "Primordial Lingerie ~ Obsidian" by Ellen Lewis