Curve Alert One ~ Fraulein Annie
July 30, 2012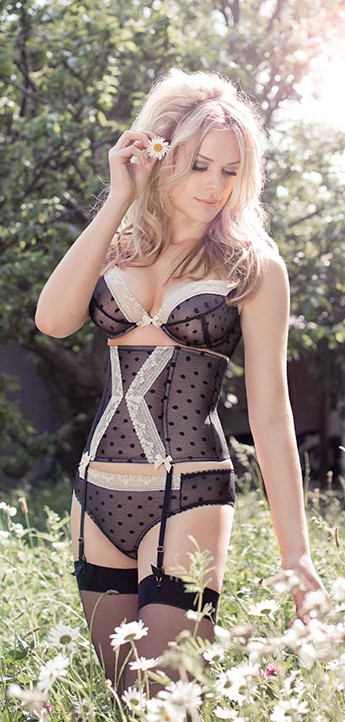 My mother taught me a very valuable shopping lesson when I was young that I believe has informed my entire approach to buying, both personally and professionally throughout my career.  If you see something that you think you really want, walk away from it.  If, after some breathing space, you can't get it out of your mind, then perhaps, the product is worth a second look.  This is where instinct and insight take form in a merchant's psyche.  Why does it appeal to us: is it pleasure, function or profit?
Whenever I go to a trade show, I try to practice this credo.  The level of energy and stimulation emanating from such a focused marketing venue can be overwhelming. Urgency can overpower logic. It is important to study, research and never over react.  New brands and new product should be reviewed, but there is much to be said about consistency.  That is why I often wait until I see a collection evolve.  I am particularly excited to see Fraulein Annie's spring 2013 lingerie and swim line.  I first noticed these sexy intimates at the 2011 Salon De Lingerie, and was intrigued by the excellent technical workmanship and beautiful details on styles ranging in sizes 8 – 18 and A – G cups. Sophisticated designs with a hint of retro glam defines the Fraulein Annie charm. Continued expansion in North America only reinforces my initial instinct that this design house has what it takes.
. 
"Scene D'Amour" Spring 2013

.
.
.
.


READ THE DESIGN LAB:  "The Designer Showcase ~ With Love Lingerie" by Luis Paredes