Express Yourself ~ b.tempt'd
October 2, 2012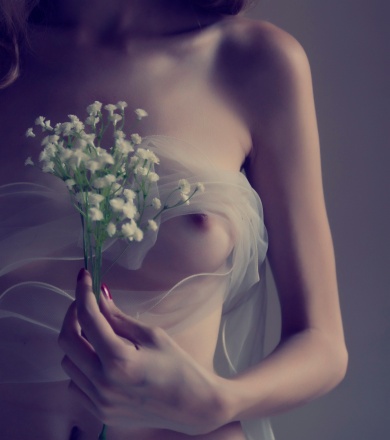 This is National Breast Cancer Awareness Month, a very important time for those of us who spend our lives dedicated to the belief that all women should have the chance to feel good about themselves.  For me, it is a particularly poignant month, the anniversary of the death of my beloved friend and sister in law, Celeste, who lost her life to Cancer.  I do not usually use this space to expound on issues political or otherwise, but today, I feel compelled to express my point of view on this very critical cause, valiant in purpose, but perhaps just a bit shortsighted in vision.  Of course, the health of the female breast has a special bond for those of us passionate about the world of intimate apparel, and I do not feel at all compromised that so much commercial fervor has perhaps blurred the boundaries.  There are those who believe that money could be spent more productively.  But I believe that any method of bringing a problem front and center is critical to its resolution.  My only objection is the narrow focus on one type of this horrible scourge.  Celeste died from anal cancer. She lamented throughout her battle, the lack of support for women everywhere afflicted with any form of this disease. The need for support and a sense of self-worth is the same, no matter where cancer lives.
Using the power of brand positioning to bring attention and funds to the research required to cure this disease is a major initiative at Wacoal-America through their Fit For The Cure® program.  I can not help but think of their resolve  to reach all women in need when I review the sassy and outspoken b.tempt'd brand.  These designs incorporate the Wacoal focus on fit and function while giving voice to a whole other feminine profile. Aptly named The Express Yourself Collection, this molded t shirt bra is available in 30-36, B-DDD. Shown here with the matching tanga in sizes S – XL this set is an entirely new way of saying "I am here and I matter"
"I Am Not Afraid Of Death; I Just Don't Want to Be There When It Happens"  Woody Allen
.
Available At: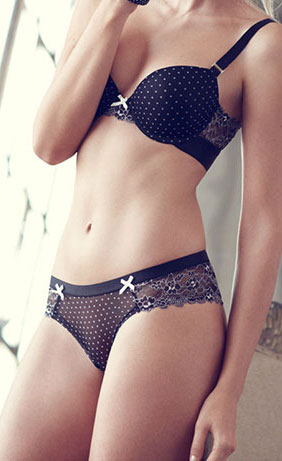 Bare Essentials Plus:  Wilmington, DE
Bertha Church:  Burlington, VT
Bra –La-La:  Fulton, MD
Bra Savvy:  Matawan, NJ
Bra*Tenders:   New York, NY
City Drawers:   Belfast, ME
Flirt Boutique:  Saint Paul, MN
Jay Ann Shop:  Huntingdon Valley, PA
Jo Karen: Acton, MA
Johari:  Montclair, NJ
Knickers of Hyde Park:   Cincinnati, OH
Lace Silhouettes Lingerie:   Stone Harbor, NJ
Pampered Passions Fine Lingerie:  Englewood, CO
Saposh Lingerie LLC :  Brooklyn, NY
Tina's Closet:  Lisle, IL
Up Bras That Fit:: Escanaba, MI
Whispers From Lady Olga: Milford, CT
Bra Specialties:  Alexandra Pike, KY
Comfort Zone Boutique:  Medford, OR
Intimate Boutique:  West Hampton Beach, NY
Kiss & Make Up:  Richmond, VA
Lady K Lingerie:  Denville, NJ
Personally Yours;   Bedminster, NJ
Elegance Underneath;  Naperville, IL

READ BREAST BRIEFS: "New Approach To The Cure" by Elisabeth Dale

READ BRIDAL BRIEFS: "Lingerie Honeymoon Guide" by Aimee Guthinger

READ INTIMATE VISION "The Art Of Dieu Donne" by Marina Rybak