Artful Imagination ~ The Tube by Cosabella
October 23, 2012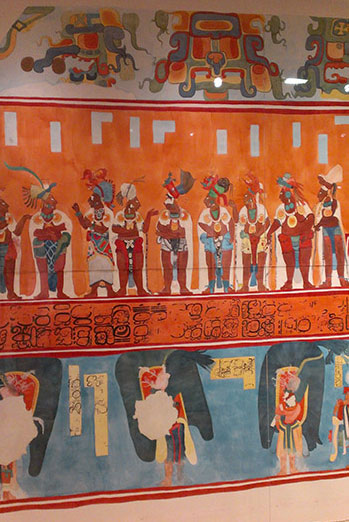 A few weeks ago I met my brother on a rainy Sunday in New Haven for a lunch meeting that went awry.  We decided to make the best of it by visiting the Yale University Art Museum.  I knew we would find an aesthetic gem somewhere inside.  And there is was: the Murals of Bonampak, in replica, on the gallery's walls. This Mayan artwork, discovered in 1946 in a remote temple in Chiapas, Mexico, is considered the premiere example of Mayan mural art in the ancient Americas.  Rendered in 800 AD, the astonishing detail depicts a courtly way of life, replete with royalty, ritual and the objects of social interaction that define this ancient pre-Hispanic society.   What makes them so unique in Mayan art is the rich variety of colors and sophisticated painting technique; thus, validating these frescoes as a visionary discovery and valuable window into a lost world.
Two days after I saw these extraordinary murals, I was downtown at the Cosabella flagship store where their new Sauve Tube was in full launch mode.  I was reminded of the multi-purpose and colorful costumes that embellished the story told in these historical paintings. The Tube, available in a luscious fall palette was displayed in plenitude on a frieze of window mannequins and tables.  The entire presentation was homage to the lifestyle heritage of the Cosabella brand.  This unique item, designed in a cashmere blend, is a simple tubular construction that can be worn in so many different ways, it might defy the imagination. Cozy, soft and unbelievably comfortable, this one size product layers the torso as lingerie or outerwear.  The story it tells is only a matter of interpretation, but without a doubt, it is an apparel development well worth review.
"This Is The Kind Of Discovery That Resonates."  ~ Saul Perlmutter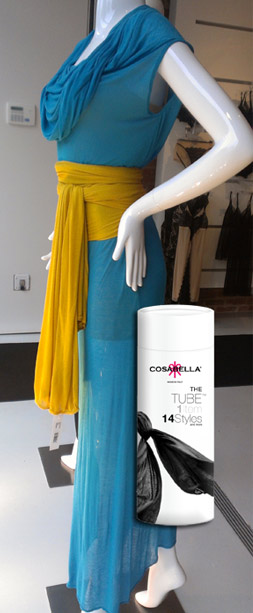 Available At:
Lori Karbal – Bimingham, MI
G  Boutique – Chicago, IL
Allure Intimate Apparel  - Mequon, WI
E.K. Taylor – Cumming, GA
Blue Corset – Atlanta, GA
Chronicle – New Braunsfels, TX
La De Da Fine Lingerie – Webster, TX
Jill Scheerer LTD – Rosyln, NY
Montage – Manhattan Beach, CA
Personal Touch – Monterey Park, CA
Jolie Fleur – Hewlett, NY
Romantique – Bend, OR
Comme Les Filles – Ketchum, ID
Saks Fifth Avenue: Select Stores
Neiman Marcus: Select Stores
.

READ INTIMATE INTELLIGENCE
"Ridiculously Beautiful" by Richard Vincente

READ INTIMATE AFFAIRS:
" Intimate Insider News" by Moira Nelson