Is Crotchless Crazy?
By Kim Caldwell
Listen, I've worked with some sexy lingerie before. In fact, when I worked with La Perla, their Black Label and Marvel lines were high on sex appeal and low on coverage. There were even accessories like lacey eye masks, silver devil horns, leather whips. And as a New York City resident since the age of 18, I've seen a few things, OK? But when it came to crotchless underwear, I was quite the novice… until about two years ago.


My current line of lingerie work deals with the more foundational side of undergarments. I loooove helping women find the best fitting bras and undergarment solutions. But lingerie should be a little fun, too, right? Fun did not equate to crotchless for me. Truthfully, my view of crotchless underwear was as something sold in a plastic sleeve in a salacious shop in the West Village, accompanied by fishnet and mesh unitards on a wall, modeled by porn stars with blonde wigs and metallic eye makeup. Let's just say, it was not positive. So when we noticed an increased desire for crotchless panties in the search requests at Linda's and decided to try a few from Hanky Panky… so did I. Hanky Panky's "After Midnight" selection has many scandalous options, but at only $18, the most basic style (complete with a cute bow in the back) seemed best to start with. Plus, my fiancé (now husband) gave them the "A-Ok."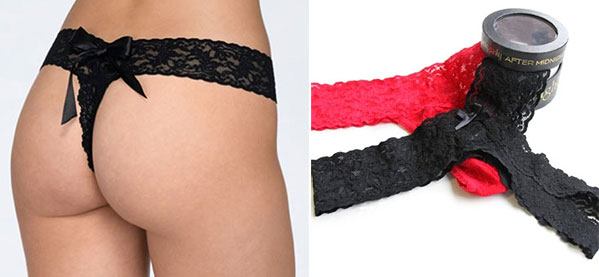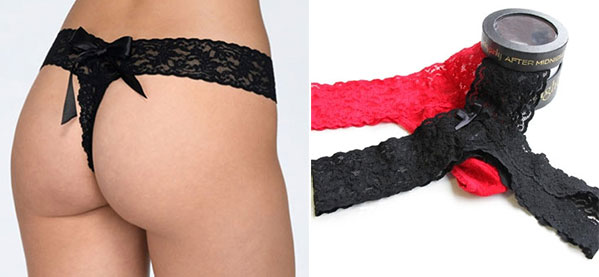 And while my coworkers and I giggled over the black strips of lace, I wondered aloud "How, in all my years in lingerie, have I never tried a pair of crotchless undies?" Naturally, I had to try. It was about two weeks before our own wedding and my fiancé was a groomsman in another. I was flying to Ohio for literally less than 24 hours to attend this wedding, stay overnight in a hotel, and then fly back to New York. This jet setting wedding weekend seemed like the perfect opportunity to test out my new little black thong.
Without going into too much detail here (I may share a bit, but I'm still a lady!) let's just say that they were worth the $18 and then some. But the novelty seemed to be in the lead up to the main course. In other words, just knowing or sharing the fact that I was wearing ::gasp:: a crotchless thong was the real source of enjoyment in the whole process. Let's face it, the fact that the small piece of fabric in the down there area of the underwear is missing isn't going to make you feel sexy… it's the effect it has on someone when you tell them about it that really makes your day. Or night.
So in the end, going crotchless wasn't all that crazy. Exciting? Sure! Something I'd do on a regular basis? Probably not.
Have you ever tried a pair of crotchless underwear? What did you think? Were they comfortable? Would you wear them all day or are they just for a special reason? What brands have you tried?
Bonus: Apparently you can even get a sheer white heart Ryan Gossling pair of crotchless undies from an Etsy shop. I mean, what? Hey… if it floats your boat!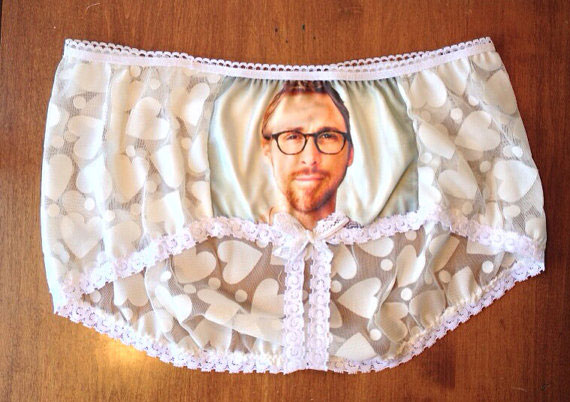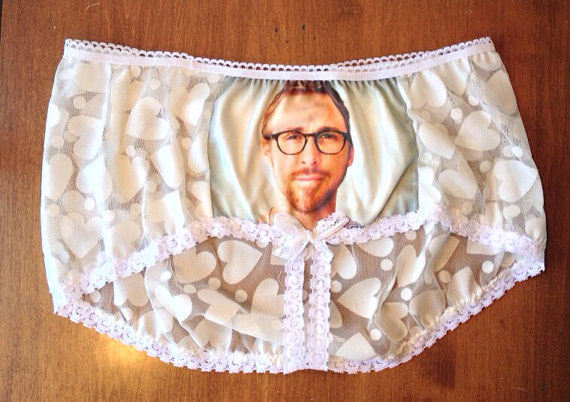 Check out my blog, Hurray Kimmay, for the people, places, products & projects that make you say "hurray!"
Xoxo
Kimmay