TOKYO AND SHANGHAI- A Casual Fashion Conversation
By TINA WILSON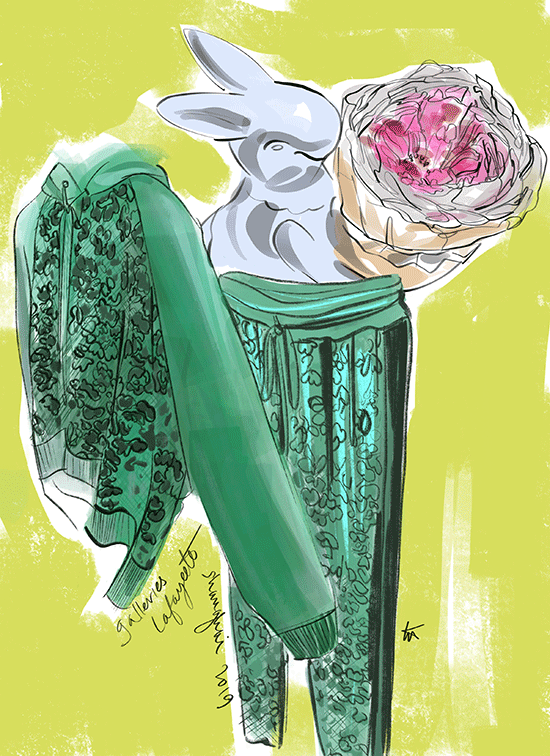 We arrived in Tokyo a few days too early to see the apple blossoms. We did not know this until the day we departed. We came to Tokyo to shop, to look for inspiration and for "signs of life" in design.  What we found, my travelling companion and I was the confirmation that the world is now and I believe, will forever be casual. The juxtaposition of expensive fabrics and laid-back silhouettes and details was everywhere, both on the streets and in the stores. There were two recurring themes in both Tokyo and Shanghai…. casual and storytelling.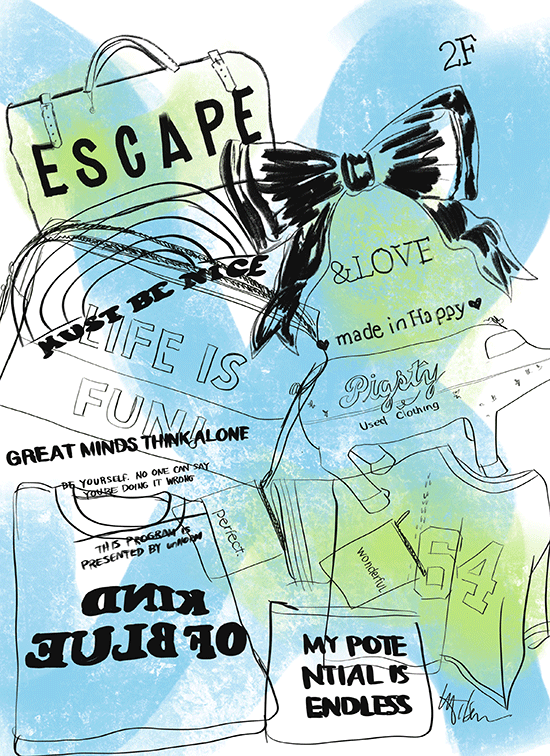 All around us were sweats and sneakers. In every price point but especially in the higher price range. We touched exquisite fabrics fashioned into the most dressed down silhouettes, in particular an envious green sweat suit made of lace and French terry. I wanted it, I still do, but I know my limitations.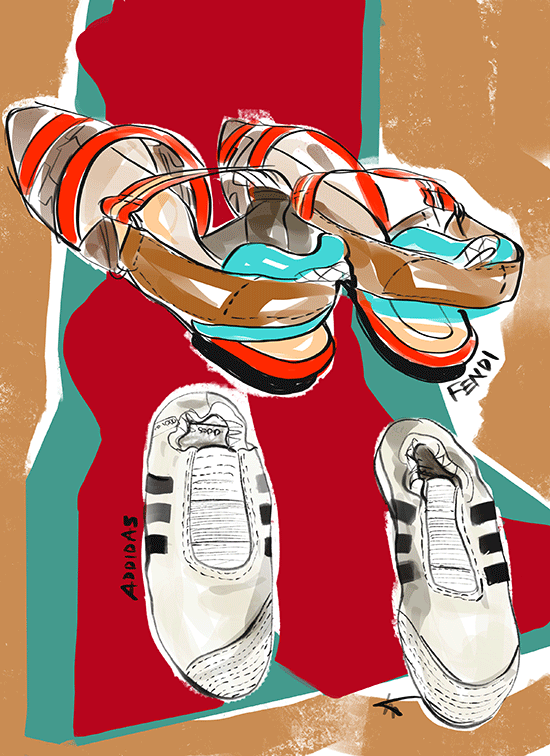 Tokyo has the best billboards, the best window signs and the best human placards. There were anecdotes and novellas on bags, on t-shirts, shoes, luggage, socks, and people. On our last day in Tokyo I decided to drag my companion with me to meet some old friends who were living there, we arrived at train station to meet them and they walked us to the coolest neighborhood for sipping coffee and shopping, Meguro-Aobadai. I will make a bee line there the next time I am in Tokyo.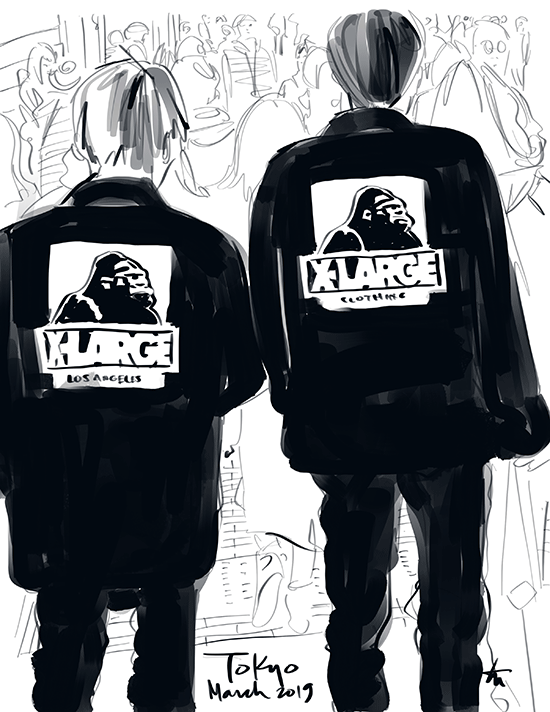 One of my favorite "messages" was a homage to David Bowie, in the form of an oversized sweatshirt as his portrait. We found it in Shanghai at the newly opened branch of Galleries Lafayette, a store so new, we were told we could not yet make a purchase because the registers weren't up and running. That was a good thing because when we arrived in the shoe department, I temporarily lost my mind and I almost bought a pair of Margiela sneakers that had been cut in half, missing the heel and resembling slippers. Sneakers are turning into slippers, sling backs are turning into sneakers, sneakers are turning into high heels. Alas, we live in confusing but times, nothing is as it seems.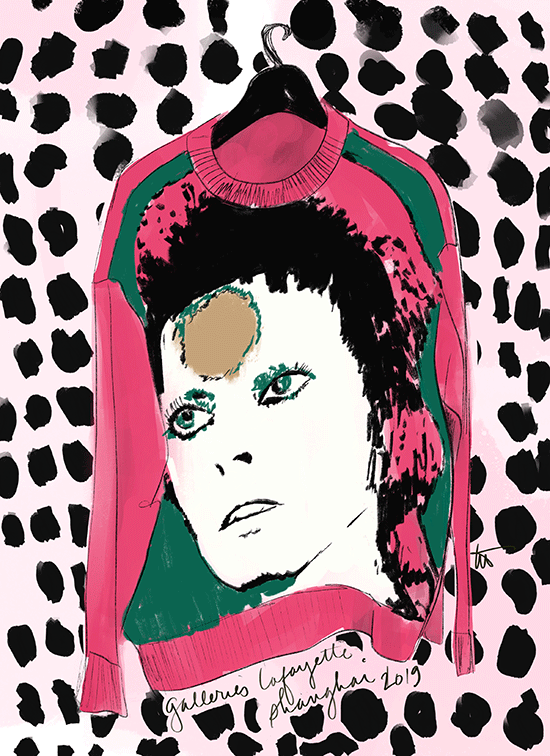 After dragging myself from the shoes in Galleries Lafayette, we ventured on to Shanghai's Corso Como, the last time I'd been there was when it first opened and it is as glorious as ever but unlike the rest of the Shanghai establishments, photos are a no-no. I did manage to sneak a shot of a t-shirt folded to look like a hanger, which I tried to purchase. They told me no, it was the last one and they were not willing to part with it. I also managed to get a pic of a wonderful white short sweatsuit with a yellow dragon embroidered on it, love!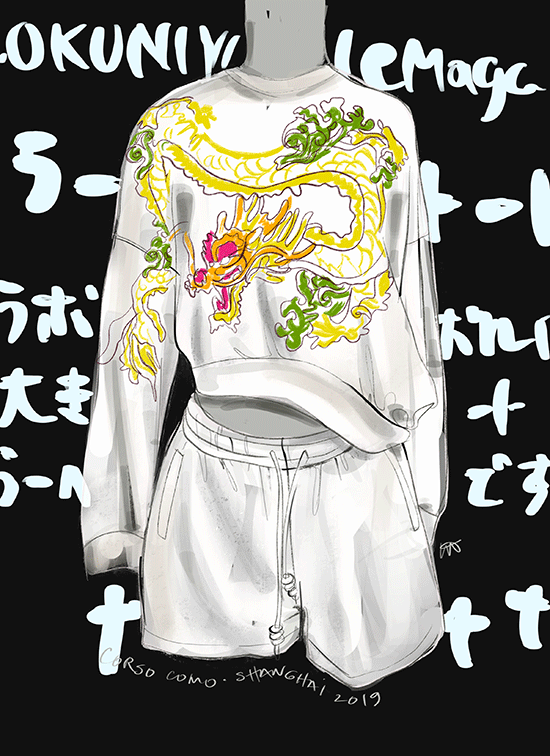 In between Tokyo and Shanghai, we took the fast train to Nanjing, where I had dinner with another friend who happened to be living there, we went to Cass Tech high school in Detroit together. We had dinner on the 65th floor of my hotel (yikes) and talked about the good old days. She tried to lure me out for "ladies' night" at the Manhattan lounge where she said they were waiting for us. In retrospect I should have gone, it's not every day you go to ladies night in Nanjing.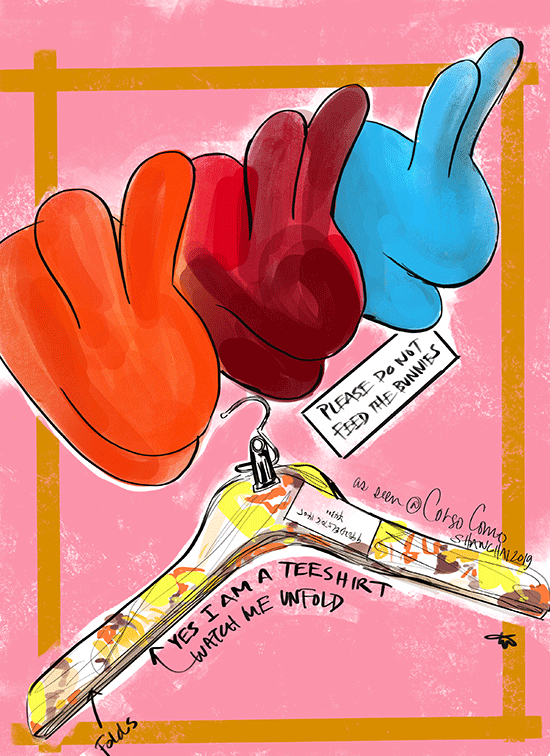 It was a trip filled with big sweats, big T's worn with leggings, big shoes that had big soles and big laces and best of all, big stories . We found an abundance of "big ideas" which I can't share but what I can share is that if you have a brand or if you are your brand, you must tell your own authentic and distinctive tale. I leave you with a Happy Spring, Happy Easter and Happy Passover…Peace, Love and Resistance.