By HOLLY JACKSON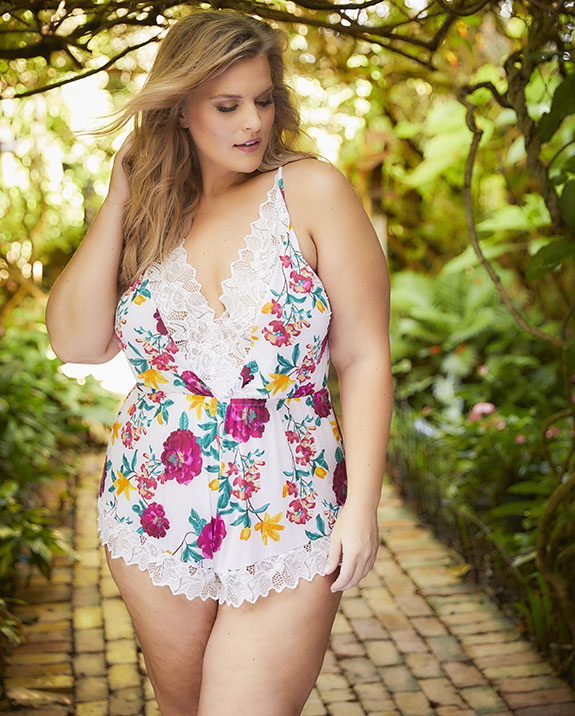 I know it's still cold and snowy other places, but here in New Orleans it's been spring for at least two weeks.The camellia bushes in my courtyard are blooming and the sweet olive trees are bursting with blossoms that smell like peach candy. It's been so lovely that I've spent most days turning my front porch into a makeshift office, so I can work outside while my puppy plays in the garden.
All of this is to say that I've had flowers on the brain, which may explain part of the reason I've been obsessed with the latest Oh La La Cheri releases.Their designers clearly had flowers in their head for this season as well! While I associate Oh La La Cheri and their plus-size line mostly with lace pieces, this season has brought some prints as well as some truly stunning floral lace variations on their classic looks.
The floral print Ariana Romper is sexy enough to qualify as lingerie but also doubles as a real loungewear piece.The print is bright and dynamic in person, while the fabric is light enough to keep you cool even in the hottest weather. I think it would make great sleepwear as well once the weather warms up for everyone else!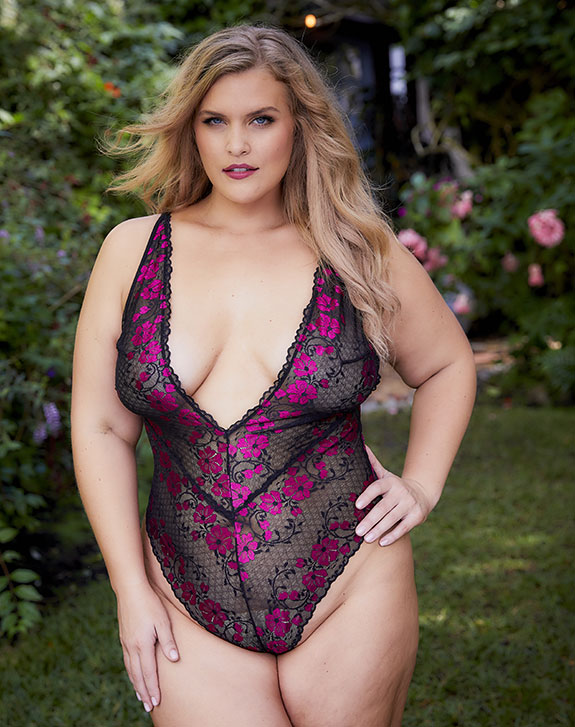 The Lana Teddy and Babydoll incorporates bright pink flowers into the design through the use of a striking metallic lace, which dresses up an otherwise classic set of designs. It's nice to see floral options in plus-sizes that look modern and sexy rather than stodgy. It can be a hard line to walk, given that floral prints have been used to disguise the perceived "flaws" of larger women for so many years. It's great to see a design that shows off curves so well and still keeps the sheerness and sex appeal that Oh La La Cheri is known for.
It may still be cold other places, but it's clear that customers are already in the mood for florals. These pieces have been bestsellers already, so I'm suspecting that lots of lingerie fans are getting in the mood for spring as well