Karl Mayer ~ A Symbiosis of Technology & Design
By ASI EFROS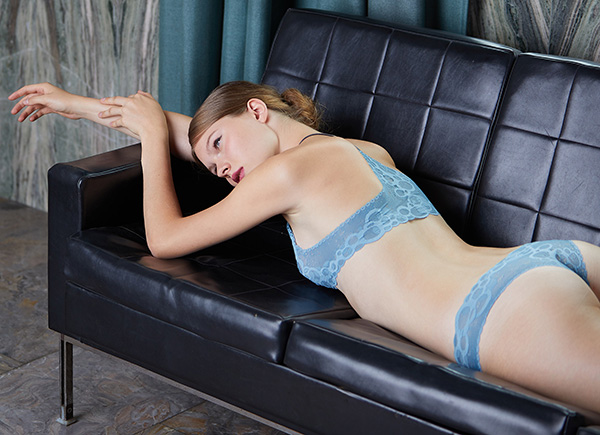 Engineered lacy bralette and panty
Rushing through my first cup of coffee I was dialing a number in Frankfurt, Germany. I managed to contain my excitement when Gabriela Schellner, Textile Development and Technologies specialist with KARL MAYER, greeted me on the other end of the line.
I first heard about KARL MAYER and their revolutionary warp-knitting technology (WKT) at CurveNewYork in a presentation by Jos Berry, founder of Concepts Paris. I was excited to find out more.
For any developer or designer, discovering a new technology is a pleasure comparable only to eating chocolate. The warp-knitting machinery offers boundless possibilities for original designs, exotic textures, and body-defying silhouettes. It's also a way of creating multifunctional garments with less waste in comparison with other manufacturing methods.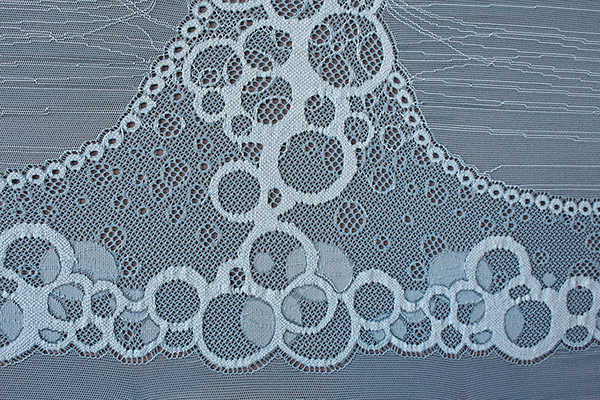 Uncut lace galloon forming a bralette back
Having established their position in Europe, KARL MAYER began their international expansion very early by establishing group companies in key markets. In the US in the 1950s, Japan 1960s, China and Hong Kong in the 1990s and a few years ago in India. In all these regions the company is fully integrated, providing not only machinery but also on-site technical support/training to their customers. Creating machines for minimal waste technology, with high efficiency and productivity, and bringing the technology closer to the market are signs of the environmentally intelligent enterprise. KARL MAYER's social commitment of fostering the younger generation, providing health insurance for the workers, and modernizing the working conditions display its ethos that is tightly woven in the fabric of the company.
"We develop and manufacture our products and render our services by considering the entire product life cycle in such a way as to protect the environment, human health, and to save natural resources."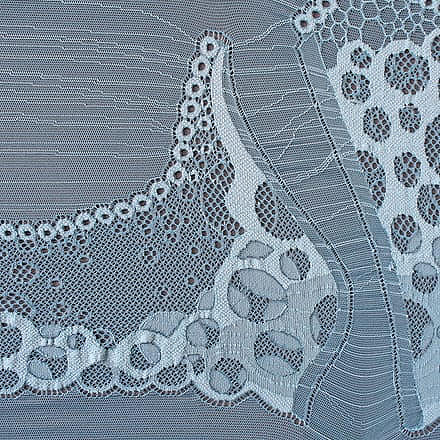 Uncut lace galloon forming a bralette cup
In the creative lab at KARL MAYER, Gabriela Schellner expands the boundaries of the existing technology. She continually finds creative ways of combining clever design solutions with existing production processes thus making the final product more profitable and eco-conscious. Here are three of her latest projects.
Lacy bralette with built-in elastic bands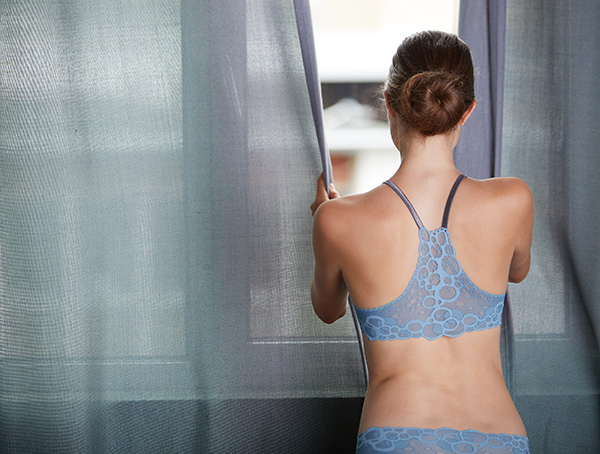 Engineered lacy bralette and panty
This technological and design solution was introduced by a student, Lisa Bahr, and presents a vanguard way of manufacturing bralettes and panties. Both panty and bralette are manufactured from an engineered lace galloon. The special cut is used to form a small cup that cues the bralette to be constructed using only 2 pieces. Strategically engineered lace bands provide built-in support without wires or molded bra cups. Turned at 180 degrees, the same galloon lace is employed to form the back of the panty. As a result, the beautiful and functional bralette and panty with placed lace designs are conceived.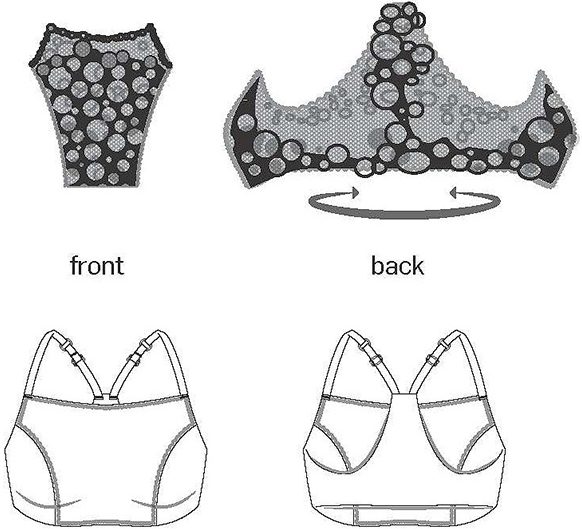 Here are the key points of that development:
Sexy look and comfortable fit without wire and molded bra cups
Low manufacturing costs (less waste, fewer seams)
Reduced time-to-market
 To learn more about the sexy bralette visit:
https://www.karlmayer.com/en/applications/apparel-textiles/intimate-apparel-and-lingerie/
The crossover body in 4-way stretch knit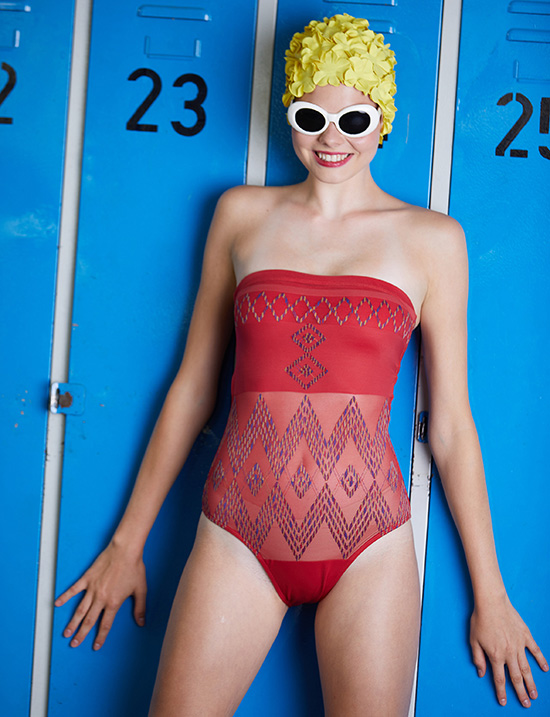 The crossover body knitted in one piece
The bodysuit in the picture is produced on the ML-machine. It's knitted in one piece to minimize the seaming and to eliminate the post-knitting assembly process. Built-in elastic bands are incorporated in the construction of the bodies for its stay-up function and fit. Strategically positioned matte/sheer areas and multi-color tribal patterns, elevate the styling. The flexibility of the WKT allows for prompt customization by varying the sizing of the garment and height of the panels. Switching from one pattern to another is as easy as loading a new file into the computer. WKT gifts each designer with unlimited opportunities for self-expression and creativity.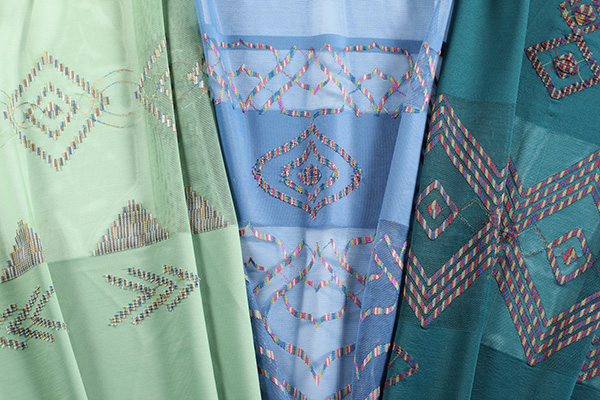 Paneled sheer and opaque warp-knit in various patterns and colors
This chic hybrid combines the functionality of swimwear, lingerie, and ready-to-wear therefore extending its wearability and seasonality. The bodysuit can be paired with denim for a casual look or "dressed up" as evening attire. This crossover body is designed to enhance the customers' relationships with their apparel and encourage them to combine their wardrobe elements creatively.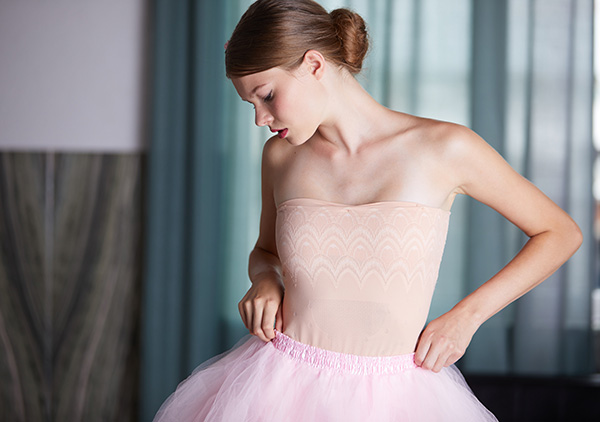 The crossover body knitted in one piece, lacy design
Here are the key points of that development:
Transparent, opaque and patterned zones in one engineered fabric panel without seams
Increased seamless comfort
An integrated inner layer of invisible wireless support
Low manufacturing costs (less waste, fewer seams)  
To learn more about the crossover body visit:
https://www.karlmayer.com/en/news-and-media/news/production-of-beachwear-lace-made-easy/
 The BODY-MAPPING REVOLUTION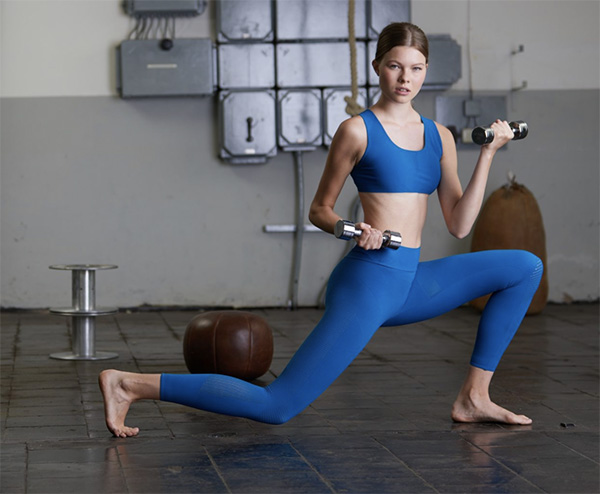 Sport top and legging manufactured using BODY-MAPPING technology
 The BODY-MAPPING development focuses on using the capabilities of WKT to engineer sports tops and bottoms with enhanced performance. The zones of differential compression and release are strategically placed within the garments for maximum structural support and functionality. The same method can be applied to manufacture lingerie-like lacy bras.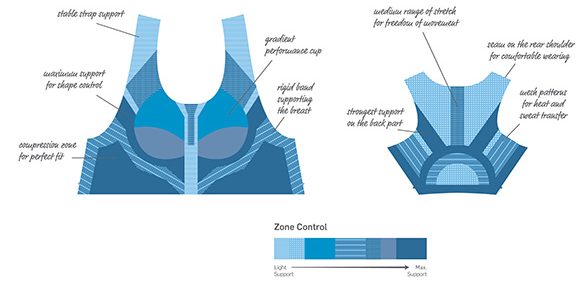 The advantages of this technology are:
Enhanced design and performance outcome
Strategically placeable zones and structures
Integrated mesh areas for breathability and sweat release
Minimized cut & sew effort
To learn more about BODY-MAPPING REVOLUTION visit:
|https://www.karlmayer.com/en/news-and-media/news/body-mapping-re-thought/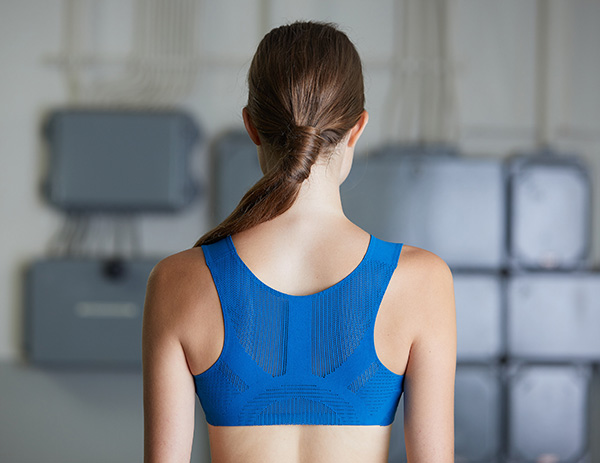 BODY-MAPPING REVOLUTION, sports top back
"What is very important, from my point of view, is a close partnership between fabric developers and designers. I have a feeling that designers select existing and "safe" solutions instead of having the courage to try the new because they don't fully realize the capabilities of the warp-knitting machines. Developers, by working together with designers, can guide them through the technological process. This is a collaboration that is very important to build," says Gabriela Schellner.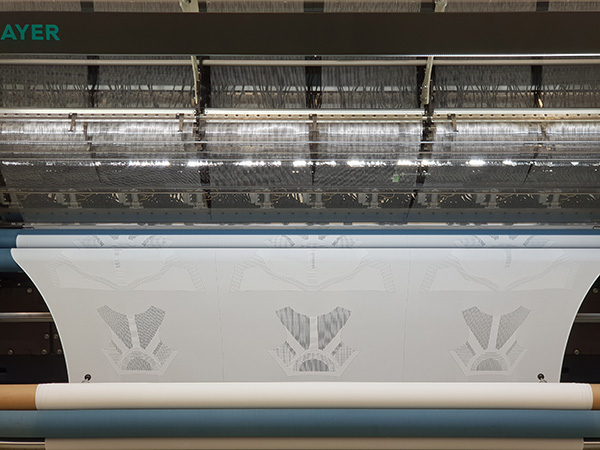 Warp-knitting machine, uncut knit, sport top, front and back panels (picture illustrates a trial run. The actual production run eliminates the spaces between the panels)
For an inquisitive designer, the warp-knitting technology helps to reach a renaissance of creative potential and reinvent the existing categories of body-fashion ensuring hybridization. It's also a way to the efficient garment production and an answer to the "own less, wear longer" approach to fashion.
For your next collection, a mix of sustainable yarns and warp-knitting technology is a perfect recipe for success.
Until then… stay safe and creative.
Asi Efros
To learn more about KARL MAYER and WKT visit: https://www.karlmayer.com/en/
Contact:
Gabriela Schellner
Textile Development and Technologies
KARL MAYER
Brühlstraße 25, 63179 Obertshausen, Germany
+49 6104 4020
Gabriela.Schellner@karlmayer.com
Worldwide Contacts:  https://www.karlmayer.com/en/worldwide-contacts/locations/
VIDEOS
Innovations made by KARL MAYER

Innovative Production at KARL MAYER