Everyday, Pretty Hot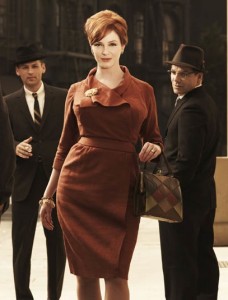 What would you imagine that Christina Hendricks (aka Joan Holloway), the sassy femme fatale of the award winning TV series, Mad Men, is wearing under her iconic 1950's dress?  My guess is this retro inspired slip  from On Gossamer.  I have become a real fan of this extraordinarily well written and superbly staged new drama that harks back to a time in history when women were just on the brink of claiming their own identities. Even though "Joanie" is introduced to the story as the sexpot office manager who knows her place, she evolves as the plot progresses into the critical administrative control in the company infrastructure.   Perhaps her lingerie gives her the sexy confidence to embrace who she is.
 Besides the fact that every single detail; props, costumes, and historical references included, is 100% true to the era, there is a very contemporary story being told.  Women will express themselves and defy labels no matter how fierce the struggle.  This lace and nylon/spandex chemise (82809)  from On Gossamer's Everyday, Pretty Hot collection celebrates every detail that vintage archives define for ladies intimates, and yet, its updated fit and seductive shape insure that this sensual slip will make a woman feel like a goddess in her office wear.
She can do what she needs to do and be who she wants to be, and best of all, it's her little secret!
 "I am not a has-been.  I am a will be."  ~Lauren Bacall
Available at:
My Intimacy: New York City, N.Y.
Something Comfortable: Rehoboth,Delaware
The Lingerie Store: Oklahoma
Knickers: Glen Ellyn, Illinois 
The Pink Petticoat: Tampa, Florida