Orange; The New Red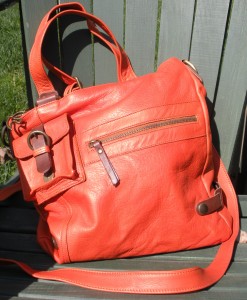 Last month I was walking around the eclectic Marais neighborhood in Paris trolling for interesting ideas when I spotted this orange shoulder bag in the window of the artsy Cecile & Jeanne boutique.  I did not know that I needed a new handbag until it called my name.  My first instinct was to buy it in red.  I love red.  It's a fashion basic that speaks strongly and makes an explosive statement.  But, I am tired of drama.  I could use some warmth and vitality.  Orange is the new red; very fitting as we emerge from the intensity of the past 18 months.  Orange symbolizes curiosity and healing.  They say it stimulates creativity.  Orange is a potent color, the color of thoughtful control and perseverance, my personal definition of true power.
I had the same feeling when I saw Jezebel's Electra collection rejuvenated in orange glow for this spring's delivery.  As the free spirited younger sister of the Felina Lingerie Company, the Jezebel Brand is sassy, commanding and a bit rebellious in its' creative style.  It is difficult to deny the company's beguiling attitude and independent approach to classic lingerie design.  This lace balconette bra (10090), available in sizes 32 B – 38 D, can be paired with a matching low rise g-string (52009).  
The soft ruching details perfect the charm. This orange  dose of intimacy is a spicy antidote to everyday basics.   It takes a certain amount of moxie and a modicum of cool to manage this paragon of femininity.
"Well-behaved women seldom make history".. Laurel thatcher Ulrich
Jezebel Electra Available April 15 at:
Embrasse- Moi:  Pittsford, New York
The Pink Slip:  New York City, New York
A Tropical Affair:  Santa Barbara, California
Panty Raid:  Los Angeles, California
Lady Grace Intimate Apparel:  Brookline, Massachusetts
Suzette Hosiery:  Yonkers, New York
Laina Jane:  New York City, New York