Splurge on Beauty
A few weeks ago, I traveled to Washington state  to visit a client's store located in the Skagit Valley north of Seattle and close to the Canadian border.  Although I have visited many places during my life, this is one area of the country I had never seen.  I was mesmerized by the snow capped mountains that embraced verdant farmland just beginning to yield the fields of tulips for which this region is famous.  Although rain fell daily, the sun still seemed to seep through the mist creating clarity of light and a fresh clean scent in the air.  Migrating snow geese and eagles were in sight.  Believe it or not, I actually saw a rainbow.  It was interesting to learn that this region of the Pacific Northwest is considered a rain forest.  It's the closest thing to a jungle in America.
Lise Charmel's Fashion Safari Collection is the perfect metaphor for this flourishing canvas of wildlife.  The demi bra (3020) and thong (0020) are rendered in a lush jungle green leaf print delicately embroidered with vibrant flowers that seem to bloom from the soft, light mesh fabric.  Available in size 32-38, B to E cups and size S–XL, this bra and panty set is a gift on par with the most lavish flowers or luscious chocolate offering.  The elegance and artistry of Lise Charmel's lingerie provides a unique and exquisite addition to a woman's intimate wardrobe.  They are collector's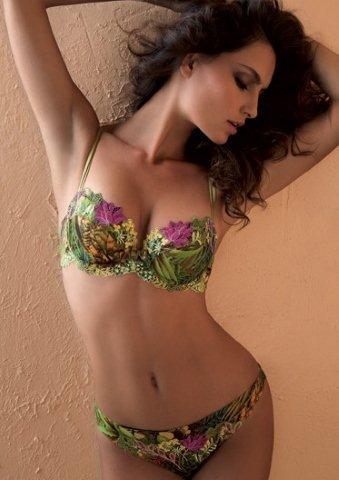 items, valuable for their beauty, and worthy of investment.  Some things are worth the splurge.
"I have the simplest tastes.  I am always satisfied with the best"…
Oscar Wilde
Available At:
Migonette:  Providence, Rhode Island
Art De Femme:  Baltimore, Maryland
Romantika:  Wheeling, Illinois
La Petite Coquette:  New York City, New York
Enchante:  Chicago, Illinois
Fripperies:  Mystic, Connecticut
Lavendar And Lace:  Richmond, Virginia
Maison Rouge:  St. Petersburg Florida