The Age Of Discovery
This weekend was a transformational time in my life.  As the youngest of my 3 children graduated from college and I celebrated my 60th birthday, I feel energized by the possibilities before me.  I am excited about the potential challenges and the freedom to try new things.  I feel as if I can venture back to the pre-family days and revisit the youthful expectations that defined my aesthetic; but now, I do this with the wisdom of age.  Experience has afforded me clarity of vision that innocence cannot see. Self-awareness is not an easy accomplishment as a woman sacrifices her own needs to familial demands and professional pressures.  I have always believed that wearing the right lingerie could provide the self- esteem so necessary in a stressful life.  At every stage of her journey, a woman is entitled to feel the empowerment that comes when she puts on underwear that is feminine, beautiful and fits perfectly.
Personally, I have been on a quest to find the perfect panty for quite a while.  Quite a coincidence, then, that during this precipitous week, I discovered the silky skin hi-rise brief (#8641) from Hanky Panky.  It is the best panty I have ever worn.  Having never been a thong girl, I have always sought comfort and simplicity, balanced with sensuality.  I respect the quality and grace evident in vintage intimates, but fit has always been my challenge.  The Silky Skin Collection embodies all of these virtues.  Constructed in a micro denier rayon Lycra and nylon lace exclusive to Hanky Panky, the panties feel and look like antique lingerie.  The perception of wearing nothing and the ease with which clothing slides over the panties recalls the knitted fabrics prevalent in retro intimates.  My friend Gale calls them delicious and that is a perfect description of how they make me feel.
"IT TAKES A LONG TIME TO BECOME"…

Pablo Picasso
Available At: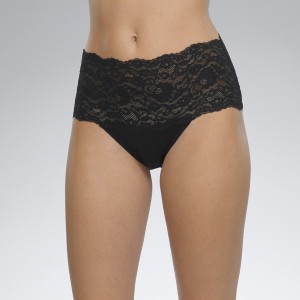 La Petite Coquette:  New York City, New York
The Dain Shop:  Morristown, New Jersey
Sylene of Washington:  Chevy Chase, Maryland
Store of Lingerie  (SOL): Denver, Colorado
J'Alanes:  Raleigh, North Carolina
The Lingerie Shoppe of Birmingham:  Birmingham, Alabama

Pretty Things of Grosse Pointe:  Grosse Pointe, Michigan
Deanna's Country Shoppe:  West Sand Lake, New York
Very Fitting:  Vero Beach, Florida
Allure Intimate Apparel:  Brookfield, Wisconsin
Necessities by Sherri:  Snellville, Georgia
Knickers of Hyde Park:  Cincinnati, Ohio
Bare Necessities:  on line
JUST A BRIEF NOTE: I have received many e-mail inquiries asking how to have a store listed in this column.    Generally, unless I am personally familiar with the boutique, I depend on the manufacturer to  provide the store locations.