Ordinary to Extraordinary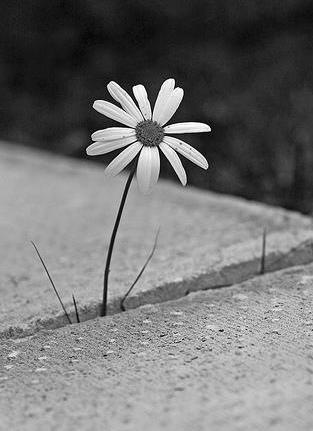 During an art class that I took in college, we were taken outside on campus and told to draw a tree.  By the end of the class, I had filled the sketch pad with the furrows and shadows of one branch of an enormous oak.  For me, the experience presented itself in the details of the image.  The instructor was, in fact, pleased with this result as he explained to the class that an object is lifted to an art form when we focus on the basic elements of the design and recognize their worth.  The details can change an ordinary encounter to an extraordinary event and an everyday item to a unique statement.  I have always had this knack of zeroing in on the essence of a thing to identify its heart and determine its real value.  It does not matter if it's a one little flower growing in an abandoned lot or a delicious sauce inspiring a simple pasta dinner.  It could be a single colored umbrella breaking the monotony of an endless rainy day.  For me, the details in a situation are the test of its worth.  The details transform the plain to the poetic.
A league of  Intimate Apparel designers have been inspired by the timeless designs developed for the Eileen West brand. There have been many renditions over the past 30 years, but Eileen's original version of the white cotton lawn nightgown still remains the quintessential classic sleepwear piece.  Fine embroidery, delicate pin tucking,  heirloom laces,  individual hand painted prints, tiny crystalline and shell buttons and soft lingerie finishes on 100% natural fabrics raise these designs to a level of elegance and grace.  The added touch of a generous sweep in 5 separate sizes, speak to the quality and romance of the style.  Above and beyond their utilitarian mission, these pieces are collectible and ageless treasures.
"Perfection consists in not doing extraordinary things, but in doing ordinary things extraordinarily well"

…Angelique Arnaud.

Style # E543778 will be available in October at:
Lace Silhouettes:  Lahaska, Pennsylvania
Town Shop:  New York City, New York
Underpinnings:  Santa Fe, New Mexico
Lady K Lingerie:  Denville, New Jersey
Glamour House:  Santa Barbara, California
Glass Butterfly:  Gresham, Oregon
Cedar Chest:  Northhampton, Massachusetts
Lingerie Collection:  Dallas, Texas
Mrs. Robinson:  Providence, Rhode Island
Serene Comfort:  On Line
Herroom:  On Line
..
.

.

"Curve Alert"

Cegid, the renown international softwear company will conduct two breakfast seminars at CURVE NY.   Join me to discuss "How to increase your cash flow"
Monday, August 2, 2010 @ 9AM for retailers
Tuesday, August 3, 2010 @ 9AM for vendors