Sublime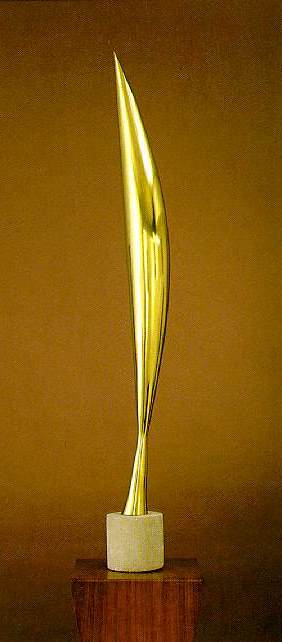 Studying abroad at the age of 19, I was on an excursion to the art capitals of the world when I saw my first piece of classical sculpture in Rome.  Viewing the pure white marble miracles of Michelangelo, I was emotionally transfixed.  How could anyone create such a detailed execution of the human body from such a mundane material?    Later, in Paris, I witnessed the evolution of this art form from the perfection of classicism to the emotion of impressionism in Rodin's ardent extraction of passion from a piece of stone.   Sculpture and its ability to liberate the humanities from inanimate objects became my artistic focus.  But, it was Constantin Brancusi's revolutionary ability to hew an abstract ideal from a basic substance that marks him as a pioneer of the modern movement.  His works are elegant and simple statements that break traditional boundaries.  My favorite is the ethereal Bird in Space, a sophisticated suggestion of the freedom of flight.
Brancusi's method of carving utilitarian materials into romantic visions came to mind when I first saw the 2010 fall collection from Rosy Lingerie.    The Rosy brand utilizes classic intimate components; lace, embroidery, tulle and satin to create bras and panties that are both whimsical and modern expressions of the generosity of the female spirit.  I was particularly drawn to the Sublime molded padded bra (171-2555) because of its modern architectural style rendered in a sexy, retro juxtaposition of ivory satin and sheer black tulle.  Completely void of lace, this bra, offered with a string (30-2555) or brief (61-2555) panty, is a provocative statement of independence and allure for a woman who prefers a contemporary approach to femininity.  Although the Sublime collection satisfies those who prefer the clean lines of untrimmed, but intelligently rendered lingerie, the Rosy brand, in its entirety, is a garden of liberating and visual delights; very French, very artsy and a pleasure to own.
.
"Don't look for mysteries; I bring you joy."     Constantin Brancusi
.
.
Available At:
Bloom Lingerie:  Hingham, Massachusetts
Brooklyn Fox Lingerie:  Brooklyn, New York
Journelle:  New York City, New York
Flirt Boutique:  Saint Paul, Minnesota
Underthings:  Chicago, Illinois
Claire De Lune Lingerie: Overland Park, Kansas
Bardot Lingerie:  Millburn, New Jersey
Dolce Bella Fine Lingerie:  Woodlands, Texas
Luxe Lingerie: Beverly Hills, California
A La Folie:  Berkeley, California
My Boudoir:  San Francisco, California
Yves Lingerie: Roseville, California
Migonette: Providence, Rhode Island
Ellas Room:  Boise, Idaho
Coeur: Philadelphia, Pennsylvania
Figleaves.com: On Line
.
Fruit De La Passion is pleased to announce the winner of the Biju Gold Mask:  Gina Mastrangelo, owner of Bosom Buddies Lingerie in Paoli, Pennsylvania
Blush Lingerie is pleased to announce the winner of $1000 @ retail off the Spring 2011 order:  Deb Jacarino, owner of Fripperies Lingerie in Mystic, Connecticut
.
"CURVE ALERT"
With a steady flow of 2500 retailers, there was an upbeat atmosphere at the Curve NV show.   The So Swim So Curve Fashion Show was the peak of the Las Vegas show.  CURVExpo  is already preparing for the Fall 2011 exposition to be held in Las Vegas at the Venetian Hotel Feb. 15, 16, 17  and in New York City at the Javits Center Feb. 21, 22, 23. Click here to view pictures of the show
Click here to read Press release