Petite Pride
As a little girl, unlike Angelina Jolie (see last week's quote), I did not dream of being a vampire.  I was much more enamored with the ballet and particularly the uber feminine ballerinas in their ethereal tutus that I watched dancing in performances that my parents took me to as a child.   I was in awe of these dancers whose dainty bodies and fragile presence belied the extraordinary strength and stamina required to execute a perfect pas de deux.  I knew that I was witnessing an athletic feat camouflaged by exquisite costumes, inspired sets and beautiful music.  As a teenager, I was given tickets to the rehearsals for the Joffrey Ballet where I was introduced to the rigor and rapture of the modern ballet effort.  As an adult, I subscribed to The New York City Ballet, becoming a fan of the prima ballerina, Darci Kistler, whose arousing and dynamic performance of Slaughter on Tenth Avenue still informs my creative spirit.  The passion, grace and confidence portrayed by this petite and powerful performer remind us that femininity is alive in all body types. Even though society lauds the curvy enhanced figure, one cannot deny that the image of the delicate ballerina draped in soft and sensual fabrics as she masquerades before an adoring audience is an enduring metaphor of female beauty.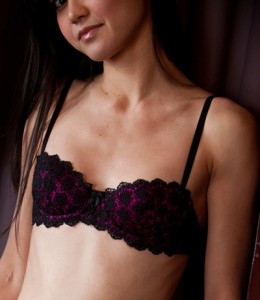 That is why I am so intrigued by the new Lula Lu Petites line introduced at Curve NY last month.  Originally developed to  supplement the Lula Lu store in San Mateo, California whose founder, Ellen Shing, could not find bras that were sexy and alluring but also fit her diminutive figure; the brand is now being offered at wholesale.  The collections are designed to provide the provocative and playful looks found so easily for larger busted women.  These styles are not engineered to change the body shape, but to applaud the small frame as charming and comely in their own right.  Available only in A, AA and AAA cups from a 32 to a 36 band, these underwire intimates are unique designs created specifically to offer sexy and special lingerie to a confident and tiny woman.  Lula Lu caters to a feminine ideal of youthful fantasy and petite pride.
.
"The mirror is not you. The mirror is you looking at yourself."  George Balanchine
.
.
.
.
Lula Lu currently available at:
Top Drawer Lingerie:  East Hampton, New York
Lavender Lace:  Brooklyn, New York
La Petite Coquette:  New York City, New York
Soleil Toile:  Westport, Connecticut
Lula Lu:  San Mateo, California
.