BRIEF ALERTS! Betsey Johnson Intimates
This week's Intimate Discovery: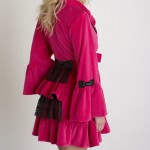 OK, this Betsey Johnson Intimates velour holiday robe, style 734880, is less a discovery than an encore performance.  Brought back for sale in 2010,  due to such a favorable consumer response in 2009, it is available in S-M-L.  Try it in Raven Black or Heartbreaker Pink.  It's the perfect gift for the young, sassy lady with a penchant for fashion and flair for individuality.
" In order to be irreplaceable one must always be different" … Coco Chanel
wholesale inquiries:  lauren.borish@carolehochman.com