Artful Exposure ~ Marlies Dekkers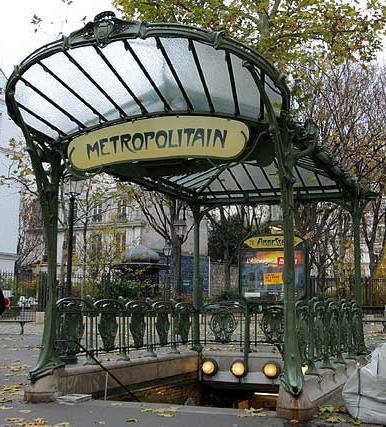 When I was in my 20's, my aunt moved from her family home to an apartment and gave me her glass and wrought iron garden table in order to help me furnish my first makeshift apartment.  The clean, elliptical lines of its simple base visible through a transparent surface appealed to my taste for the organic.   I liked the juxtaposition of  lightness and weight.  Unfortunately, my youthful naivety caused me to sell it for a $100 when I moved into a house.  It was only after I began traveling regularly to Paris for work did I realize the value of what I had relinquished. Everywhere in this elegant metropolis, the graceful manipulation of wrought iron anoints the landscape and articulates its character.  Observing the curves and arches that embrace the balustrades of buildings, the perimeters of parks and the entrances to the Paris Metro, I began to appreciate their message of beauty and movement.  It was as if the city was trimmed with a graphic iron lace.
The straps and lines that define Marlies Dekkers Undressed label remind me immediately of the lyrical precision portrayed in the Art Nouveau ironworks designs that embellish the Parisian panorama.  Sinewy curves and subtle cut outs alter traditional intimates into innovative designs that make a clear statement of a woman's self-confidence.  A pioneer in the lingerie initiative of what I call "artful exposure", Dekker's has managed to establish a modern signature brand anchored by the popular selling Dame De Paris collection.  Constructed in a smooth, sensual microfiber, these edgy everyday bras, available in sizes 32 – 38, A – F cups are meant to be seen.  This trendsetting company is an anthem to independent women.  Basics become works of art.
.
"I didn't discover curves, I only uncovered them" . . . Mae West
.
Available At:
Bergdorf Goodman:  New York City, New York
La Petite Coquette:  New York City, New York
Marc and Max:  New York City, New York
Isadora:  Syracuse, New York
Embrasse-Moi:  Pitsfield, New York
Journelle:  Miami, Florida
Posh Essentials:  Highland Park, Illinois
Romantika:  Wheeling, Illinois
Jenette Bras:  Los Angeles, California
Black Satin Intimates:  Las Vegas, Nevada
Dolce Bella Fine Lingerie:  Woodlands, Texas
La De Da:  Webster, Texas
House of Lounge:  New Orleans, Louisiana
Soleil Toile:  Westport, Connecticut
The Full Cup & Co:  Alexandria/Virgina Beach, Virginia
Inside Story:  Oakville, Ontario
Bra Chic:  Ottawa, Ontario
New Beginnings:  Brandon, Manitoba
.
CLICK HERE TO WIN $1000 of wholesale merchandise from DuMi Shapewear:  Contest exclusively is for retailers and e-tailers
.