Splendid Beauty ~ Flora Nikrooz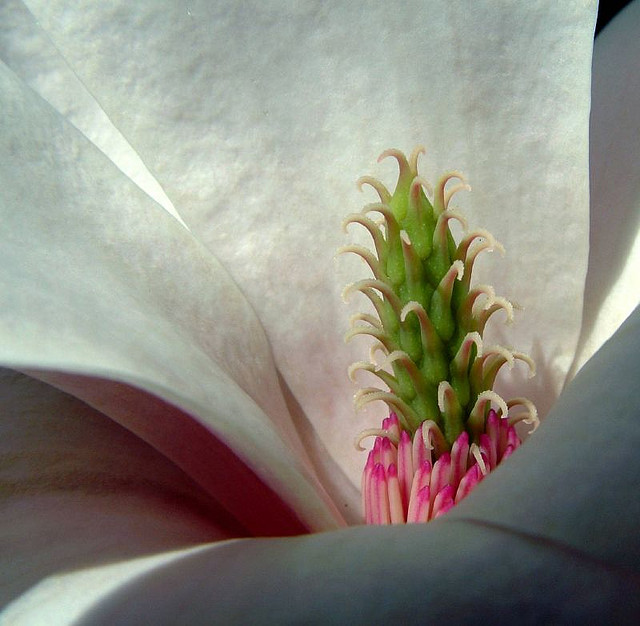 .
There is a moment when the Magnolia blooms
These buds are there all winter
They rest cocooned in a lacey canopy
Stagnant on this tree
Me watching at the bedroom window
Perched above
Waiting for the great escape.
The petals will open this spring
Enormous bowls of silken pink
Curled into the sun
Transforming the tree and me to a place of poetry
.
Light has shifted in the western hemisphere and it is officially spring, or it is supposed to be, but snow still dusts the garden and the pansies I planted last week are lying limp in their beds.  We are all tired of this savage winter, the forces of nature and humanity converging in an exhausting onslaught, hijacking our energy and attitudes.    We need a harbinger of hope, a sign of change, the pleasure of anticipation.  The Magnolia is an ancient genus, a magnificent symbol of perseverance, purity and dignity.  Known for its splendid beauty, its early blossoms are a commitment to renewed life.
For almost 30 years, Flora Nikrooz has spun her poetic vision into her exquisite collections of Intimate Apparel.  Her brand is a metaphor for fantasy, feminine empowerment and glamorous expectation.  Delicate detailing and luxurious fabrics are her trademark.  Using silk charmeuse, fine georgettes, chiffon, Chantilly and Levers lace, these special occasion designs are defined by Flora's signature pleating, elegant embroideries, and lacey bodices. Aptly named the Flower Basket babydoll this all-over lace style embellished with hand-made chiffon flowers is available in a rich latte or a seductive black.  It is an example of the fairytale innocence and inherent beauty of the renowned Flora Nikrooz bridal collections.   Made in New York City, every step of the creative process is personally monitored by Flora, insuring the same   productivity  and quality of her label.  Beauty still blooms in America.
.
"O, wind, if winter comes, can spring be far behind?"  ~Percy Bysshe Shelley
.
Available At:
Barbara Graves Intimate Fashions:  Little Rock, Arkansas
Bonne Nuit:  Jacksonville, Florida
Slumber:  Galena, Illinois
Baubo's Garden:  Forest Park, Illinois
Flirt Boutique:  Saint Paul, Minnesota
Chantilly Lace:  Port Jefferson, New York
Sara Saposh:  Brooklyn, New York
Jamie Kurland:  Brooklyn, New York
Saposh Too:  Lakewood, New  Jersey
The Dain Shoppe:  Morristown, New Jersey
Lace Silhouettes:  Princeton, New Jersey
Leisure and Lace: Linwood, New Jersey
Saks Fifth Avenue:  All Stores
Bloomingdales:  All Stores
.
.