Capture Charm ~ LOU Lingerie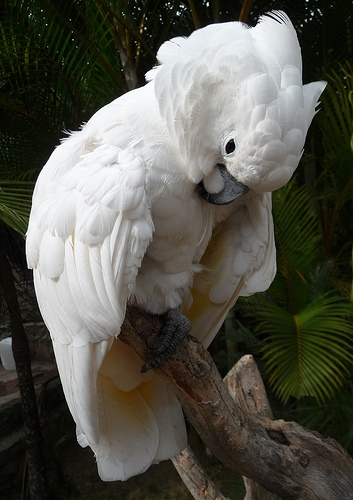 I have never had a propensity for birds.  To me, they always provoked images of tiny flying dinosaurs.  I did not understand the great fascination with these flighty creatures until I made the acquaintance of Lily, the beautiful Moluccan cockatoo that resides at my local garden shop.   Lily lives in a large white cage, the delicate wire frame of which manages to enhance her noblesse rather than restrain it.    Lily perches her feathery soft body inside this elegant abode and demands attention with her entertaining antics and playful chatter.  Try to walk away and this affectionate, beguiling pet transforms into a hot blooded and self- possessed temptress who's provocative and soulful cries insure our patronage. She is confined in this supple, strong labyrinth as she preens and fluffs her feathers crying for the spotlight. Secure inside this splendid aviary, her arduous appeals completely bewitch me.
When I saw the LOU CODE Collection, first presented for spring 2011 market, the linear pattern of the re-embroidered tulle design reminded me of Lily's beautiful and seductive birdcage.   When viewed through the delicate tracery of the CODE embroidery motif, the female body bears an alluring and sophisticated message. It is an enchanting statement captured in an exquisite lair.  Lou Paris, known for their refined French artistry, has created a fashion lingerie line that was so well received this spring that it will be extended for fall 2011 in new colors. Part of a multi-faceted intimates group, this half cup bra (L13597)in sizes 32 – 38 and B – C cups,  is paired here with the boy short (L51597) which is available in S – 2XL.
.
"I Know Why the Caged Bird Sings" . . . Maya Angelou
.
Available  At:
Intimacy:  All Stores
Nancy's Bra Boutique:  League City, Texas
La Bijou:  Bellevue, Washington
Journelle:  New York City & Miami Beach Florida
Lingerie on Lex:  New York City, New York
Bra Smyth:  Short Hills, New Jersey & New York City , New York
Intima Lingerie:  Carmel by the Sea, California
Alla Prima Fine Lingerie:  San Francisco, California
Dalia's Studio:  Tarzana, California
Charmelle 28 Fine Lingerie:  Palo Alto, California
Purrmission Lingerie:  Santa Barbara, California
Fuku Lingerie: Los Angeles, California
Lilianne Lingerie: Saint-Lambert, Quebec
Jady Lingerie:  Mascouche, Quebec
Avec Plaisir:  Toronto, Ontario
Susan's Fine Lingerie:   Mississauga, Ontario
BraChic: Ottawa, Ontario
Anthropologie:  on line
.
.
.
CLICK HERE TO WIN $1000 of wholesale merchandise from DuMi Shapewear:  Contest exclusively is for retailers and e-tailers