BRIEF ALERT! Social Media Event at CurveNY
This Week's Intimate Discovery:   Intima Group Hosts Retail Panel Seminar: Impact of Social Media on Business.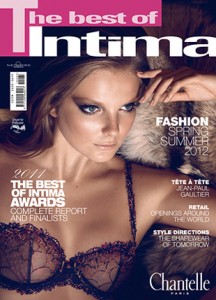 I am so pleased to be affiliated with The Intima Group, international publishers of the premiere Lingerie Trade Magazine in the global intimate apparel industry.  We all recognize the quality and class of the USA editon, The Best of Intima, just released this week on line and available in print at CurveNY and CurveNV. Therefore,  it is with great pleasure that I am announcing here that Francesca Spinetta, CEO and Editor in Chief of the Intima Group has asked me to moderate a retail panel discussion on How Social Media Can Improve Your Business.  Please join me with the panelists at CurveNY on Monday, August 1 at 3PM at the Javits Center:  Click Here to Learn More.
You can register on line at CurveNY Events to Attend
.
Alison Rubke: Owner, Faire Frou Frou in California
Cyla Weiner: Owner, Sylene's of Washington in Maryland
Adrienne McGill: owner, Adrienne Clarisse in Illinois
Dan Sackrowitz: V.P. Marketing at BareNecessities.com
Anthony Oren: I.T. Consultant and Professor of Technology at St. Francis College.
.
"Information technology and business are becoming inextricably interwoven."                    Bill Gates
I am looking forward to meeting you, finally, in person:  ellen@lingeriebriefs.com