BRIEF ALERT! Best Of Intima Magazine
This week's Intimate Discovery: Intimate Soirée for Specialty Stores Nominated for BOI AWARDS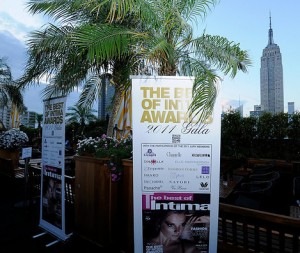 It was a perfect summer evening on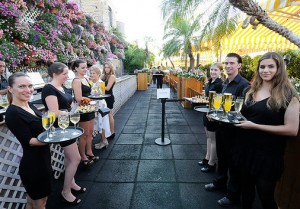 Sunday, July 31 in New York City. Nothing is as congenial as the good will that permeated the atmosphere at the 230 5th Avenue Penthouse Lounge where The Best of Intima Magazine hosted its 2011 THE BEST OF INTIMA AWARDS, the most prestigious gathering of lingerie boutiques across North America.   Easy conversation, excellent food, an open bar and dancing defined the party.  The guests represented shops that had been singled out by a jury of Intimate Apparel brands for their unique contribution to the entrepreneurial spirit of this business.  Nominated for their expertise in a host of categories, all of these dedicated stores were worthy of a prize, but there can only be one winner.
.
"Winning is only half of it. Having fun is the other half". . .Bum Phillips
AWARD WINNERS
Personal Touch Shop: Secrets from Your Sister (Toronto, ON)
European Flair: Embrasse-Moi (Pittsford, NY)
Reference Shop:  Trousseau II (Memphis, TN)
Concept Store:  The Full Cup (Alexandria, VA)
BOI's Choice:  Sweetest Sin Boutique (Red Bank, NJ)
Special Recognition PRIZES
Best Women's Care:  Artisan Undies (Atlanta, GA)
Best PR: Flirt Lingerie Boutique (St. Paul, MN)
Best Customer Service: Prive Boutique (Baton Rouge, LA)
Best Shop Design: Lille Boutique (Portland, Oregon)
Best Visual Impact: Lace Silhouette Lingerie (Lahaska, PA)
.
For Information Contact:  boi@intimagroup.com
.