Savage Beauty ~ SKIN Lingerie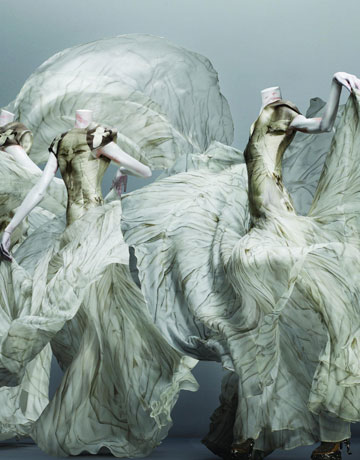 A few weeks ago, I went to see Savage Beauty, the Alexander McQueen exhibit, curated by the Costume Institute at the Metropolitan Museum of Art in NYC.  It was hot, the lines were long and if not for the effort made to get there, my normal disdain for crowds would have told me to leave.  I am glad I stayed because once inside, I was quite simply blown away.  I can count on one hand the number of times in my life that I have felt as if I had witnessed creative genius.  This show was an anthem to McQueen's extraordinary imagination and his technical ingenuity.  Each design was an emotionally powerful piece of art that interlaces fragility with strength.  Each installation was a presentation of exquisite tailoring, dramatic draping and provocative thought.  I felt as if I was underwater, deciphering a dream, swept away by McQueen's personal vision.  I am so glad that I stayed because that kind of inspiration is a very rare find.
Last week, I went to see the spring 2012 SKIN Lingerie collection designed by Susan Beischel, and at the risk of sounding redundant, was once again overwhelmed by pure innovative brilliance.  I spend so much time in the Intimate Apparel Market, always looking at new product and deciphering business opportunities.  It is not often that I come across Lingerie that moves this industry to another level.  The second I saw this lifestyle brand, I knew that I was in the presence of a creative force.   I thought of Alexander McQueen and the raw energy and absolute individuality his work portrays.  Susan's designs integrate the inner sanctuary of a woman's private world into the fabric of the natural environment.  Knitted in gossamer light organic pima cotton, they are constructed to flow over the female form with a sensual and sophisticated simplicity.  These super fine gauge knits are combined with delicate tulles and precious sewing details to form intimate layers that underscore and accent the body.  SKIN is loungerie that pays homage to Susan's bond with nature and the basic beauty inherent in the earth.
.
"There Is No Better Designer Than Nature"  Alexander McQueen
.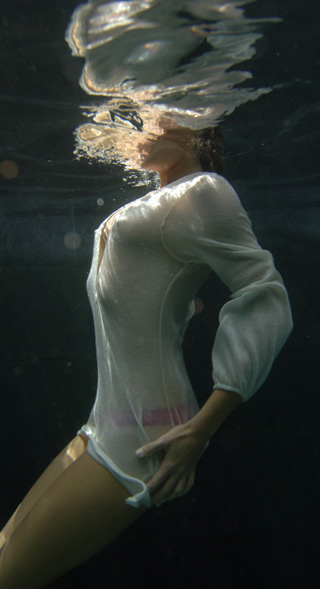 Collection Currently Available At:
Barney's:  New York City, New York
Sugar Cookies:  New York City, New York
La Petite Coquette:  New York City, New York
Erica Tanov:  New York City, New York
Heidi's Boutique:  Fayetteville, New York
Siren:  Mamaroneck, New York
Connie's Corset-Lingerie Shop:  Point Pleasant, New Jersey
Hope Chest:  Haverford, Pennsylvania
Whispers Home Store:  Dayton, Ohio
Early To Bed:  Omaha, Nebraska
Trousseau of Dallas:  Dallas, Texas
La Mode Lingerie:  Houston, Texas
Christina's Luxuries:  Boulder, Colorado
Faire Frou Frou:  Studio City, California
Pink  Lili:  Santa Monica, California
Heist:  Venice Beach, California
Alla Prima Fine Lingerie:  San Francisco, California
About Face:  Eagle River, Alaska
Holt Renfrew:  Canada
.
.