Fit For An Icon ~ Elomi Lingerie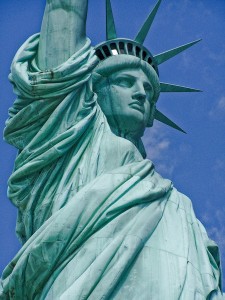 I flew to Paris from NYC on one of the first flights out after September 11, 2001.  Many of my colleagues opted not to travel and I understood.  But for me, I have always lived by the credo that when a bully strikes, it's important to stand tall.  Taking off from JKF, we flew over the still smoldering destruction in lower Manhattan and turned east around The Statue of Liberty.  There she stood, a full size woman of quality and grace, arm raised in encouragement urging us to continue our journey; to reject despair and embrace hope.  She is America's symbolic mother, a majestic feminine icon of strength, courage and nobility.
As we reach a certain age, it interesting to note how time turns many of us into women of a fuller stature, but like Lady Liberty, we still want to project an image of feminine fortitude.  The desire to look and feel her best should always be a woman's goal.  I think this must be why the Caitlyn bra (EL8030) from Elomi is often one of the leading styles in many better lingerie stores dedicated to fit and function as well as fashion.  The Elomi brand is focused on the fuller figure lady who has the confidence to stand tall in a crowd.  Available in sizes 34- 46, E – HH cups , the Caitlyn bra is engineered in a four part construction conceived for ultimate comfort and absolute support.  Trimmed with Austrian embroidery and  executed at an extraordinary value, it caters to a woman of substance and taste.
.
.
"As We Light A Path For Others, We Naturally light Our own Way"                               . . Mary Anne Radmacher
.
Available At:
Bare Essentials Plus:  Wilmington, Delaware
Blythe:   Richmond, Virginia
Lingerie Lingerie:  Towson, Maryland
Creative Woman:  Monrovia,California
Bust Stop:  Tulsa, Oklahoma
The Pink Corset:   Smithville, New Jersey
Lingerie by Susan: Edison, New Jersey
The Magic Corset: Forest Hills, New York
Suzette's Lingerie:  Yonkers, New York
Mme. Pirie Famise Corset & Lingerie Shop:  Albany, New York
Knickers of Hyde Park:  Hyde Park, Illinois
Ann's Bra and Lingerie: Chesterfield, Montana
Zovo Lingerie::  Seattle, Washington
Lion's Lair:  Islamorada, Florida
Loretta's Intimates:  Plano, Texas
Petticoat Fair: Austin ,Texas
Break Out Bras:  Greenville, South Carolina
Rebecka Vaughan:  Nashville, Tennessee
Bra Genie:   Mandeville, Louisiana
.