Spellbound ~ Blush Lingerie
Marilyn Monroe was a famous movie star when I was a child.  I remember seeing Some Like It Hot at the Lake George Drive In Theater during summer vacation with my parents.  It is amazing how 50 years later this actress, with her sultry demeanor dimly veiling a girl next door naivety, still fascinates the American public. Michelle Williams, who stars in the highly acclaimed My Week With Marilyn, describes the star as "something sleepy".  One could imagine her "crawling out of the sheets".   Last week, I watched the pilot of the much touted new TV series, Smash.  Once again the fusion of excess and innocence is being resurrected in this musical drama series that pits the milky Iowan wannabe against the veteran blonde sexpot as they vie for the lead role in the musical, Marilyn.  Marilyn Monroe has become a cultural icon.
With her red lips, swivel hips and delicious sense of humor, Marilyn's legacy keeps us Spellbound, an obviously apt name for Blush Linge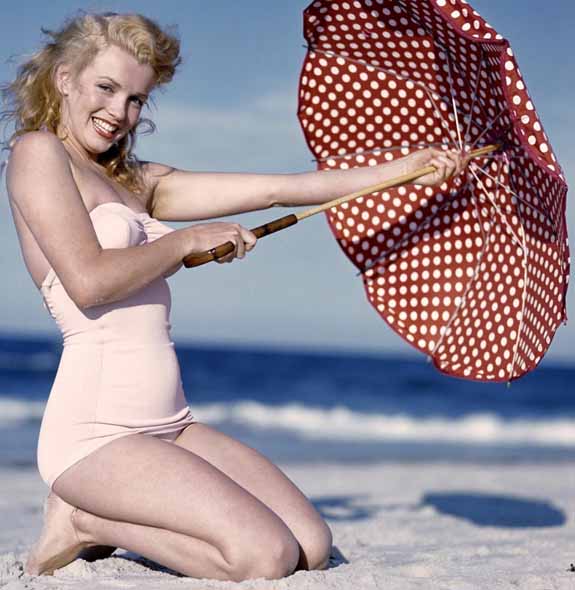 rie's newest Spring 2012 collection. Created in Blush's  Montreal based fashion studios, these printed microfiber pieces are a modern interpretation of playful insouciance infused with a natural sensuality.  Designed to reveal a woman's inner goddess, the strapless bra (0224002) is constructed to fit sizes 32–38, C–DD cups while the matching retro brief (0224030) enhances curves from XS – XL.  Now this brand continues its mission of provoking temptation as it graces the cover of the just published Intimate tome: SECOND SKIN, The Erotic Art of Lingerie. Clearly, Blush knows how to strut its stuff.
"I'm Very Definitely A Woman And I Enjoy It." . . . . Marilyn Monroe
.
Available At:
Chadwicks of London:  CA (all stores)
Lingerie Lounge: Mammoth Lakes, CA
Dollhouse Bettie: San Francisco, CA
A Tropical Affair: Santa Barbara, CA
Underneath: New Orleans, LA
Forty Winks: Cambridge MA
Flirt: St. Paul, MN
Love Jones: Las Vegas, NV
Foxi Lingerie: Brooklyn, NY
Embrasse-Moi: Pittsford, NY
Lilli Beas: West Reading, PA
Underwear: Austin, TX
Bellefleur Lingerie:  Seattle, WA
Blossom Boutique: Guaynabo, PR
La Maison Simons: Quebec (all stores)
Victoria's Attic: Grande Prairie, AB
Little Black Bow: Bracebridge, ON
My Top Drawer: Simcoe, ON
Dusk: Toronto, ON
Anthropologie
Bloomingdales:  Selected Stores
.

READ Lingerie With A Conscience ~ Peace, Love, Lace & Lingerie

READ Bridal Briefs ~ Honeymoon Lingerie

READ Intimate Affairs ~ For Curvy Girls