Corsets, I Just Can't Contain My Enthusiasm!
By Aimee Guthinger
I'm spending the summer solstice evening sitting on Craigville Beach on Cape Cod.  With my feet tucked in the soft sand & summer temps finally settled in, it feels like a little vacation out here tonight.  So on that note I am going to take a short break from the last 2 weeks of Q & A to talk about something a bit more risqué; corsets.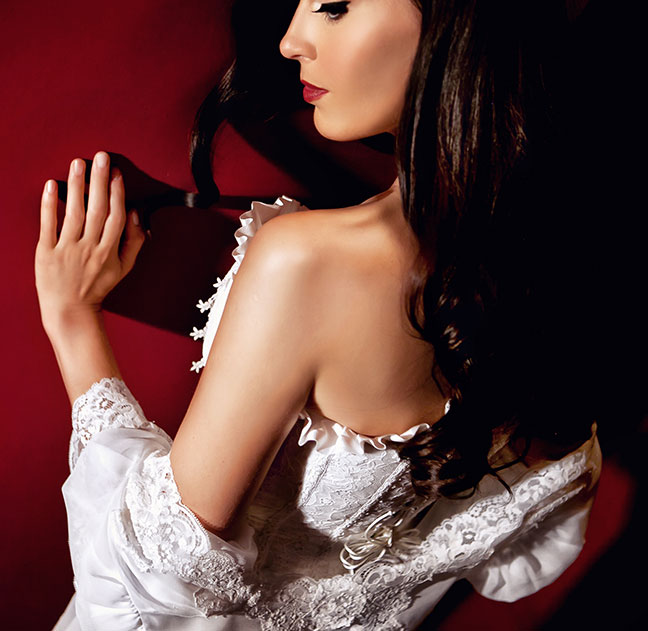 Undergarments like the merry widow, the bustier, or the long line bra, each with a specific purpose are essentially all part of the corset family.  My experience within my boutique has been that people are, for the most part, polarized when it comes to this type of undergarment; they either love it or hate it.  They are either open and curious about trying one on or they flat out refuse.  On a quick side note (mainly because I would like to get this off my chest), I am one of those fitters who has a very difficult time with refusals.  It limits my ability to help the customer I am serving.  Now, if someone is in a ridiculous hurry I will not ask, but otherwise I can't imagine what harm could come from taking the time while undressed and working with a fitter to try something new.  The worst thing that could happen is you don't like it and therefore do not buy it.  But not trying, well I have been told way too many times in the past; I am so glad you made me try that on.  I never would have done it on my own and it's now one of my favorites.  My point, try your best to keep an open mind when working with expert fitters and then make your purchase decisions based on what you like, leaving behind what you do not.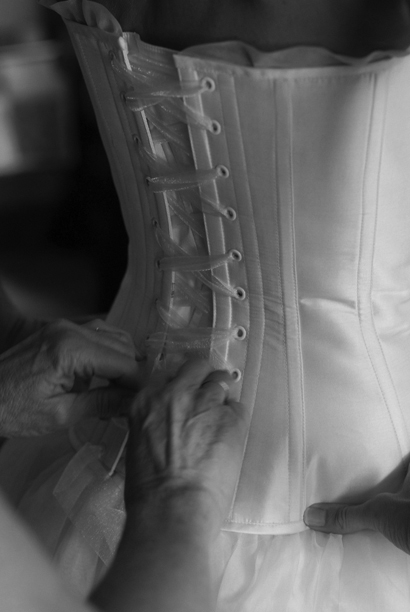 So back to the corset…Personally, I love them and I'll tell you why, it's that wonderful put together feeling they offer.  Whether you are endowed with a long or a short torso, corsets come in a range of lengths capable of  addressing your specific needs.  And they are available in a variety of fashions to be worn both as under and outerwear garments.  Turn one into a sexy little top over jeans when heading out for a night of dancing.  Put the same or another style under a suit jacket or better yet under a gown…it's a versatile undergarment & you should definitely treat it as such.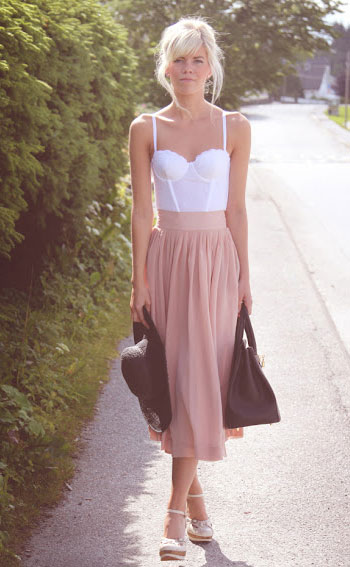 Now, to all of those brides out there, I dare you to show your fiancés a few images of different lingerie styles and I'd bet the farm that each one will select a corset with attached garters and/or bra sets that include garters, both with stockings. These are  favorites every day and four times on Sunday.  I know this because I have asked around and it seems the aesthetic that this particular look creates is by far a favorite among men.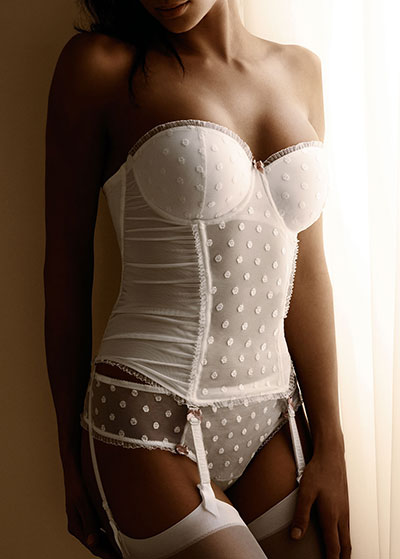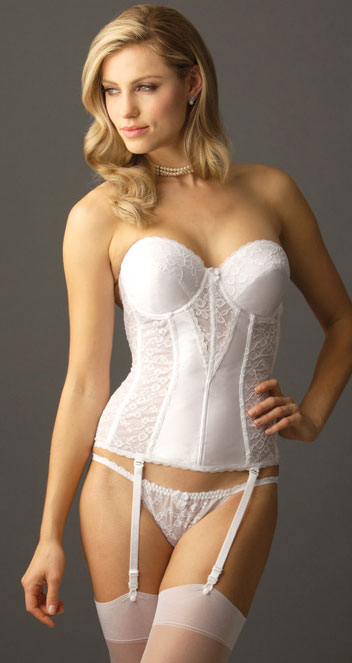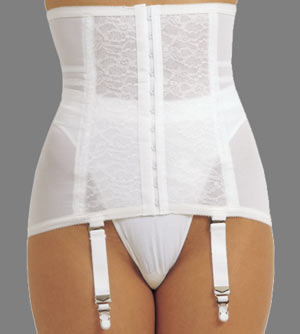 So, when you're shopping for that corset to wear under your strapless wedding gown, be sure to choose one with detachable garters so that you will have the option to drive your new husband wild with that look whenever you wish.  Also, most dresses will be lined so don't shy away from ivory or white and don't be afraid of lace! In fact a good rule of thumb is to embrace the lace! Even before Wacoal launched their Embrace Lace collection, which incidentally we love in my store, I have been suggesting to my customers for years that they should do everything possible to retain some feminine & decorative details to their undergarments.  Even if you're wearing a uniform to work every day and no one special is going to see them, there's something about a pretty bra & panty set that just puts most women in a better state of mind.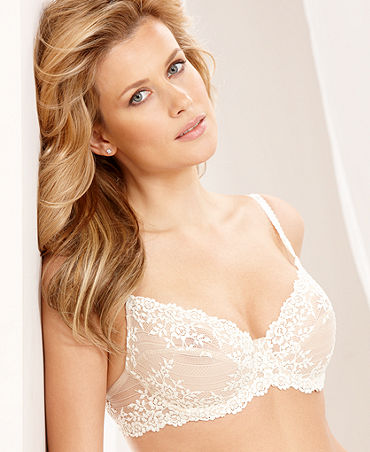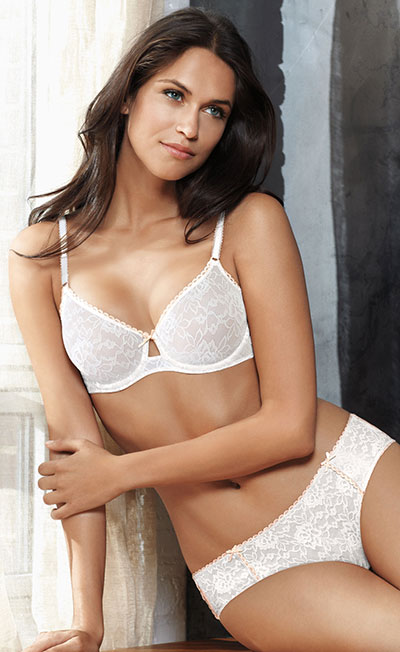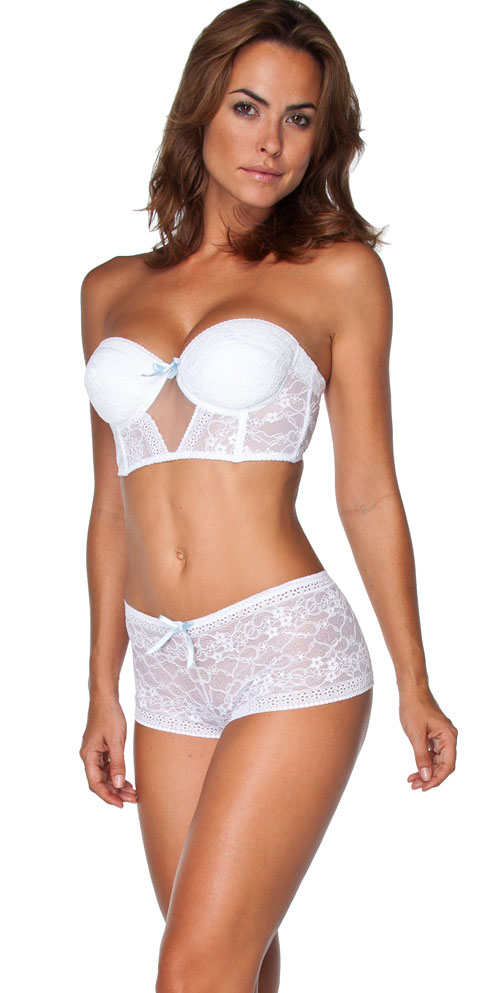 One final note, I often hear women saying that because of the boning offered in many of the wedding gowns today they do not need to wear a corset.  This may be true for the small busted readers (though often they want the corset to maximize what they do have) but please note that boning in many of the dresses today is not meant to take the place of a proper undergarment.  Boning allows the dress to maintain the shape the designer intended and if you want my honest opinion, it also helps the dress shops sell dresses.  So please ladies, remember it has a job to do & do not skip the corset.