Escape The Freezer ~ Head To The Beach! Swimwear For Fun In The Sun…
By Jennifer Cermak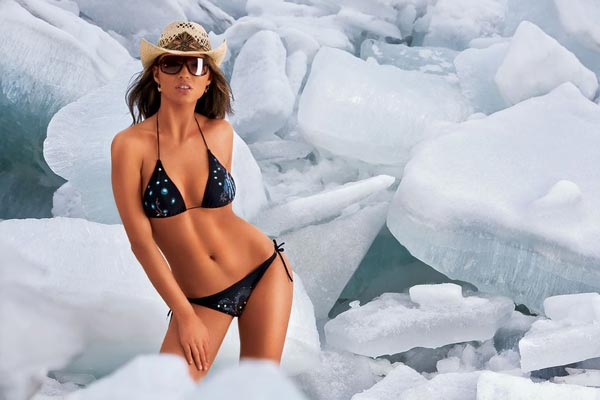 With record lows hitting the states in the path of the polar vortex, travel agents are reporting a boost in sales and last-minute vacations. Many of these clients already have a week planned in March or April, but they are calling their local agents saying "Get me the heck out of here" and book a last-minute vacation in addition to their later booked plans. And while my frozen city of Minneapolis is going after a record year of sub-zero temps (it's -9 right now!), the citizens here are also plotting their escape, and shopping for swimwear.
We get a little jealous selling swimwear to hundreds of ladies lucky enough to break out of the freezer, since they have a reason to wear all the fabulous styles we have in store! It is a fun customer – this spur of the moment vacationer… appreciating mix and match options, and cover-ups – creating a beach wardrobe perfect for a jaunt to Mexico, visiting the in-laws in Florida and the week long escape in the Panama Islands, not to mention enjoying our 10,000 lakes come the summer, if our lands actually thaw out enough to warm up this June!
Here are a few of my favorite completed looks: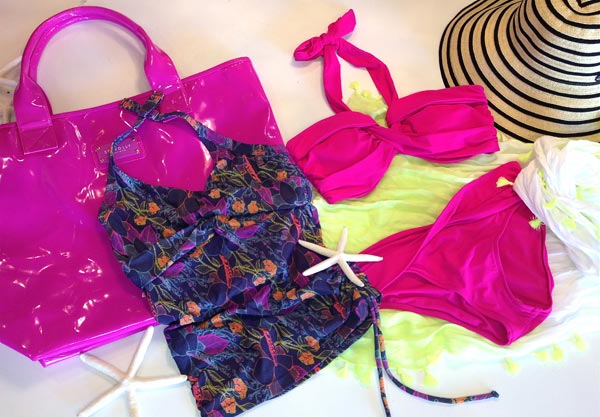 JennaSea ~ Love this pairing of the Seafolly pink bandeau bikini – perfect for tanning… and the add-on JennaSea pattern tankini, providing support and coverage for kid play time. The complementing bag and hat are forever in style, and the bright pop of lime in the sarong is a fun way to make two contemporary suits have a splash of trend.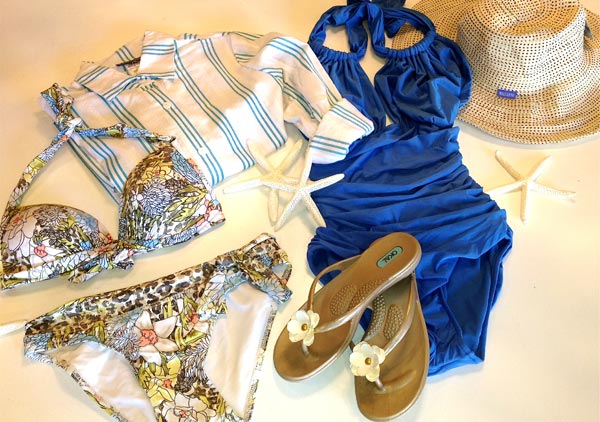 Jets ~ This combo is perfect for the women comfortable in a bikini (We love this Jets floral print with a hint of leopard) but wants a statement one piece (Lenny, need we say more?) to wear around friends, co-workers or kids. We paired the set with gold toned flip flops, a crush-able ivory and brown dot hat (Walaroo); and a boyfriend button up (Tommy Bahama) that actually works well with jeans year round!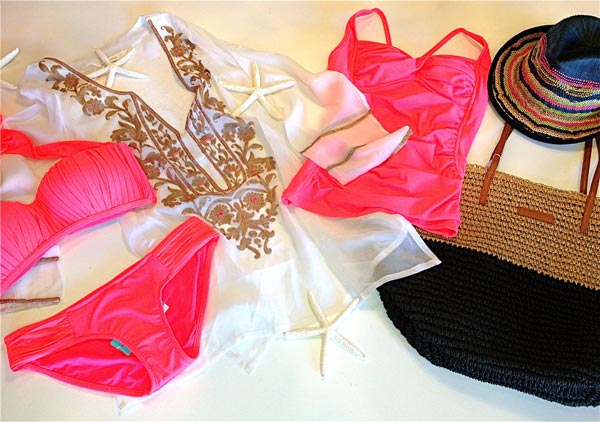 Ella Moss ~ Bright is the current request we hear, and it only looks better on tanned skin. The bikini with an add-on tankini makes a great 3 piece set so the customer covers vacation with the hubby now, as well as the YMCA pools with the kids this coming summer. The Ella Moss sheer cardi is gorgeous over these suits and pairs perfectly with the Seafolly hat & bag. Plus the cardi works great with skinny jeans!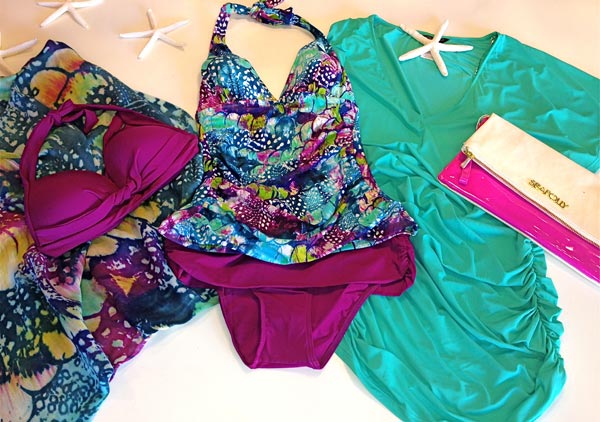 Profile ~ A great combo for a conservative lady who want's to break out of their box! This Profile by Gottex tankini and matching sarong pair perfectly with a Jet's Aspire bikini in berry. The high waist cuff bottom gives confidence, and both tops give boost in the cup. Wear the sarong either suit to the beach, and rock the Carmen Marc Valvo V dress happy hour pool side – with the pink Seafolly clutch of course. The V dress also works now with leggings and uggs!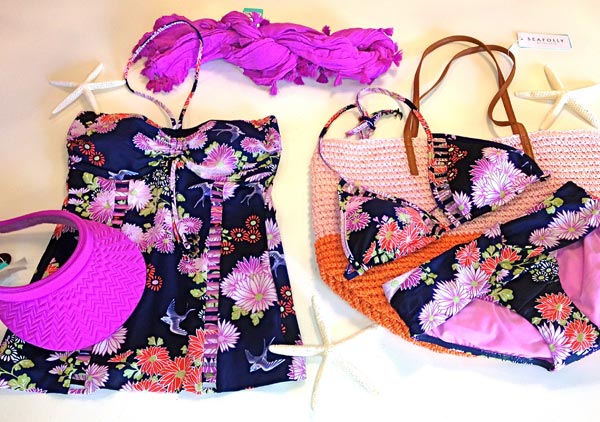 Seafolly suits  – a fantastic bandeau tankini with small cut away details which gives princess seaming, with a traditional triangle with the same cut away details edging the seam and a fantastic folded bottom. Paired with a Seafolly bag, sarong and visor. How fun!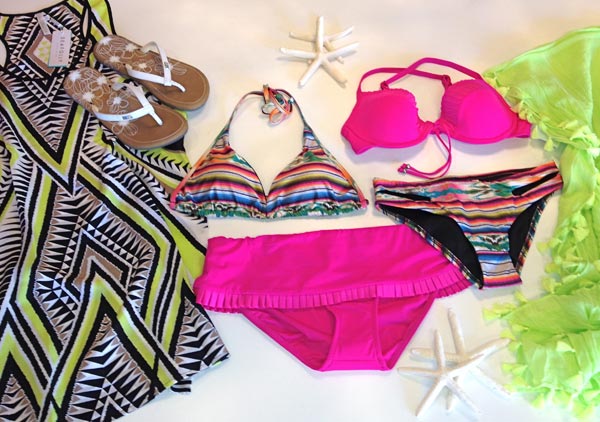 L Space ~ A fun 2 suit wardrobe for the younger lady who wants sexiness and still needs some function. The skimpy L Space stripe bikini is on trend and perfect for a last minute get-away with the hubby or friends. The pink Seafolly suit features convertible straps for total function (beach volleyball, or bending to pick up kids) and includes removable booster pads! Easy pieces to mix-and-match and fun to pair with trendy brights like the Seafolly graphic cover-up tank dress, and or a simple bright sarong.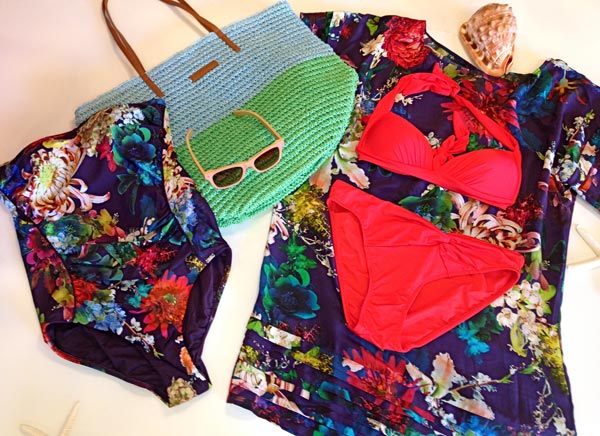 Isola & Jets ~  We are in love with the grandflora print from Isola (coming to US Market for wholesale 2015!). We brought in all the styles, but adore this bandeau one piece – very classy! And a classy lady needs a classy bikini, delivered perfectly by Jets in the luster material. The solid scarlet color is brilliant, sexy and retains total sophistication. We popped a Seafolly bag to brighten up the suits and added-on a peach pair of Woodies bamboo sunglasses. Best thing is these sunglasses will float in our 10,000 lakes!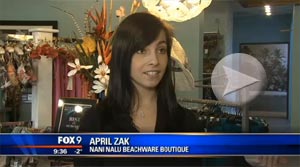 Fox9 TV, in Edina MN made a surprise visit on 2/9/14 to Nani Nalu while doing a story on last minute winter vacations under $3K. (click image to see report)
"The year-round beachwear boutique Nani Nalu has been bustling with customers who have had enough of winter and want to get outfitted for some spontaneous fun in the sun"