A Completely New Kind of Swimsuit ~ StepIn2Now Swimwear
By Jennifer Cermak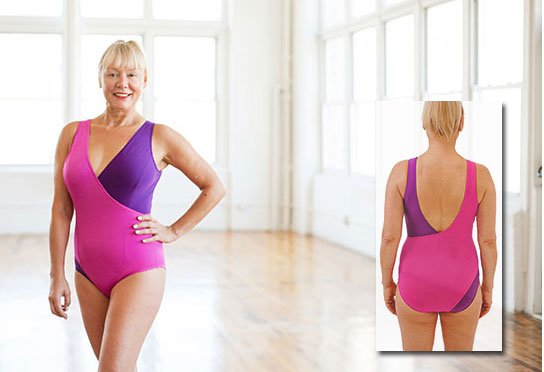 Another record setting day in the Midwest, and I find it hard to be excited about swimwear when our high temperature of mid-July day may hit 60.  So instead of thinking about soaking up some (non-existent) sunshine, I begin to ponder function.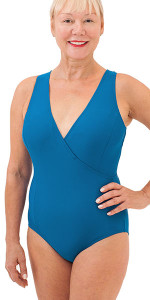 StepIn2Now Swimwear is a new company that offers solution styling geared toward people with arthritis. The genius of the swimsuit is that it is a two-sided design that allows its users to simply step in to it. No twisting, no turning, no bending, and no pulling up the back. The end result is a pain-free put on and take off experience for someone troubled with arthritis and other debilitating conditions.
The suit is constructed with Italian nylon & lycra complete with UPF 50+, and boosts deep solid colors. The 4 color collection is available size 6 to 14, with plus sizes available late this summer.
It is a simple suit, with princess seaming down the front of each panel, and a light shelf bra with removable foam cup lining. The suit fit test on cup sizes B to D went quite well, and was (as expected) incredibly easy to put on, and to take off. It reminds me a little of the leotards I wore in mini gymnastics, but function is the reigning queen with this swimsuit. I understand the need of a solution solver such as this, and hope that it brings many people a little more ease with their daily lifestyle.