The Stars Will Always Shine ~ Empreinte Lingerie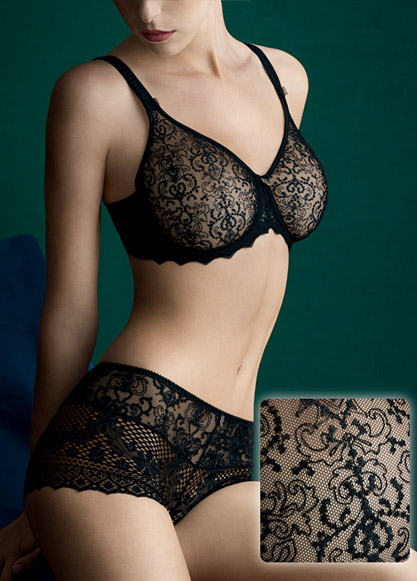 Every August of my childhood, my family would pack up the station wagon and drive north for a 2 week vacation camping on the islands of Lake George. My memories of these trips center on my dad.  His approach to the entire process taught me important lessons on preparation and attention to detail. Even though we were isolated outdoors, without plumbing or electricity, he was able to transform an ordinary campsite into a stunning wooded retreat. We were often envied by others for our unique and innovative set up.  But it was sitting with him on our dock at night while he schooled me in the mysteries of the constellations that I learned the importance of exploring new frontiers. I have forgotten most of my lessons, but every time I witness the majesty of a starry night, the best of my dad comes to mind.
Imagine my nostalgia when I first saw Empreinte's Cassiopee bra and panty set, an exquisitely executed development in fabric technology that looks remarkably like the threaded web of a brilliant Northern sky. Once again, Empreinte has pioneered a new technique in lace construction. Delicately embroidered tulle is molded into cup sizes fitting 30-42, C-G. This precious application is a combination of extraordinary assiduity and magnificent craftsmanship. Seamfree, the fit is reminiscent of the ground breaking Melody style that originally brought rigid molded lace to a large busted woman. Launching now, Cassiopee is positioned to become another Empreinte  bestseller. I, for one, cannot wait to have this beautiful universe so close to my breast.
"Je Ne Peux Effacer L'Empreinte Du Passé" ~ French Song
("I Can't Erase the Imprint of The Past")