Giving Back ~ Clo Intimo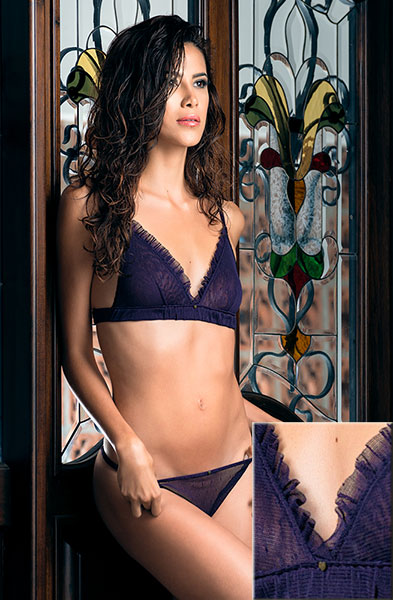 It's the 6th day of Hanukah and Christmas is 2 weeks away. Here I sit in Cabo San Lucas slightly disconnected from the seasonal hoopla that infiltrates our culture in the USA. In Mexico, the holidays are apparent, but much lower key. There are festivities planned at schools and one can see some decorations gracing major town squares; but frankly, the celebration is reserved. It takes place in churches and at home. Mostly, I have been made aware of a way of giving that is less commercial and more directed at enabling those in need. And yes, I do recognize that there are many, many efforts in America to support those less fortunate, but somehow the commercial demands of our society often take precedent. Here, the lack of fanfare allows the goodness to shine through.
It is in this spirit of giving that I want to showcase the Clo Intimo Plumetis collection. Besides its rich color choices, this lingerie tells a quiet story of empowerment.  This bralette is sewn by hand by a group of home based mothers living in one of the poorer neighborhoods of Medellin, Columbia. Claudia Ochoa, owner and design director, enlists these women in order to help them earn money on their own schedule while being able to watch their children.  Clo produces Plumetis at the company's expense, contributing the proceeds back to this community as a way of supporting the women. We already know that the Clo bralettes are great fashion solutions for the smaller busted woman. The brand has established its signature with their assortment of sassy soft bras and matching underpinnings. There's a lot of talk in the news lately about what our neighbors south of the border have to offer. Maybe we should look closer at their natural gift for giving and support their potential.
"What Do We live For, If It Is Not To Make Life Less Difficult For Each Other?" ~George Elliot