The Savage Beauty of Halloween
By TINA WILSON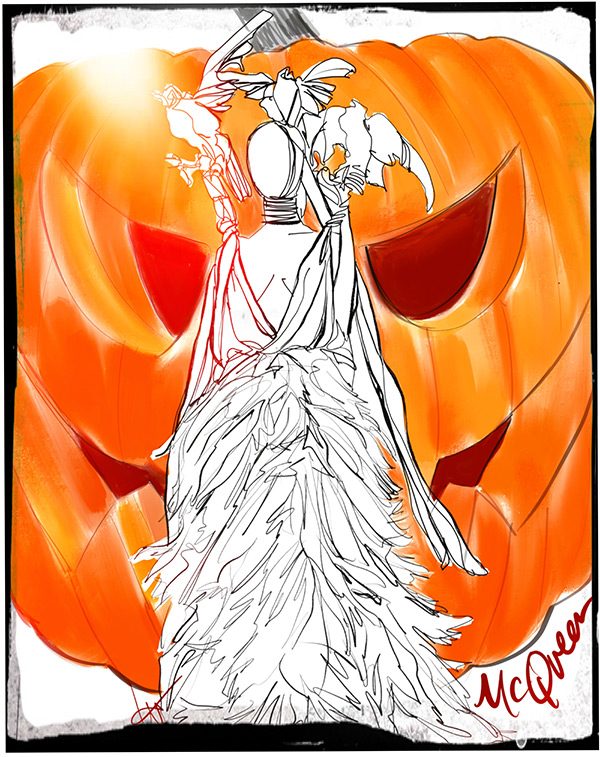 Halloween. When I came to the decision to dedicate this blog to Halloween I had no idea what the actual subject would be.  It stressed me out for a few days, I only knew I wanted it to be about corsets.  Back when I used to dress up for Halloween, it always involved a corset or bustier.  Nurse with corset, witch wearing corset, genie with corset, the list is long.
One night shortly before the blog deadline I was sitting on my sofa looking for inspiration, sifting thru my coffee table books on Basquiat, the 80's NYC club Area, Schiaparelli, and Vionnet and then it hit me, and it hit me hard.  McQueen, Alexander McQueen.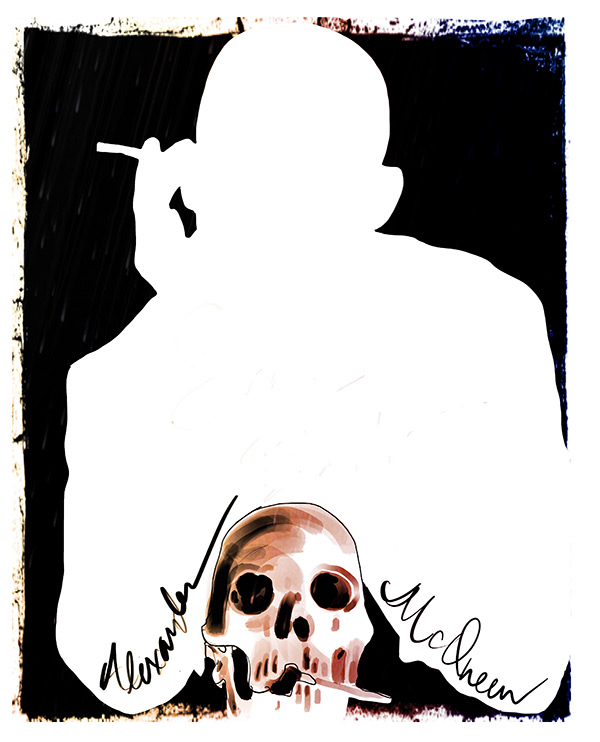 Savage Beauty, the exhibit of McQueen's work haunted me for years. I saw the exhibit three times, twice braving the imposing crowds at the Met and once on a private group tour. Each time I cried, I cried like a baby.    It still haunts me; I'm crying as I write.  It's safe to say the beauty of his work is what made many of us teary eyed but it was also the realization that he had taken his own life and how having such enormous talent might have been an unbearable burden.  I looked at his work then and I look at it now and I know that kind of genius and vision is not something I could ever handle, I cannot imagine what it is like to have all of that inside, clamoring to get out.  Thankfully I have been spared.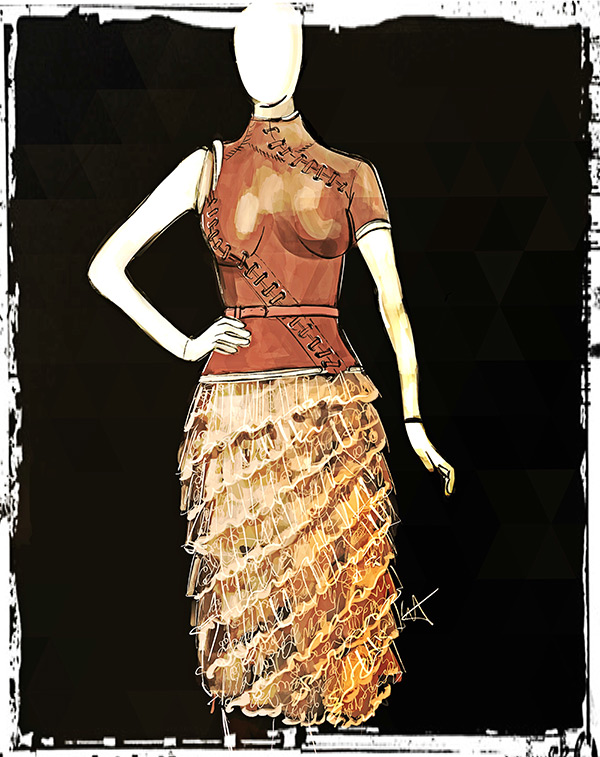 If you are ever fortunate enough to lay hands on the book, do so. Aside from page after page of the extraordinary there are his quotes, and none more timely than these:
"I want to empower women. I want people to be afraid of the women I dress."
"When you see a woman wearing McQueen, there's a certain hardness to the clothes that makes her look powerful.  It kind of fends people off."
"It's almost like putting armor on a woman. It's a very psychological way of dressing."
From the Voss Spring Collection of 2001, the blue silk shirt and skirt of ostrich feathers with the taxidermied hawks reminds me of the "The Birds", one of the scariest movies ever made.
I adore the Spine Corset circa 1998, it is completely bizarre and otherworldly, made of aluminum and black leather, it is mastery of chimera.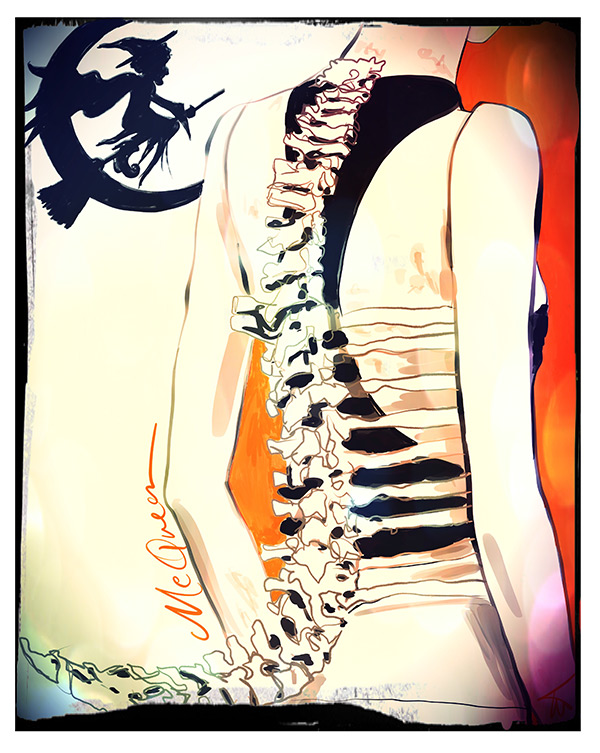 Eclect Disect is pretty dark, probably the darkest of all, but it is beautiful as well as bewitching. Black leather with a collar of red pheasant feathers. The resin vulture skulls freak me out with jealousy for his use of imagery.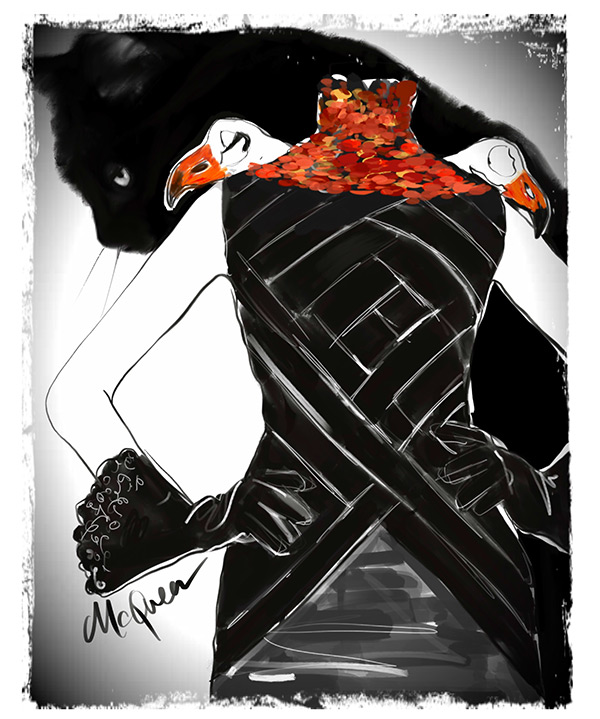 McQueen is famous for his "torsos", the leather, metal and resin molded torsos of women he so ingeniously fused into his collections, I chose Ensemble No. 13 because it's my lucky number and it has rows of lace beneath the brown leather corset and over the carved elm wood prosthetic legs.
I hope you are inspired to come up with your own costume, expressing your inner self, I hope you make not buy your costume, you will be surprised what you come up with. As you can see from McQueen's work there is undeniable beauty in the macabre, we just have to look.
"I oscillate between life and death, happiness and sadness, good and evil."-Alexander McQueen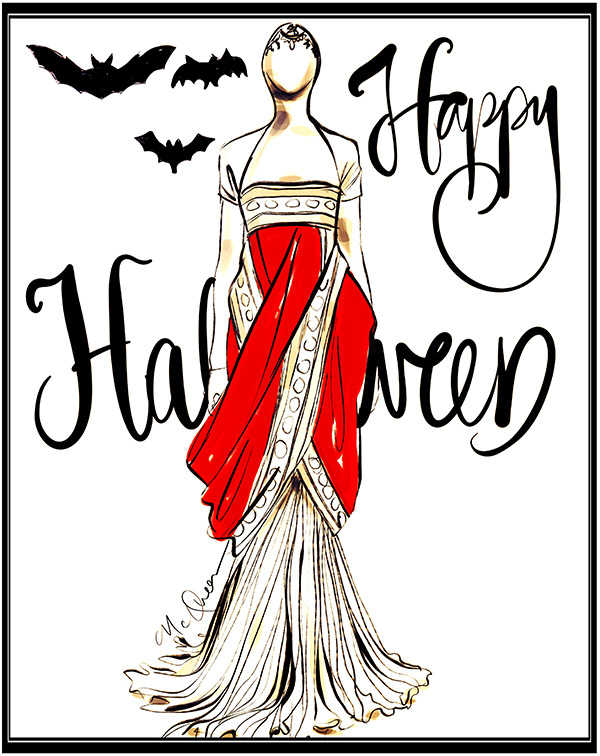 …don't we all! HAPPY HALLOWEEN, be well, be creative in your thoughts and deeds and be scary!