All I Want for Christmas . . . For Love & Lemons
By ALISON CONNOLLY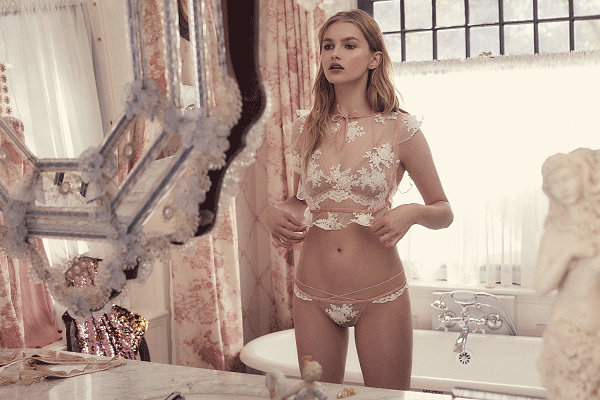 Prepare yourself to be dazzled, because the Holiday 2017 Skivvies collection from For Love & Lemons is out, and every detail is spectacular.  The collaborative efforts between the designers, the stylists, the photographer (and so forth) has resulted in a campaign that is pure eye candy.  It's not your cliché red & green holiday colors, but just as rich as something you would expect this time of year with its decadent abundance of lace, sequins, velvet trims and satin ruffles.
The lucky ladies behind this must-have brand, Laura Hill and Gillian Rose Kern, are best friends who had a lemonade stand together as children growing up in the Midwest (USA) and now design the line together (hence the name, For Love & Lemons).  From the beginning, the goal of the designers was to create something that stirred "lustful intrigue", and rest assured, the lingerie collection does not disappoint.  The "Skivvies" collection is just one component of a brand that is also known for its trend-setting ready-to-wear, swimwear, knitwear and accessories.
The Holiday collection is a well-rounded mix of of bralettes, panties and bodysuits.  It's worth noting that there are even more images to ogle over on the For Love & Lemons website (simply too many to choose from for this post), so make sure to click here (https://www.forloveandlemons.com/holiday-2017-skivvies) to see more!