April Trend: Falling In Love With Lavender
In her own words, here are our taste-maker, Katrina Eugenia's top lavender essentials for Spring 2018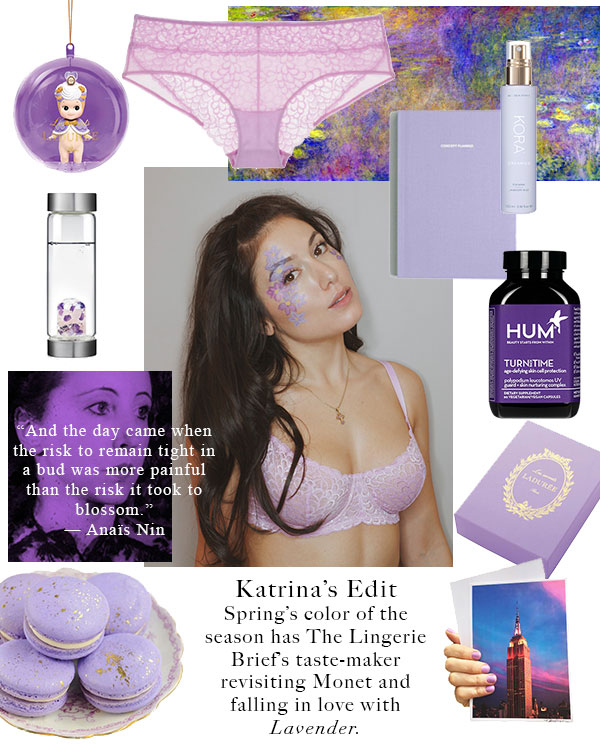 I live in SoHo, New York and Ladurée on West Broadway is more or less a second home. When I saw this Sonny Angel Ladurée Pâtisserie Ornament   of a little baby angel dressed in  a fancy pastry outfit I thought it was the cutest and funniest thing I had ever seen. Somehow, all of them are of male descent, which makes them even more darling and hilarious. I love mine so much I keep it up all year long.
It was love at first site when this gorgeous set in electric lilac from by True & Co poped up as a sponsored post on my instagram feed. I had to have it. I love the color and balconette bras are my favorite. It's super comfy and fits like a dream. I definitely want more True & Co in my life.
Water Lilies Yellow Nirvana By Claude Monet: Monet was my 'baby's first artist.' I don't know how old I was – maybe five. I discovered his work through a book with a title like, 'How to Paint like Monet' and according to my mom, I would dress up like him in a beret, go out in the backyard and paint. His work has remained close to my heart ever since. I love impressionism and Monet was a master of palette that I truly love. I still want to paint like Monet.
I have this Poketo Concept Planner in Lilac Gray from and I am obsessed with it. It is my most favorite agenda ever. Ever. I am compulsive about to-do lists and equally a champion of the written word. Like actually written. I just couldn't possibly get down my little missions on an app. My ambition is a bit too organic for that. If you're also a lover of the tangible and driven AF, this agenda is for you. I literally look forward to writing in mine. I know, it's pathetic.
I'm a face mist enthusiast. I use a rose water spray all day long to refresh and nourish my skin but at night I like to (at least try) to calm down with Miranda Kerr's Kora Organics Calming Lavender Mist. I also happen to think she's one of the most beautiful living creatures of our time.
I featured Hum Nutrition's Turn Back Time vitamins here, but I use a small army of their beauty supplements. I love that you can go on the site and take a personalized quiz to discover which vitamins are best for you. I've been popping Hum for years and I really feel and see the difference. I'm a big believer that health is beauty. It's that simple.
Ladurée: Like I said, I'm obsessed and probably there too frequently. I love their Marie-Antoinette tea, every to-go box and ribbon they have, and of course all of their desserts and macaroons. Lavender Macaroons… In truth, Laduree's Rose macaroons are my absolute favorite, but who could possibly just have one? I also love the Lavender, Marie Antoinette, Orange Blossom, and when it's in season, strawberry marsh mellow. Their food and the atmosphere are the ultimate royal experience so if you're near one of their locations you should totally stop in. Don't forget your crown.
Don't forget to look up this Spring. 'Magic hour' is one of many ways God tells us to stop for a moment of gratitude and enchantment. When I am not photographing lingerie or tiny little skincare bottles, I'm shooting big buildings. When I have these architectural assignments, I am at the mercy of the sun and clouds- waiting for a magic hour that is just right. The lavender, cotton candy sky surrounding my hometown's iconic Empire State Building are almost as uplifting in this Limited Edition Signed Notecard, 'Empire State of Dreams'  as they were in real life. If you'd like a little NYC inspiration at home or the perfect postcard to send along, check them out. They're perfect for framing, the fridge or snail mail.
Anything Anais Nin: One of my favorite things about Spring is that it's a very prolific and productive season. I love working. If you're looking for an inspiring and provocative female writer, give her journal's a try.
I am really intrigued by these gem water bottles by VitaJuwel right now… I recently learned that the use of gems to vitalize water dates back to ancient Greece. Every gem carries its own unique energy. In the VitaJuwel water bottles, that energy is transferred to the water improving its ability to vitalize you within. Its pretty amazing stuff. You can learn more about it and all of the studies behind it when you visit their website. This water bottle is a true gem- and I'm not being paid to tell you that!
To conclude, the self portrait in the center features the Gramercy Balconette Bra by True and Co. in electric lilac. To add Lavender to lilac I decided to do a little spring face paint too. Like I said, Spring's color of the season has me revisiting Monet and falling in love with Lavender. I think I'll go see some lily pads at the MoMa now…
Katrina Eugenia is a painter from New Jersey living and working in NYC. She is also a photographer and writer specializing in beauty and boudoir. She shoots and writes for luxury brands including Christine Lingerie and Joanna Vargas Skincare. You can learn more about the artist by visiting her website Katrinaeugenia.com or listening to our interview with her on Audio Briefs