Hanky Panky Collaborates with B.R.A. Recycling Agency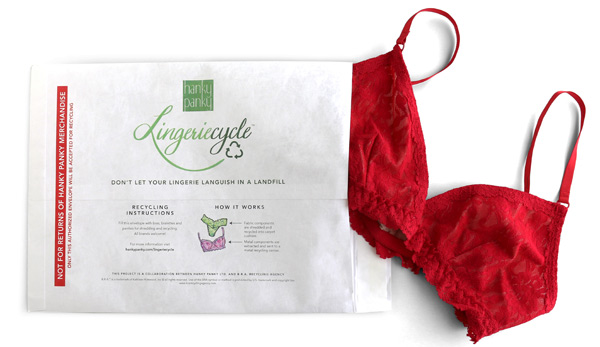 By ELLEN LEWIS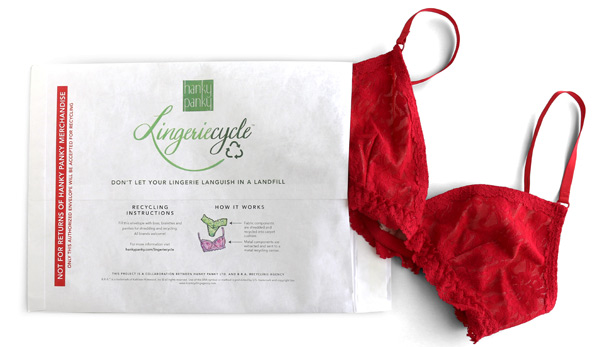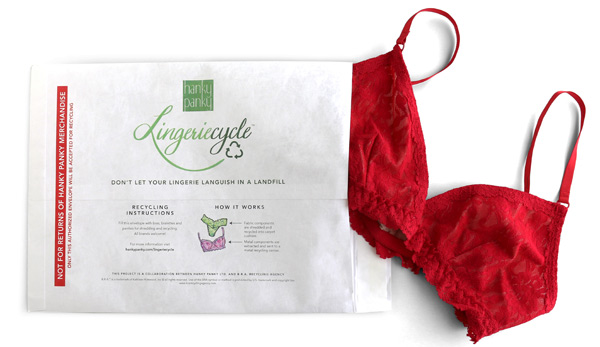 Sustainability is such an important topic and we applaud the terrific collaboration between Hanky Panky and the B.R.A. Recycling Agency. Details about Hanky Panky's Lingeriecycle™ program are worth repeating in case you missed reading about it earlier this month!
For any of you who read my last blog on Sustainability, you know that this subject has occupied my thoughts for a while now. What concerns me with the new awareness of this issue is the marketers who hawk the concept for the mere sake of sale's promotion. That is why, in this series of blogs, I feel compelled to highlight brands that have made this a mission from day one. One such example is Hanky Panky whose pursuit of this mission has driven their culture for 40 years. In a conversation with Gale Epstein, partner and creative director, she discusses her belief that we must all be "Stewards of the Earth". On a personal note, I can vouch for Gale's dedication to this credo, not only in the Hanky Panky studios but also in her everyday lifestyle. Her continued efforts to eliminate waste in her offices and her home are unimpeachable. That is why Hanky Panky has begun collaboration with B.R.A. Recycling Agency to launch their Lingeriecycle™ initiative.
Lingerie is a particularly difficult product to give away to a secondary user. I believe the reasons are self-evident. But this is also a product constructed of synthetic materials that are not bio degradable. B.R.A. Recycling Agency is a waste management organization that has established a method of separating bra components to re-purpose the fabric into carpet padding, the metal to metal recyclers. The result is to re-direct the materials away from landfills.


The Lingeriecycle™ program, the details of which are clearly defined on the Hanky Panky website, invites customers to mail their discarded bras and panties to B.R.A. Recycling in pre-addressed envelopes provided to them when they purchase a Hanky Panky item. ANY BRAND of bra and/or panty can be included.


In tandem to the Hanky Panky credo of charitable work, they encourage consumers to donate gently worn bras to your local homeless or women's shelter or to national organization such as Support the Girls. The Lingeriecyle™ initiative is for intimate apparel items unsuitable for donation either for hygiene reasons (worn panties) or because they are worn out and no longer serviceable.
Nothing would make these two partners, B.R.A. Recycling and Hanky Panky happier than if stores and other brands would join this effort. It's not about competition. It's more about salvation.