Bravissimo Swim Survey
By ELLEN LEWIS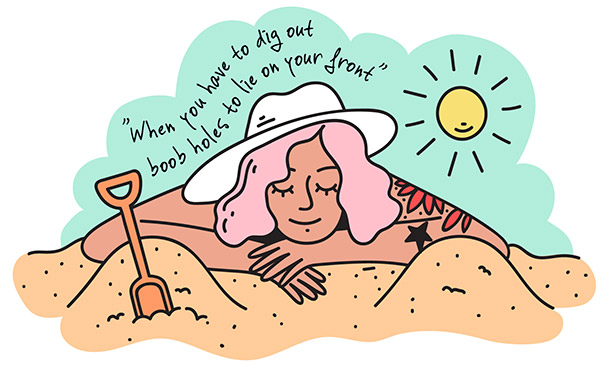 The name Bravissimo has appeared on my intimate apparel radar field countless times in the last 20 plus years, particularly when the subject of large breasted fitting trauma arises. Since their inception in the UK in 1995, they have grown to be a mega force in fitting large cup women for lingerie, swimwear and outerwear. Way ahead of the North American market in recognizing the sale's potential of women who are 28-40, D-L cup sizes; they have knowledge of fit that has secured them as experts in this venue. Our growing readership in England, 2nd only to the USA, has put me more in touch with the idiosyncrasies and intelligence of this highly competitive market. As a member of the large cup club, I am intrigued by the insight and development of Bravissimo as a force to be reckoned with in a fast growing market niche. Today, besides a robust website, they are 29 stores strong and still growing. A buffet of brands that are well respected for their design and engineering, including their own private label, Bravissimo continues to be a success story in a rapidly changing retail environment. Recently, I secured a swim survey they did in the UK but frankly, I think it's applicable everywhere in the West. I decided to publish it here because we all appreciate feedback and a bit of tongue and cheek humor too. How British!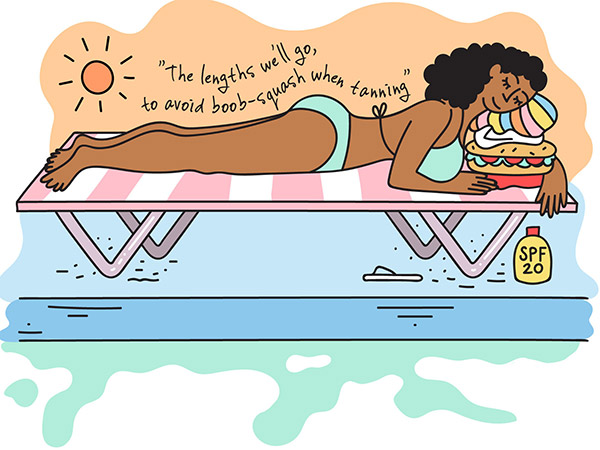 Survey reveals that good support is a key factor in UK women feeling confident in swimwear
Bravissimo has surveyed 1000 women in the UK who wear a cup size D and above to find out how confident women with bigger boobs feel in swimwear.
71% of all respondents cited 'support for my boobs' as an important function of swimwear
The bigger your boobs, the more important support becomes; 70% of those who are a E cup and below said support was important, whereas 85% of those who are F cup and above said the same.
Of the 51% of respondents who said that they felt 'very' or 'somewhat' confident in their swimwear, 33% cited good fit and support of their boobs as a key factor.
Which functions of swimwear are important to you?
| | |
| --- | --- |
| Choice | % |
| Comfortable | 79% |
| Flattering for my shape | 74% |
| Support for my boobs | 71% |
| Lots of coverage | 38% |
| Fashionable | 30% |
| Suitable for sports and activities | 22% |
| Quick dry | 20% |
| Great for tanning | 19% |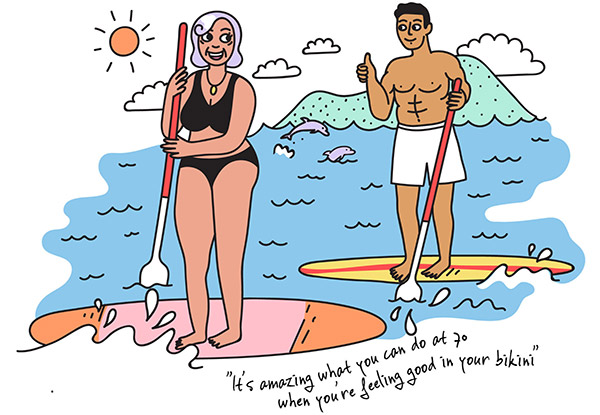 Here's what some Bravissimo customers had to say about their confidence levels after buying bra-sized swimwear to fit them:
'Supportive bikinis just made me feel more confident. I can splash about, play football or volleyball without fearing that my boobs will pop out!'
'I love my Bravissimo bikinis which I use to keep everything in check when I scuba dive and swim!'
Bravissimo's customers also shared some of their holiday stories from 'big boob hacks' – digging 'boob holes' in the sand to sunbathe on their front, to funny stories of friends trying to use their bikini as a hammock.
The survey revealed a lot of frustration around finding stylish swimwear that fits and supports well:
"For many years buying swimwear was very frustrating as I used to have to buy bikinis by dress size, which were either too big on the bottom half, or too small on the top half, and never fitted well. This has improved in recent years in that you can now buy separate bottom and tops, and tops do come in bra sizes in some shops. I wish there were more bra sized bikinis available and that the fit and support was exactly the same as a bra."
"Swimsuits rarely have enough boob support, and with bikinis the problem is that they are often sold in XS, S, M, L or clothes sizes. As I am slim with large boobs, I need a small back size but a larger cup size. If I buy the large size that fits my boobs, the band around my back is much too loose, and I don't get the support I need."
58% of women surveyed have felt they couldn't take part in activities as they didn't feel supported by their swimwear
Which of the following activities do you think you would feel uncomfortable doing while wearing swimwear?
| | |
| --- | --- |
| Choice | % |
| Sports e.g. volleyball on the beach | 58% |
| Talking to other holidaymakers | 25% |
| Frolicking in the pool or sea | 21% |
| Going to a spa | 19% |
| Sunbathing | 16% |
| Swimming | 15% |
Despite support being such an important factor, 91% of survey respondents have not been fitted for swimwear, 68% because they didn't know this was an available service.
Elly Corney, Director at Bravissimo says:
"At Bravissimo we want to make sure that women with big boobs feel amazing all the time but especially while on holiday as this is when you feel the most on show to the world – there aren't many other times when you're in public with so little on! Finding a good choice of stylish bra-sized swimwear that fits and supports properly can be life changing for our customers as it enables many big boobed women to feel more confident and able to take part in the fun things they want to do on holiday.
We offer a friendly fitting service for our swimwear, as well as our lingerie. You don't have to come in to one of our shops as we can give good fitting and style advice over the phone and via live chat too."