Explore British Luxury Lingerie Brand ~ Katherine Hamilton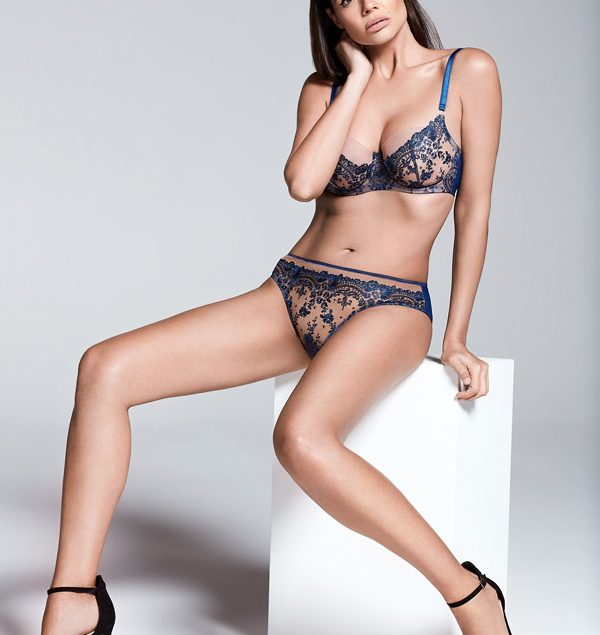 Luxury lingerie with a fit-focus in large cup & small band sizes 26-38, D–HH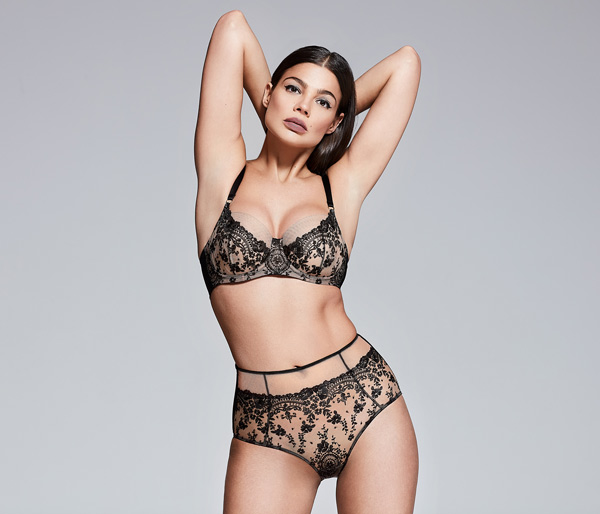 Katherine Hamilton is a British luxury lingerie brand that specialises in larger cups and smaller bands. Boasting 54 sizes from 26-38, D-HH, it combines luxury materials such as silks and French lace with superior technical fit and comfort.
Katherine Hamilton's designs create the illusion of effortless beauty. Hidden beneath the delicate, fine fabrics are years of expert technical research and development that has culminated in the brand's trademark shape: forward projection and lift with a rounded silhouette.
As a fit-focused brand, Katherine Hamilton understands the need for a firm bra band for sufficient support, particularly for those with a fuller bust, and so uniquely offers size 26 bands as standard to ensure that those with a smaller frame can obtain proper support. While most fuller-bust brands use underwires adapted from smaller sizes & simply make them wider and deeper, Katherine Hamilton has developed its own unique underwires that offer a superior fit for fuller cups. After years of putting up with wider wires that didn't fit well on her smaller fame and suffering from underarm discomfort and the unflattering shape of her breasts being pushed to the side, founder Katherine realised that breasts don't get wider, but instead get fuller (otherwise they would grow around our sides!) To rectify this she created narrow underwires that are modelled on real women's shapes & replicate how breasts actually grow to create forward projection, lift and underarm comfort.
COLLECTIONS
Katherine Hamilton's Continuity Collection ensures that its bestsellers are always available, with new styles and colourways added each season. The collection currently consists of two core ranges: Abbie and Sophia.
The Abbie robe epitomises the vintage inspiration behind the range, composed of elegant, long flowing silk, French floral lace with eyelash trim and silk covered button detail that inspires the image of 1940's Hollywood idols lounging in their dressing rooms.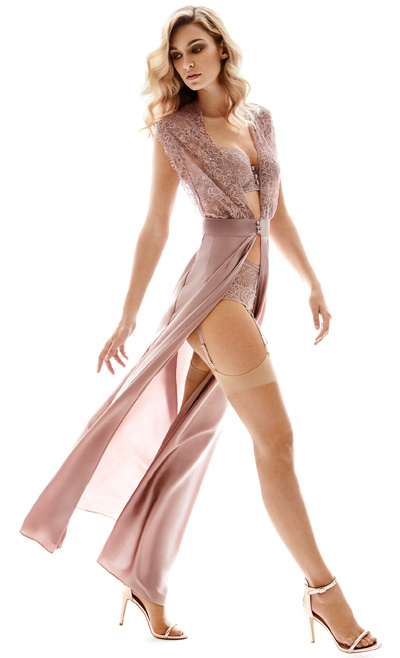 Abbie Vintage Rose: soft floral French lace with eyelash trim, long flowing silk skirt and silk covered button fastening.
Abbie in Black is the latest addition to the Continuity Collection with a new vintage inspired deep suspender belt for additional coverage and support.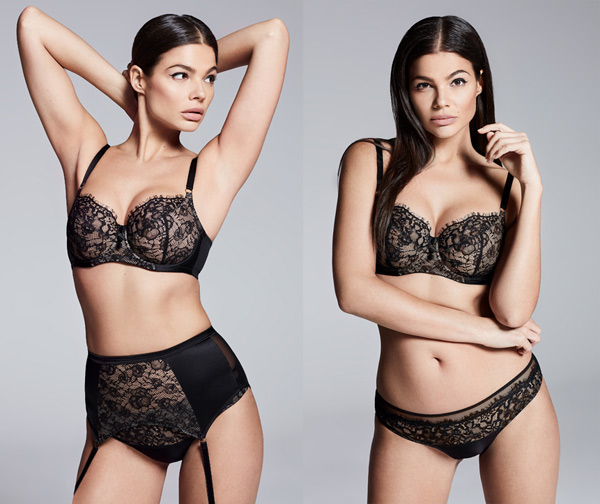 Abbie in Black: floral French lace with eyelash trim and gold metal detailing.
Sophia combines luxurious vintage details with modern wearability- designed to create a timeless and elegant look that offers exceptional support and comfort.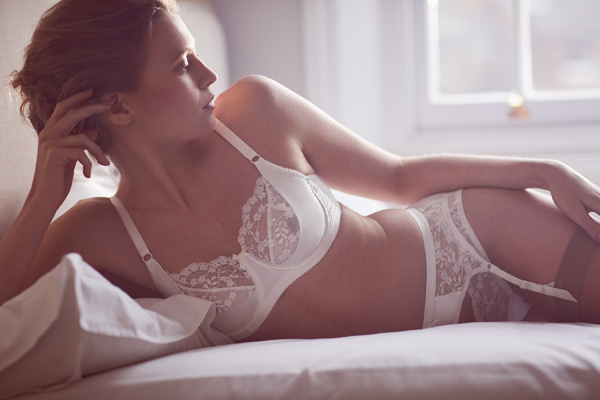 Sophia Ivory: composed of light floral French lace and sumptuous silk
Autumn/Winter 2019

A sneak peek of Katherine Hamilton's AW19 collection reveals stunning intricate French embroidered detail and delicate tulles courtesy of the Abrielle range that redfines fuller bust luxury lingerie.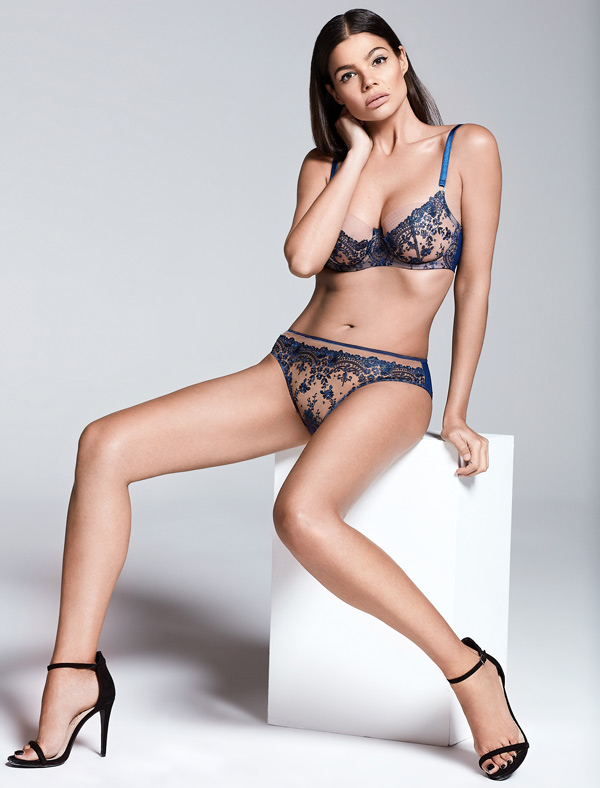 Abrielle Blue: striking jewel blue French embroidered tulle with invisible tulle lining create the illusion of a 2-piece cup
Katherine Hamilton's responsiveness to emerging trends and their impact on the fuller bust consumer sees the launch of their first wireless lace bralette, Emelie, composed of delicate French floral lace and constructed for incredible lift and shaping, without a wire!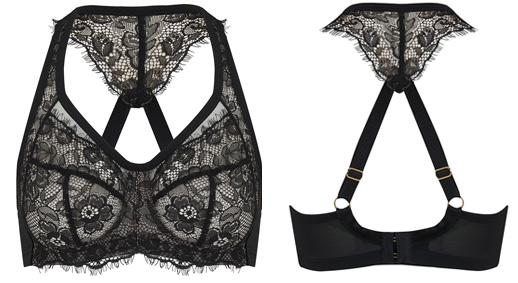 Emelie Black: a wireless supportive lounge bra composed of French floral lace with eyelash trim creating a delicate, lightweight feel with strong support.
The Emelie wireless bra coordinates with Katherine Hamilton's first loungewear collection designed for lounge and sleep in pure indulgence and comfort. The 5-piece range is composed of sandwashed silk and features a William Morris inspired bespoke print.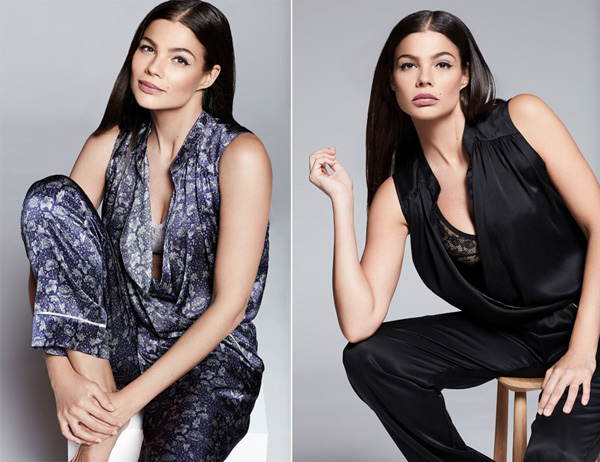 Explore all the beautiful collections at
KATHERINE HAMILTON LUXURY LARGE CUP LINGERIE