Violet & Wren ~ Silk Gardens
By ALISON CONNOLLY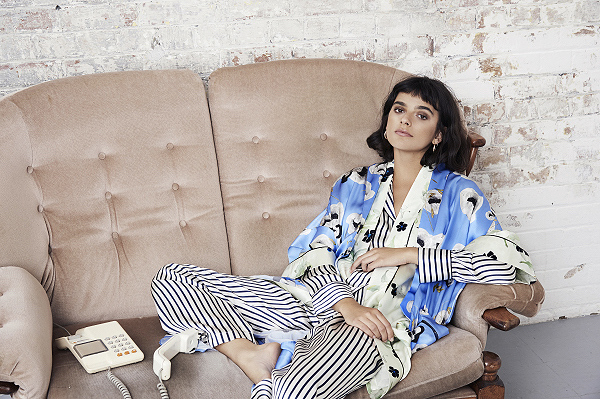 This time last year we featured Violet & Wren in the Gallery  and it's a pleasure to be able to follow-up with what is up-and-coming next season from this luxury label.  Described as "British, botanical loungewear with a passion for everyday luxury", Violet & Wren specializes in silk creations such as robes, pajamas and chemises that feature custom hand-painted illustrations.
For Spring/Summer 2019, those illustrations are light and floral (with a classic stripe option in the mix).  Known for its dramatic prints, the brand's design team (founders Louise Barnard and Helen Pollington) pride themselves on creating collections that work as luxe loungewear that can be accessorized to wear outside the home.  This is an on-going trend that sophisticated fashion aficionados always seem to be able to pull off.
While the following images are a sneak peek at 2019, we certainly recommend that you take a look at the current Autumn 2018 collection that is currently available online.  You see more eye-catching prints but with dramatic contrasts and bold patterns.
It's worth borrowing this note from last year's post, in which we explain the origin of the brand's name.
"If you're curious about the name Violet & Wren, the designers said they chose 'violet' because it's the flower of modesty (appropriate for a label that isn't overtly flaunting sexy) and "wren" because it's a small British bird renowned for nest building (hence, the element of loungewear)."