Samantha Chang Pops Up!
By ELLEN LEWIS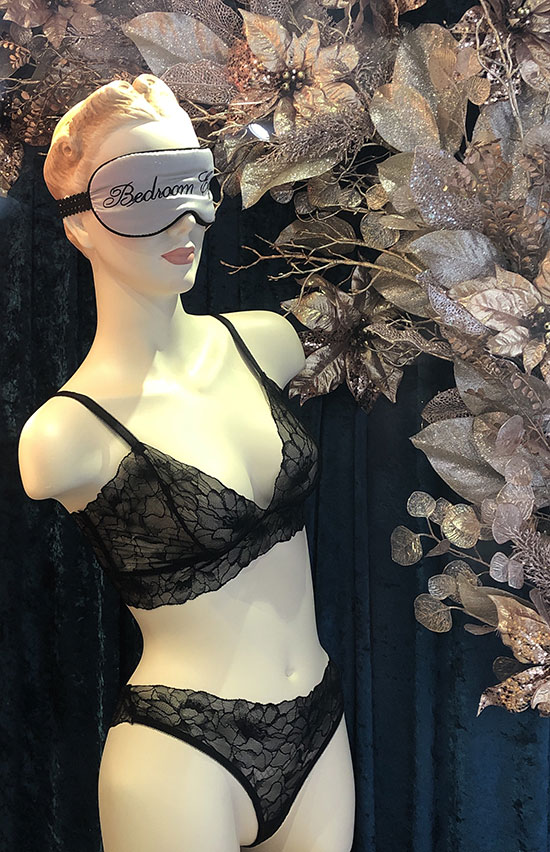 It's quite serendipitous that I received an article in my in box today from The Robin Report entitled "Retail's Third Wave Phenomenon".  It's about the concept of 'Pop Ups', the very subject I intended to write about today. Of course, it's Robin Lewis' take on the case, with a deep dive into the macro analysis of a changing consumer market. It focuses on the big guys, Amazon, Sears, Target, Kohl's etc. Still, the relevance of this piece does not escape me because as he describes the evolution to "third wave distribution", he defines the Pop Up as a "platform of opportunity": Thus my correlation with the topic.
Brands and stores (obviously, my focus here is on Intimate Apparel) are desperate for new channels of sales potential. In the lingerie industry, so intimate to begin with, the Pop-Up store made its debut several years ago. Designers, mainly small entrepreneurial collections, began to feature their products in free standing short term locations as well as their own proprietary websites. Using social media, they have exploited this venue to attract devoted followers and in the process, establish their credentials as independent brands scaled to the evolving consumer demand for individuality. The focus of these Pop-Ups seems to be free-standing available real estate that smart landlords are willing to sublet for a brief period of time. But what if these short term Pop-Ups were positioned inside a boutique? What if the process became a store event, a way to attract dedicated customers and entice newbies?  That's just what Samantha Chang did in December for two week-ends at the renowned La Petite Coquette in New York City.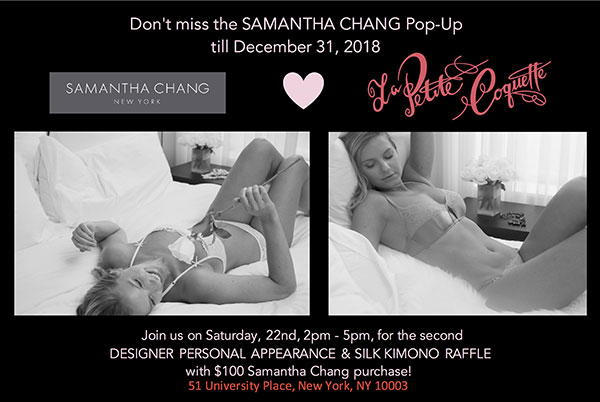 There's a slight difference here and that's what engaged my attention. Samantha Chang is an 18 year old established and exclusive brand. Her success in the Lingerie market is not in question: She has a longstanding history in specialty stores and a robust website. But her quest to find new ways to satisfy her customers (and that includes retailers as well as consumers) inspired her to test the Pop-Up in a definitive space at La Petite Coquette. This was not consignment merchandising. It was an interactive event in which Samantha and Rebecca (the store owner) spent a minimum of 4 hours each day on the sales floor personally attending to customers. Using social media, direct to customer emails and a collaborative invitation, the plan worked. They sold over 90 pieces of Samantha Chang Lingerie designer collection over a 20 day period. Not only did Samantha benefit, but La Petite Coquette found new customers. One invitee bought an entire bra wardrobe.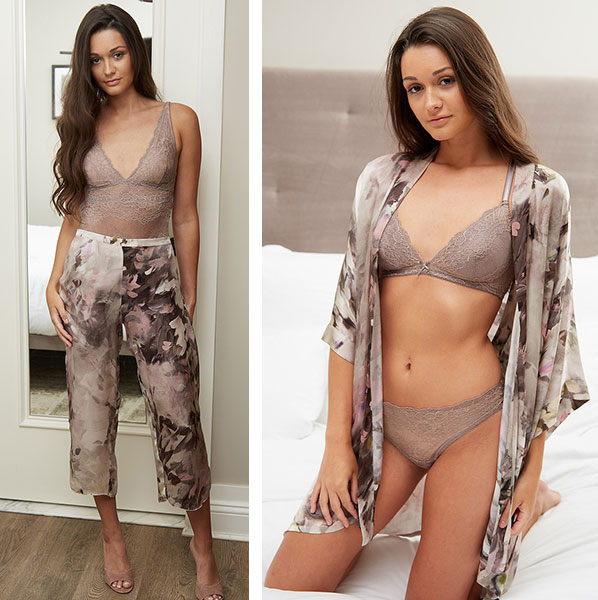 I don't profess to compete with Robin Lewis' broad base analysis of this evolving retail market, but I am proud to attest to my niche grasp on the impact of new perspectives on brick and mortar sales. It's an idea in its nascence, feels right and still enables retailers to experience robust numbers. Isn't this what merchandising is all about?
"Try New Things. Don't Be Afraid" Michelle Obama