Rising Star ~HERVÉ BY CÉLINE MARIE
By ALISON CONNOLLY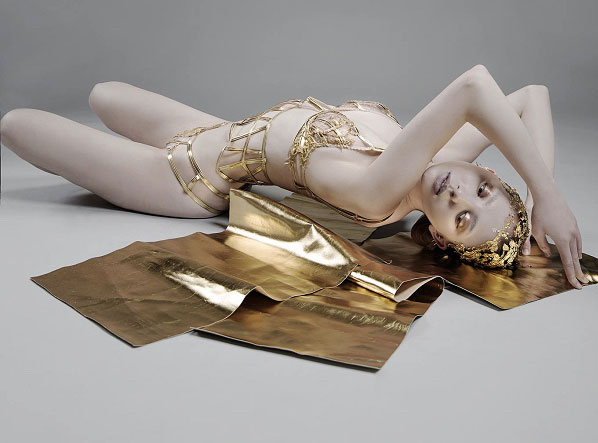 Celine Marie is a French-German lingerie designer (based in London) who was recently named a "Rising Star" at the 2018 UK Lingerie Awards.  After looking through these dazzling images from her latest collection, you will agree with that assessment.
Though the brand HERVÉ BY CÉLINE MARIE is fairly young, it is anticipated that this will be its breakout year.  What sets this innovative couture lingerie label apart from others is its relationship between modern and traditional design; from 3D laser cutting technology to its traditional handcrafting techniques.  The goal is to create lingerie that is worn to be seen, and there is no doubt that these intricate avant-garde pieces are show-stoppers!
The Fall/Winter collection, called Human Mechanoids, is both parts futuristic and classic with its gilded lace and structural framework.  It is inspired by the works of Swiss surrealist painter HR Giger and his idea of the biomechanoid, and how our relationship with technology is taking over our minds and bodies.
HERVÉ, the designer's mother's maiden name, symbolizes strength and fierceness.  The brand's mission is to create lingerie that all empowers all women, particularly those who have uneven breasts or have undergone a mastectomy (that is why the made-to-measure element is important). HERVÉ uses sustainable textiles to create handmade garments that are derived from laser cut patterns.  This highly technical approach is evident in the corded metallic lace applique (layered on sheer tulle bases) you see on most pieces.
It will be exciting to see how the brand expands and evolves throughout this year.  No doubt we will continue to see the continued balance of the ethereal and the industrial in future designs.
Discover more about the world of HERVÉ BY CÉLINE MARIE