A Millennial Design Collaboration ~ Kaki & Madalynne Intimates
By HOLLY JACKSON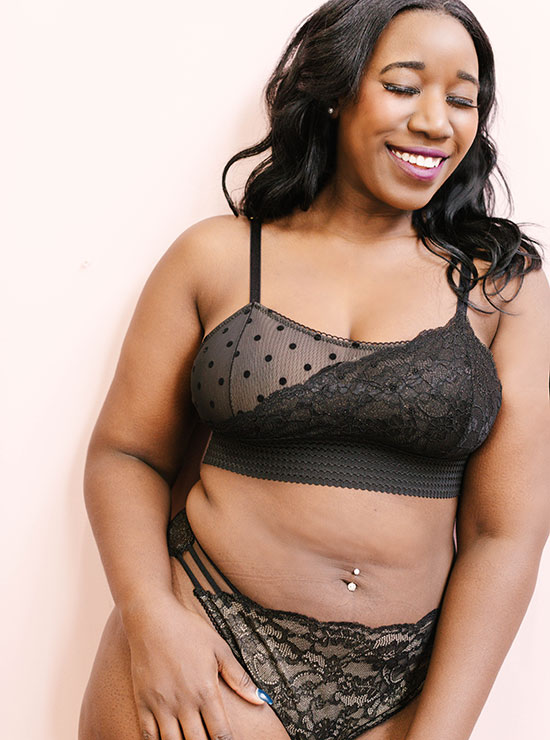 If you're in my age range, learning to make stuff has become really trendy. Millennials are taking up sewing and other kinds of crafting in droves, both to relax and to try and get back to a less digital age. It's also coincided with age of the "side hustle", where everyone seems to be developing an Etsy business or other side source of income alongside their regular job. The collection I'm covering today is both a testament to the power of young women and hard work as well as a great gift to both lingerie fans and sewing obsessives.
This is a story of two young women, both out of Philadelphia, who found success at big brands and wanted to try something smaller. Maddie, the designer of Madalynne Intimates, had already produced multiple collections with Urban Outfitters and worked for URBN for nearly five years. She found herself creating bra patterns and teaching workshops on how to sew them alongside her design job. Amber, owner and designer of Kaki Intimates, had already launched a collection with BHLDN in 2018. She had brides in mind but wanted to create lingerie that worked for everyone. During this holiday season they've teamed up to create a collection that both makers and lingerie collectors will love.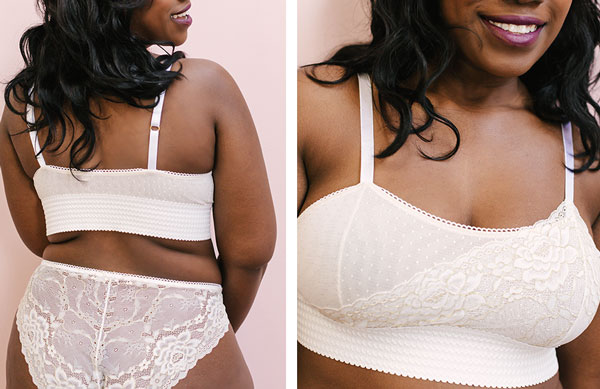 This size-inclusive collection (XS through 3X) is made up of the Eloise Bralette and matching Eloise Panty. Both are made from fabrics that sewers and lingerie lovers are familiar with, including lovely stretch mesh and galloon lace. The bralette features adjustable shoulder straps for a better fit. The panty features a trendy asymmetrical look with strap detailing that is really beautiful. The set is available in white, black and red as a holiday addition to the line.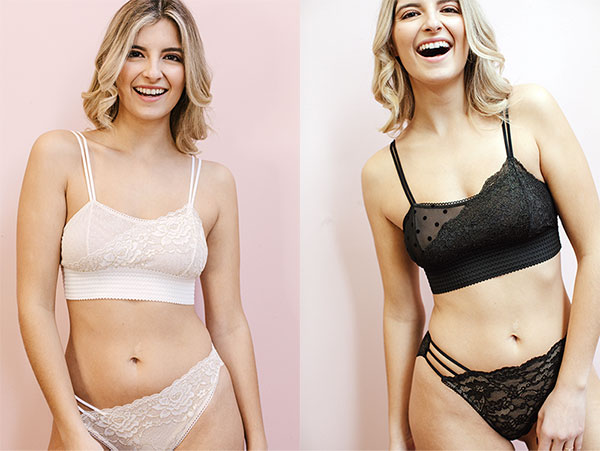 This line feels like it reflects its creators perfectly. It's trendy and youthful, but also accessible and easy to layer. It would be perfect for lounging around or underneath a sheer shirt as part of an underwear as outerwear inspired outfit. The fanciful lace and sleek dotted mesh contrast with each other perfectly.
This line is available both as finished pieces for lingerie lovers and as a lingerie pattern for crafters! I love that this might encourage lingerie fans to discover the joy of crafting or help crafters discover the fun wearing great lingerie. It's a collection that hits multiple trends and types of customers but would also work perfectly when displayed and sold in a boutique setting. I'm so pleased to see this line coming from two creative women and can't wait to see what else they will go on to do in 2020.