BEST UNDRESSED ~ Golden Globes 2020 Illustrated
BY TINA WILSON
A few years ago I was sitting in my living room waiting for the Golden Globes to kickstart the awards season. I had just gotten a new iPad, the big one that you can draw on with ease. I was watching the Red Carpet entrances and for some inexplicable reason I attempted to draw my favorites dresses the moment they came out. It was tricky until I figured out I could take a pic with my phone, sketch, and then take a pic, sketch, take a pic, as my memory wasn't what it used to be. I broke out in a sweat but it worked. I had also recently discovered that I could record my sketching and send it out to my friends on FB and Instagram. It's now my thing. People seem to enjoy it and I have a blast doing it.
Many Golden Globes, Academy Awards and Grammys later, I'm still documenting the fashions, and loving it. But now that I have "mastered" the sketch/pic juggle, I have more time to analyze what I see. What I saw at this month's Golden Globes were puffy sleeves, long lean columns, off the shoulder wraps, sheer tulle, strapless and tuxedos for women. There were a few misses like bows bigger than the wearer and underwear or lack thereof taking over the ensemble. Don't get me wrong I make a living on underwear but at a televised black tie event it should be "heard" and not seen.
Wondering what a star is wearing underneath to hold it in, to keep it up or NOT wearing so it all hangs out is on all of our minds as we watch the fashion parade. One of the biggest trends was the "plunge", whether it was Scarlett Johansson with her red taffeta Vera Wang or the extreme, almost topless Kerry Washington plunge which wasn't a plunge at all but jewelry substituting for a top. The most effective and suitable "bra" for these ladies would be just about anything from Fashion Forms. Let's not forget Laura Dern, who is having a renaissance, she is a bad ass and her feminine floral plunge was understated and beautiful.
I was loving the off-the-shoulder wrap dresses. My favorite was Helen Mirren, she is always my favorite. It didn't hurt that she was on the arm of Antonio Banderas who in my opinion gave the best performance of the year in Pain and Glory. Or Cynthia Erivo who just may make Harriet Tubman a household name, her blue sequined and white collared number was perfect for her. And no words for Priyanka Chopra and her pink jersey dress, I was so impressed I forgot to sketch her.
The more classic strapless dresses worn by Jennifer Anniston, Reese Witherspoon, Renee Zelwegger, Michelle Williams and others would have been well served by the infamous Wacoal Red Carpet Strapless, which I have sketched often. There are other contenders like Magic BodyFashion who also has an array of solutions to the plunge/strapless dilemma.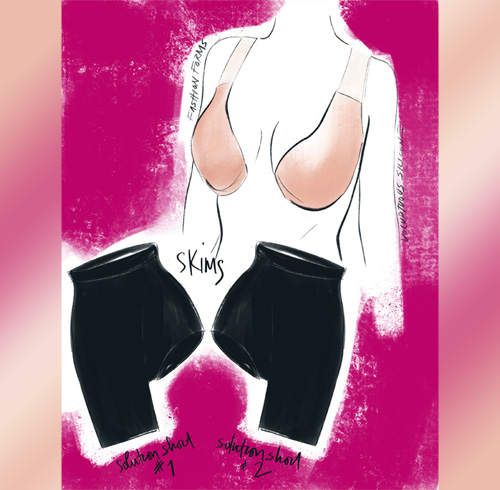 By far the challenge to underdressing was above the waist. Below the waist is easy in comparison, all anyone needed was Commando's Control Top Thong. For the thigh high slits that seemed to be everywhere, I must say Skims offered a unique solution, the Solution Short, it comes in 2 SIDES, right and left. I don't know how it's doing at retail but it has merit.
A shout out to my favorite on stage couple, Zoey Kravitz and Jason Momoa, the finest stepfather/ stepdaughter duo on the planet. And special shouts to Kate McKinnon and Phoebe Waller-Bridge who both slayed the tuxedo.
There were exquisite dresses that needed no special undergarments, they were long lean columns with cloud like poufed sleeves. Worn by Killing Eve's psychopathic Jodi Comer and The Crown's Olivia Colman, they were some of my favorites for their elegance and the confidence they exuded.
I will end with Charlize Theron who looks other worldly in anything she wears. Her dress was the ultimate tribute to lingerie. The black corset with the beautiful lime green georgette one shoulder was breathtaking. Her undergarment WAS the dress, compliments of Maria Grazia and Christian Dior.
See you at the Academy Awards! Peace, Resistance and Happy Lunar New Year!