AMAIÒ ~ Where Swim Meets Ready-to-Wear
By ALISON CONNOLLY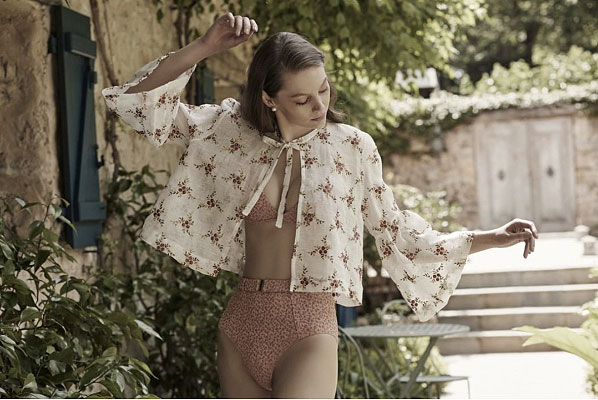 Founded in 2016 by designer Samantha Khoury, AMAIÒ is a women's luxury swim & resort wear label based in Los Angeles that specializes in a beautiful space "where swim meets ready-to-wear".  It is unique from other swimwear brands in that it's not simply a swimwear label, but instead part of a niche group the designer created called Après Swim.  This means Khoury's designs are made not just for swimming, but for the social activities that take place after a day in the water.  However, that doesn't diminish the functionality of her pieces when it comes to the beach or the pool, because garment construction and fit are something designer Khoury prides herself on.
As if the chic garments and beautiful craftsmanship were not enough, AMAIÒ takes the brand's appeal a step further with a sustainable approach to its "slow fashion" manufacturing process; sourcing fabrics from heritage mills in France and Italy and minimizing waste in every way possible in its Los Angeles facilities (the brand goes into considerable detail on their website under Brand Ethics).
Furthermore, because founder Khoury's professional background was in the nonprofit sector prior to launching her label, she believes in giving back.  In fact, AMAIÒ contributes 10% of their net proceeds to NGO's (non-governmental organizations) Drip by Drip based in Berlin, Germany the Women's Global Empowerment Fund, Uganda.
In my opinion, AMAIÒ is a brand with beauty, brains and heart.  It is a label I would be proud to wear on so many levels, and I'm so pleased that this lovely brand with its French aesthetic is based here in my hometown of Los Angeles.  I feel like a small part of the French Riviera is attainable here because of it!
Scroll through and soak in the beauty of some of AMAIÒ's recent collections.  Please share which piece(s) you'd like to add to your wardrobe in the comments.