THE FEMMY AWARDS 2020 – Illustrated
By TINA WILSON
The Red Carpet was not just any red carpet.  The 2020 Underfashion Club Femmy Gala, from the moment the doors of Cipriani 42nd street opened, was different. Perhaps it was the fierce elegance of our performer extraordinaire emcee Nona Hendryx posing for photos or the irrepressible charm of Tony Award-winning Broadway legend Irene Gandy arranging the guests for their photographs like the pro that she is. Or perhaps it was the gracious way Cyndi Lauper took to the stage to sing with her friend Nona, an impromptu bar of Voulez-vous coucher avec moi, ce soir?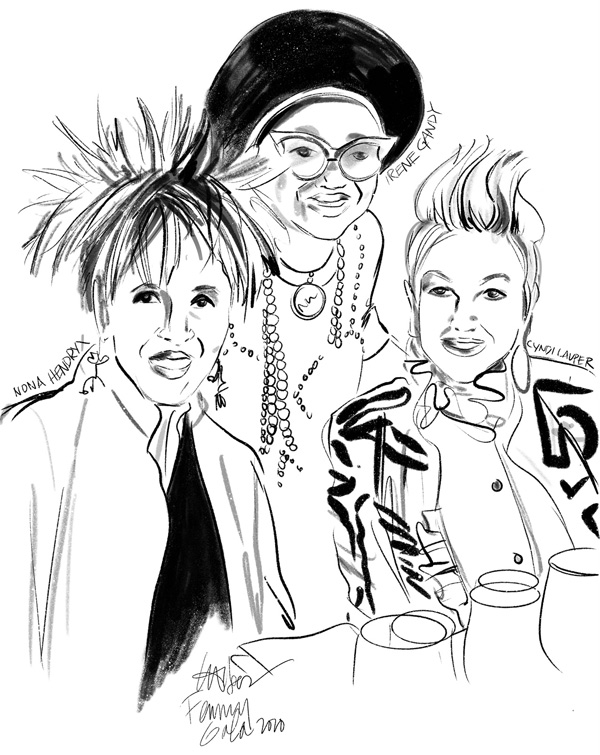 For those of you wondering what is a Femmy, it is a statue and an event in the intimate apparel industry given by the Underfashion Club.  We have it every year, but this year was very special.
It is an event where we all come together to honor our industry leaders and to raise money for students in the intimate apparel field through scholarships. We also have a design contest and the garments are displayed during the event and winners are chosen but more on that later. On Femmy night competitors, collaborators, designers, models, and CEO's mingle during cocktail hour and dine on candlelit white tablecloths.
We started the evening by presenting our honorees with their statuette. The first being Walmart Inc. The Retailer award was accepted by Berch Schultz, the DMM of ladies' intimate apparel, which is a huge part of the Walmart business. We are grateful for their support throughout the years.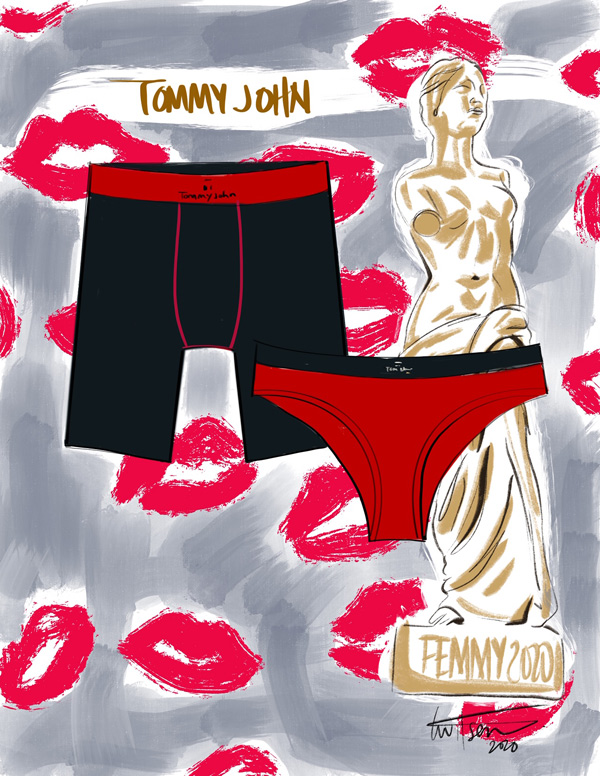 Tommy John has been on the scene for 12 years and in that time has proved to be formidable in both men's and women's undergarments, cementing their place in the field. Tommy John's founder Tom Patterson and the co-founder Erin Fujimoto took the stage to accept the Brand award together. We are thrilled they have become a part of our club community.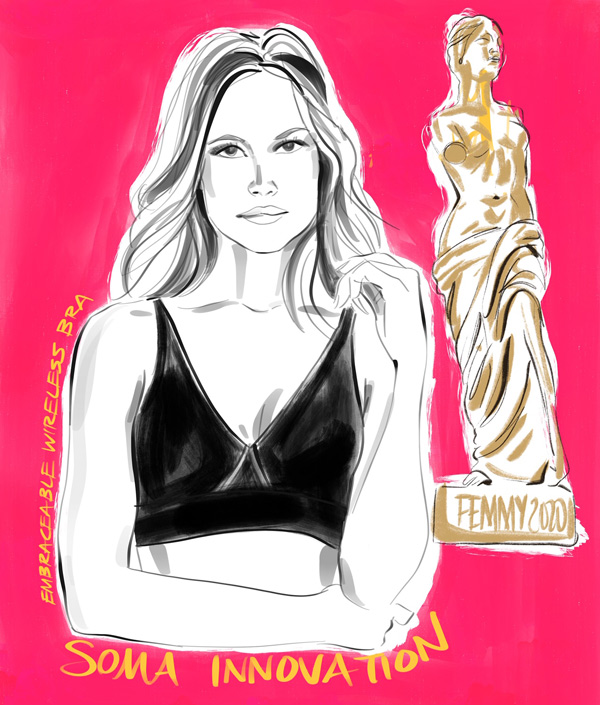 An award was given to  Soma for Innovation, it was well deserved, Soma has been a staple in my undie drawer for years.  Their Vanishing Edge panties are legendary, and their bras are impeccable, they were on the 'comfortable' bandwagon long before it became the norm. Thank you, Mary Van Praag President of Soma for accepting our award and for bringing a team of women so energized they lit up the room.
No one will argue that the show was stolen by our Icon recipient. Our industry's most prolific fit model is Dorothy Galligan, if you are wearing a bra, the odds are it was constructed to fit Dorothy. There is no one more beloved or deserving than her, she has been instructing bra designers for years on how a bra should fit. Her fellow models turned out in droves to show her how much she is cherished.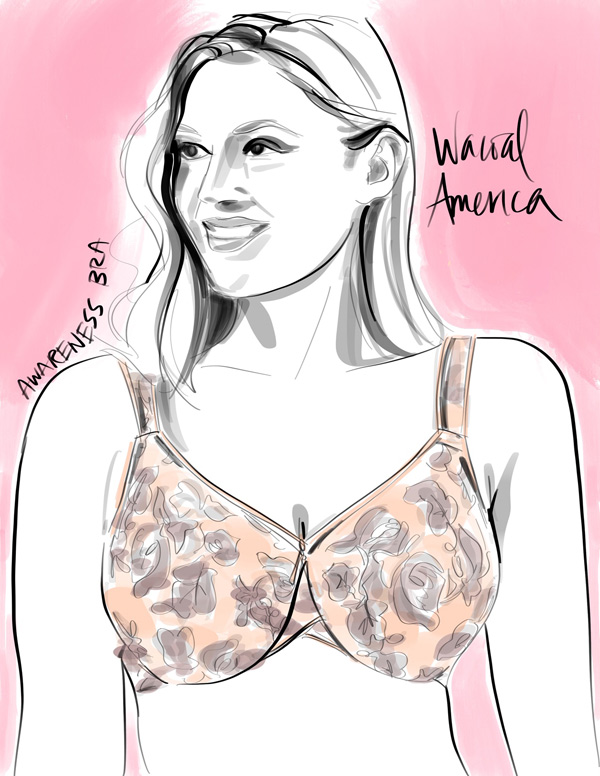 Last but not least our Lifetime Achievement award was presented to Robert Vitale, retiring CEO of Wacoal. The financial and moral support that Wacoal has given our club cannot be measured. Bob has carried the torch well and will be passing it on and we wish him much love and success in his new endeavors.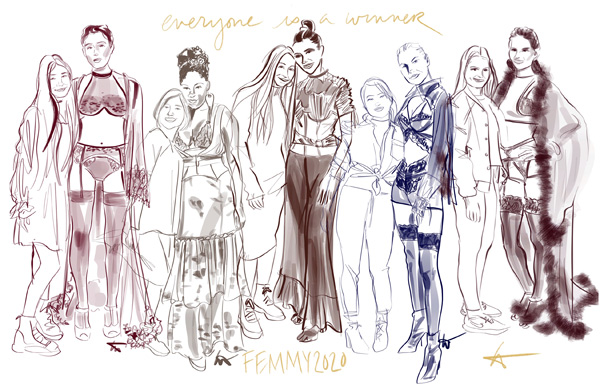 The highlight of the show is the announcement of the winners of our student design contest.  The six contestants are students majoring in intimate apparel from The Fashion Institute of Technology.  They did not disappoint, they carried the theme of the "future" to the finish line with modern looking, beautiful constructed and contemplative designs.  With inspiration that ranged from the Hong Kong uprising to hand printing with actual plants they impressed us and gave us hope for the future of this industry.  There were no losers only winners.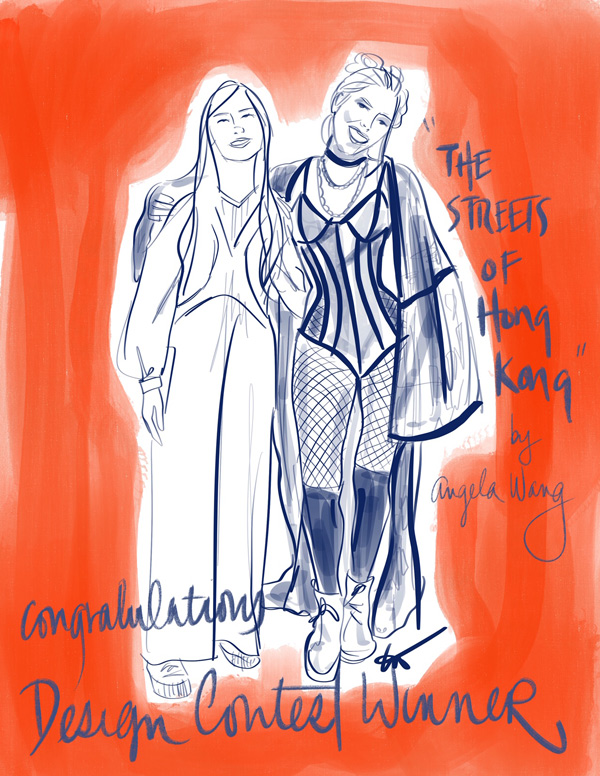 It was a fantastic evening, and we have already begun planning next year's event, stay tuned!
Thank you all for coming, Peace.
Tina Wilson