REBIL Group Debuts an Eco-Responsible Replacement for Plastic ~ OLEAGO
By ASI EFROS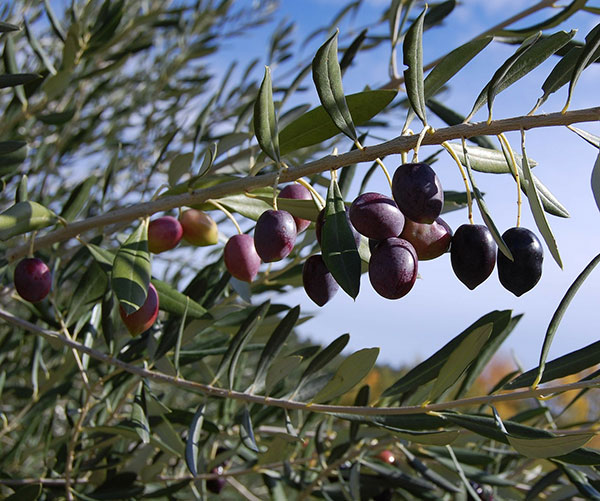 The treasure hunt is one of my favorite activities. But instead of deciphering ancient scripts in search of the submerged brigantines I roam the halls of the trade shows around the world looking for hidden gems. The Premiere Vision Expo in New York in January of 2020 presented some of the most exciting discoveries.
REBIL Group debuted a collection of packaging items they created using a groundbreaking material OLEAGO; derived from olive pits, it's an eco-responsible alternative to plastic.
The enthusiasm of the Senior Sales Manager of Turkey-based REBIL Group, Ugur Aycin, was contagious. He placed in front of me one exciting item after another while I was trying to grasp the entire scope of the invention.
Who would imagine just a few years ago that our favorite snack, since biblical times, would become a source of the Earth-saving material? For hundreds of years, olives have been used to extract olive oil leaving pits as land-filling waste.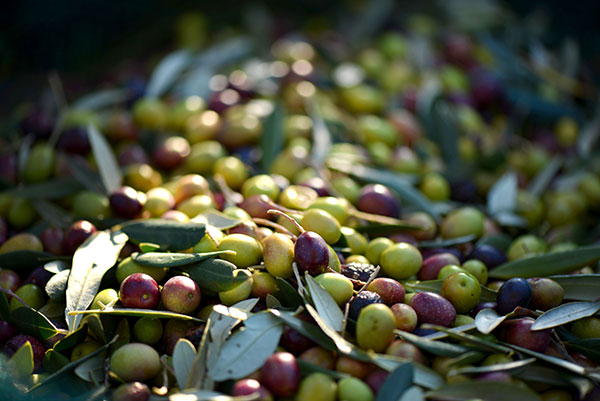 Olive-Based Polymer – The Discovery
Thanks to one Turkish woman and her love for her father, a new plastic-replacing bio-based material was born.
The story has it that Duygu Yilmaz, a Turkish scientist noticed that her father took to consuming the olive pits to stay healthy. That observation sparked Duygu's interest in olive pits and she began examining their composition. Upon extensive research on their properties, Duygu discovered striking similarities between the molecular structure of the olive pits and plastic. Her scientific study and collaboration with design/manufacturing lab REBIL led to introducing OLEAGO on the market.
Eco-benefits
The new oil-based polymer holds significant benefits to the environment. Bio-based raw material of Oleago is %100 biodegradable, compared to regular plastic that takes up to 1000 years to decompose.
Bioplastic also has a much smaller carbon footprint. Manufacturing of a pound of the olive-based polymer decreases carbon emissions by up to sixfold compared to the same amount of virgin plastic.
Oleago doesn't require the agricultural land reserved for its production as 100% of it is derived from agricultural waste. It's also 100% Vegan and non-toxic which makes it a human-friendly raw material.
The collaboration between scientists and manufacturers enables a multitude of eco-mindful opportunities and new products.
Applications for Intimates and Legwear Apparel
Let's take a second to imagine ways this smart bio-material can pave the path to eco-responsibility within the lingerie/legwear industry.
Hangtags – these are examples of the hangtags made in bio-based material for the Oleago collection. The bio-based tags are moldable, printable and have a feel and look of actual plastic.
To expand a stylistic diversity of the hang tags, materials like bio-based silicone and bio-based PVC can be added to Oleago.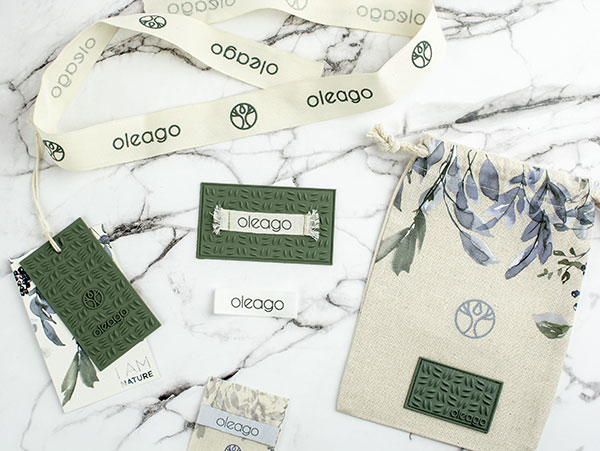 Hangers – the majority of hangers used by the lingerie industry are made of virgin plastic. Utilizing bio-based hangers will have an immensely positive effect on the environment.
Staying true to their commitment to eco-responsible manufacturing Rebil Group produces hangers by combining up to 40% of bio-material OLEAGO with recycled plastic while completely avoiding the use of virgin plastic.
Rebil Group has also developed lingerie hangers that consist entirely of bio-based polymer/recycled plastic that don't include any metal components.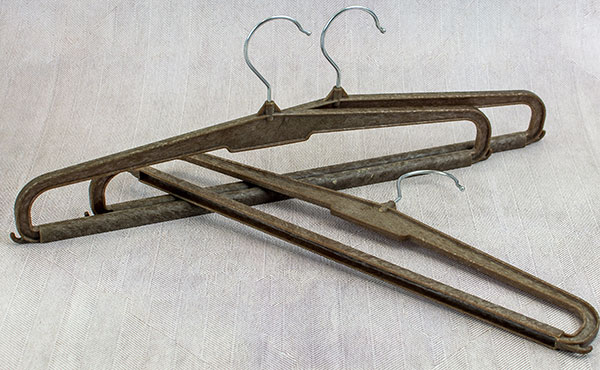 FACT:
It's estimated that 8 billion plastic and wire hangers are produced and sold every year. Only 15% are ever recycled and 85% end up in landfills where they remain for 40 generations while leaking harmful chemicals into the ground.
Packaging – as we know, the overwhelming majority of legwear and a good portion of lingerie and shapewear items are sold packaged. Often, to allow the consumers a glimpse of what's inside, the box and envelope are outfitted with the plastic windows. Small plastic hooks/hangers, clear stickers, and plastic bags are widely-used packaging components that can be replaced with bio-polymer to minimize or eliminate their eco-imprint.
Buttons, clasps, and zippers – lingerie accessories which traditionally are made of metal or virgin plastic now can get an eco makeover. Let's stretch our imagination even further. Can olive-based polymer be a new smart material to replace metal bra underwires or corsetry elements in lingerie?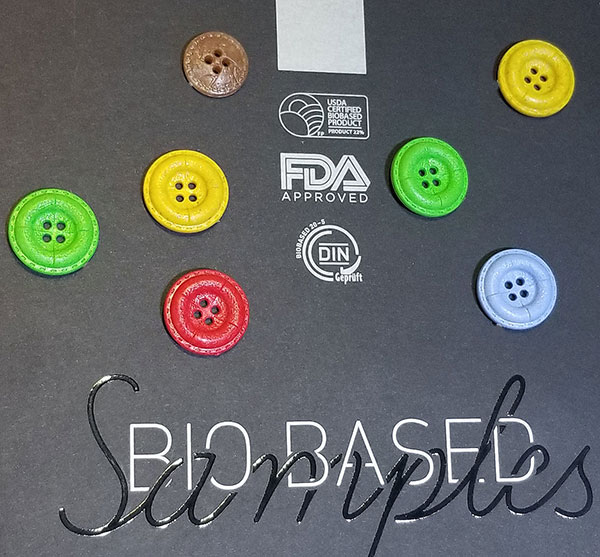 I believe that the journey of Oleago is just beginning. As more brands will take interest in this material, the multitude of new applications will vanguard the way to 100% plastic-free products.
"Everything you need is already inside you" is one of my favorite precepts. Although idealistic it often proves true. Occasionally, a posted question creates a leap of mind and launches the thought from the place of familiar to the world of discovery. Hidden gems like REBIL are great examples of making that transformation a reality.
I hope to see more eco-responsible products made of olive-based polymer in our future.
Until then…stay inspired.
Learn more about the REBIL Group.
Website: https://www.rebil.us/
Email: uguraycin@rebilgroup.com
Phone: +1(425) 375-4679