Annette International Launches Hemp/CBD Infused Collection
By ASI EFROS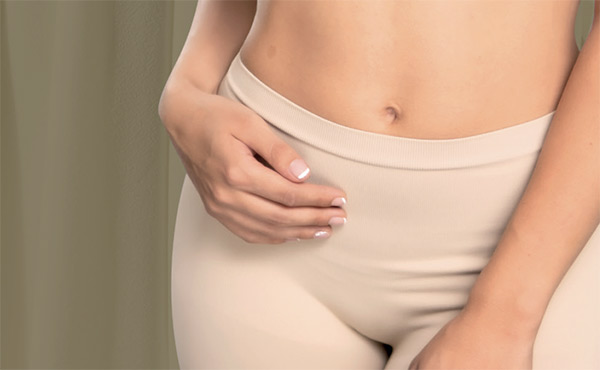 The energy that is uniting like-minded humans over miles of land and sea, in the pursuit of common goals, is palpable.
Sharon Singer's passionate story about the creation and evolution of Annette International grabbed my imagination and glued my ear to the phone. In an instant, the distance between California and New York City had disappeared.
"While developing our collections, we always give more to women in innovative fabrications, functionality, and design. We believe that women are increasingly conscious of their health. This is the reason why we create products that prioritize health over vanity", said Sharon.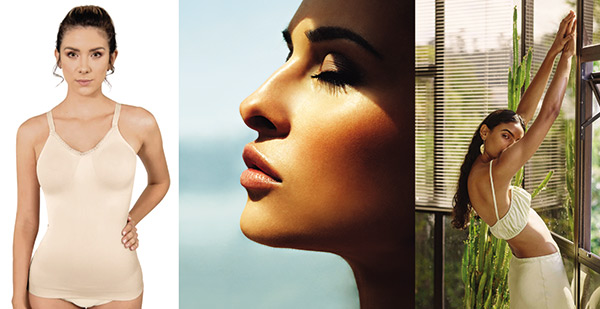 Wellbeing – Inspiration
Annette's Pima Cotton Cami Bra Top – S-513CAM
"My dad, Leopoldo Singer, founded Annette International in 1981 with the purpose of bringing functional undergarments to women in South America. He is a very intense person and a perfectionist. I believe that intensity is shown in our products. 
Products are mostly the reflection of their leaders," said Sharon, a managing director of the US division, Annette International, during our interview.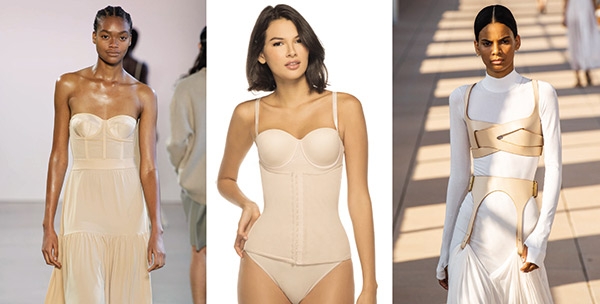 Bodyarmor – Inspiration. Images are courtesy of MintModa Trend Forecasting)
Annette Women's Extra Firm Control Waist Cincher – 17523PAN
With the constant vision for making companies and their products sustainable – Singer's family has sustained not only the development of eco-conscience garments but an ethical company too. Despite the political and economic turmoil that engulfed Colombia for years, Annette International strengthened and evolved. The company has been the vanguard of purposeful undergarments for women for almost 40 years.
Now family members are scattered across the world. "All of us, my brother, Elias (VP of Sales & Marketing, Colombia ) and my sister, Tammy (Head of Distribution in Madrid, Spain) work together. It wasn't easy in the beginning but we got a good flow through the years. My mom provides emotional support to all of us", smiled Sharon.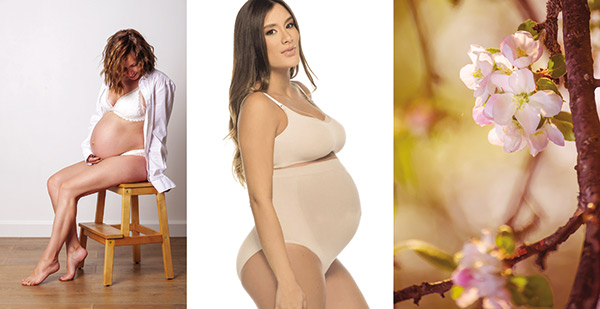 Motherhood – Inspiration
Annette Women's Soft and Seamless Full Coverage Pregnancy Panty – IM0013PT
Annette International, which now employs 250 people, is a business that expands family ethos to its workers. Personalized attention, ethical working conditions, and on-site medical care are rewarded with loyalty and high performance of its skillful workers. Using a low-waste seamless Santoni tec keeping in compliance with all environmental regulations exemplifies Annette International as a sustainable enterprise in its field. 
Mindful and solution-driven next-to-the-skin wear is a category that continues to energize the market place and prioritize the trends. Within this category, they listen and help. Wellness, leisure, shapewear, post-surgery, orthopedic, and maternity apparel groups are driven by innovation, inspired by purpose and answers to women's most intimate needs. 
"In the post-COVID-19 world, we envision a future where customers desire healthier and more sustainable body essentials. Our products can help many stores draw the attention of women," said Sharon.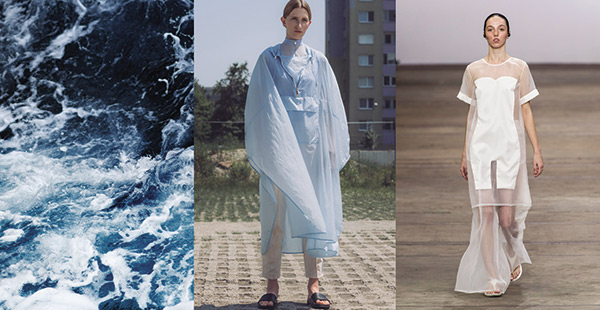 Protection – Inspiration. Images are courtesy of MintModa Trend Forecasting
Hemp/CBD infused undergarments are a next-to-your-skin layer that uplifts your emotions.
Annette has recently debuted their CBD infused intimate essentials – lingerie that literally makes you feel good.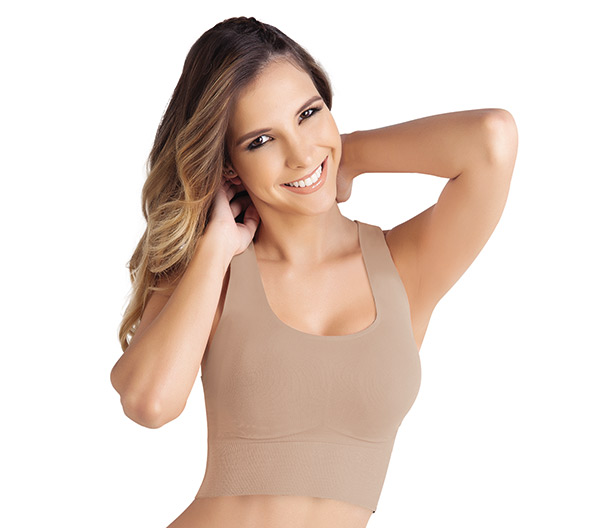 Annette Women's HEMP Infused Lounge Bra – WL0013TOP
The HEMP/CBD collection is comprised of a shaping short(WL0014BOX), lounge bra (WL0013TOP), and cami-tank top (WL0012CAM)  and is available in an inclusive size range of Small to 3XL in colors Nude and Black.
The launch is a result of years-long patient development in alliance with the chemical lab located in Belgium. The lab implements a patented process of microencapsulating an active compound that is derived from hemp flowers sourced in the US. The microcapsules are embedded into the fibers of the fabric through the intricate process at one of Annette's factories. When the garment is worn, microcapsules release their content which is absorbed through the skin with each movement of the body. Microcapsules last up to 35 wash/dry cycles.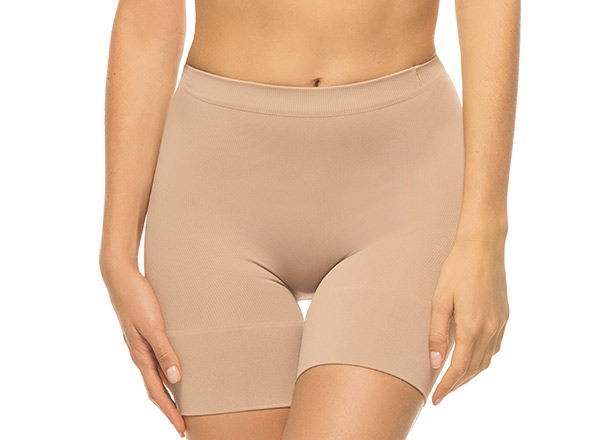 Annette Women's Hemp Infused Spandex Shorts – WL0014BOX
Clinical studies suggest that active compounds found in HEMP have the following properties:
Anti-inflammatory (reduces inflammation)

Antioxidant (prevent damage to cells)

Antibiotic (kills bacteria)

Antifungal (kills fungus)

Antioxolitic (anti-anxiety)

Antidepressant (improves mood)

Antispasmodic (reduces muscle spams)

Antiemetic (relaxes muscles)

Vasodilator (improves circulation)

Immunosuppressant (modulates the immune system)

Neural protectant (protects brain cells and neurons)
*These statements have not been evaluated by the Food and Drug Administration. These products are not intended to diagnose, treat, cure, or prevent any disease
Seamless Peruvian Pima Cotton essentials manifest the layer that mirrors your own skin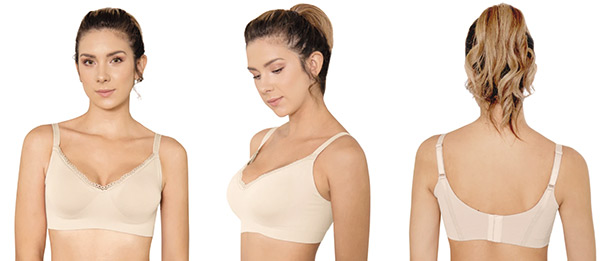 Annette's Pima Cotton 24/7 T-Shirt Bra – S-514BRA
The wellness collection, new to the market after the lockdown, welcomes you to experience the softness of the best in the world Peruvian Pima cotton. In addition, this range is sustainable and biodegradable, not to mention beautiful, functional, and serene.  
Garments are seamlessly knitted and masterfully constructed to include elements of comfort and ease. Adjustable straps, wireless molded cups, and a supportive back panel smoothes contours under your top, dress, or a sweater 24/7 and all year round. Breathable cotton lining maintains freshness in all seasons while offering natural softness. Pima cotton is hypoallergenic and it protects and soothes sensitive skin. 
Leisure collection creates a home for our bodies anywhere we go.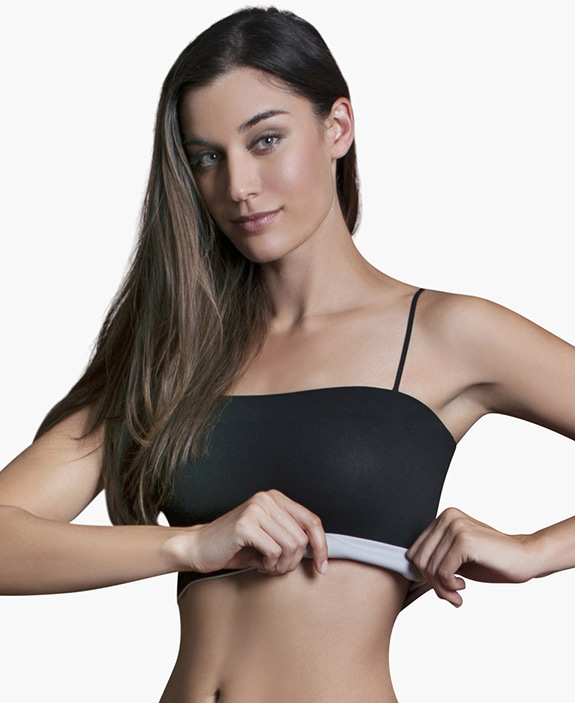 Reversible Bandeau with optional adjustable straps in both colorways – S-314TOP
Annette's Leisure Line is designed for women whose roles are infinite. This multifunctional loungewear consists of 3 cleverly designed reversible styles that create an abundance of two-color choices in one garment while reversing Black to Espresso. 
Breathable and sensationally soft polyamide-microfiber / spandex double layer fabric seamlessly molds to the curves for extra support.
There are styles available in the Leisure Collection in an inclusive double size range from S/M to XL/2XL.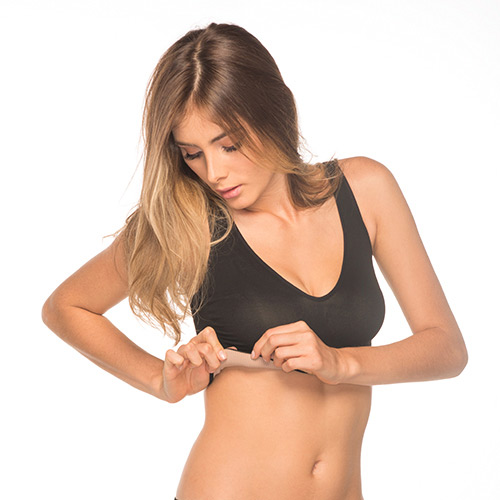 S-311BRA – Reversible Seamless Bralette with full coverage, wide straps, v-neckline front, and scoop-neck back.
325BRA – Annette Women's Reversible Racerback Bralette with added support for all-day comfort.
S-314TOP – Reversible Bandeau with optional adjustable straps in both colorways.
Post-surgical collection elevates your psyche and nourishes your confidence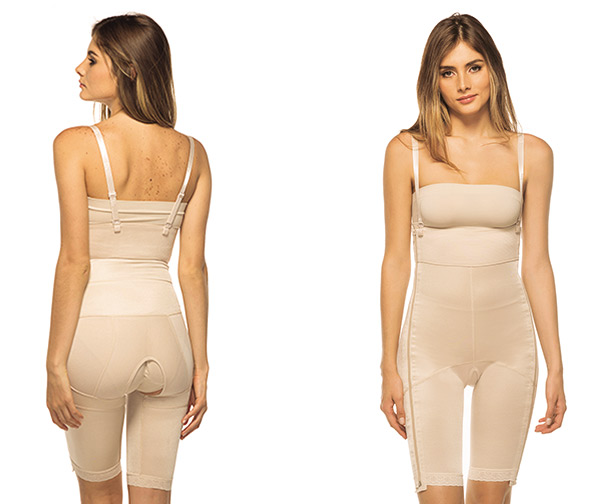 Annette Women's Above the Knee Two Side Zipper Girdle –17410PAN
The After-Surgery Collection encompasses supportive undergarments for all types of procedures utilizing seamless technology that eliminates indentations on your
skin. This Annette Tummy Tuck Shaper hugs your body following abdominal and lower back procedures. Lined with breathable cotton, it assures freshness with the blend of Nylon, Polyester, Cotton, and Spandex. The full-length side zipper makes it easy to take on and off. An open crotch adjusts to three torso lengths. Adding to the comfort and function are removable straps and built-in tummy shapers.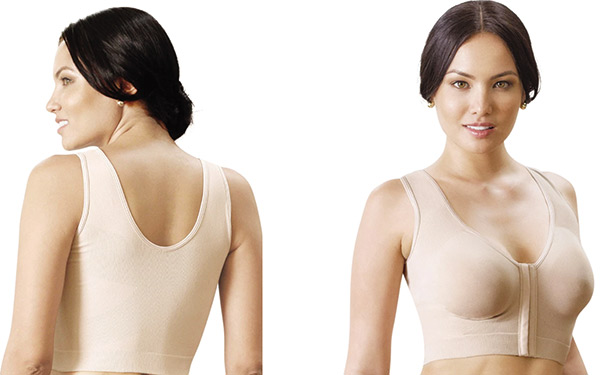 Annette's Post Surgical Front Close Longline Recovery-Sleep-Leisure Bra – WL0010BR
After-Surgery bras provide luxurious and helpful features like the fullest coverage, comfortable overall compression, wide straps, extra support on sides of the cups and under the bust, and multiple rows of adjustments. Bras gently contour to your body and can be used for low impact sport, sleep, or leisure. Easy-to-put-on front hook & eye closure is cotton backed for additional comfort. The Post-Surgical Collection offers a variety of mastectomy bras in cotton, polyamide microfiber-spandex in colors Nude and Black.
Maternal collection gently envelopes you and supports you when you need it the most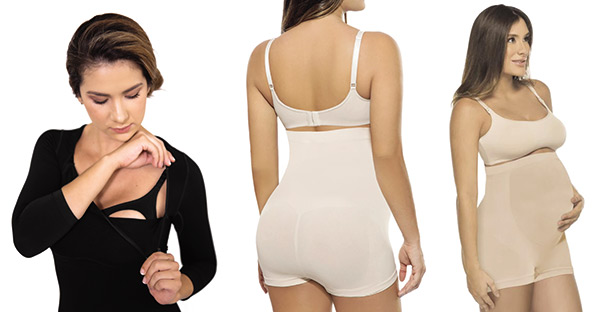 Long Sleeve Spandex Nursing Cami for New Mothers –

IM0023CAM




Annette Women's Soft and Seamless Full Coverage Pregnancy Boy Short –

IM0014BX
The Maternal Collection inspires a variety of bras, shorts, and camisoles that can be worn before or after giving birth. Soft to the touch, 89%Nylon /11%Spandex seamless knit expands as the tummy grows while providing much-needed support. Maternity bras are outfitted with clasps that open for breastfeeding. Among garments in this collection is a Short Sleeve Nursing Cami for Nursing Mothers – IM0022CAM that has a quick-access front panel clip closure which makes nursing on the go a breeze.
Carefully constructed after-birth garments are helpful, following a c-section, to support the lower abdomen, to heal, and to lose a few extra inches. 
Shapewear garments reassure your forms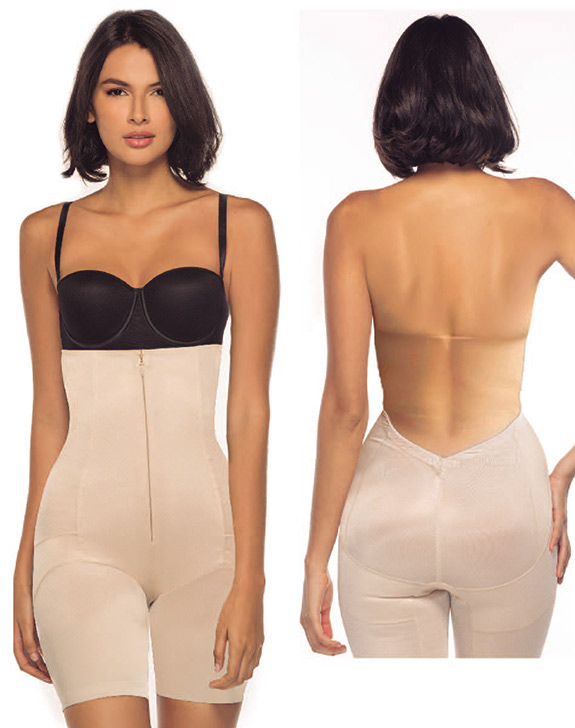 Full-Length Waist Shaper Backless Bodysuit – 11467PAN
This shaper is a marvel of shapewear garment engineering. The 3-way flexible stays and non-slip silicone top edge prevents it from rolling or slipping down. The invisible front zipper assists with the on-off process. The transparent power mesh back layer makes this bodysuit perfect under open-back garments. It can be paired with your favorite Annette bra. The shaper is made in Colombia in 82% Nylon /18% Spandex. This garment is available in the inclusive size range from XS (Sizes 0-2) all the way to 4XL (Sizes 14-16) and runs in Black and Nude.
Protective layers shield you from the world's austerity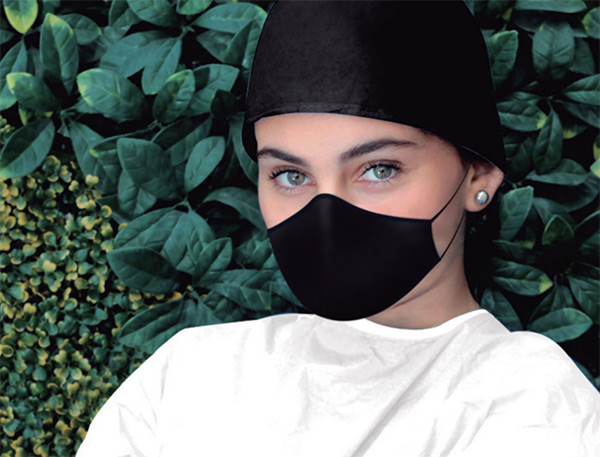 Face masks and clothing for women and men provide as much as 99% protection.
Three and four-layer face masks are reusable and washable with fluid efficiency for up to 20 washes. Non-woven materials inside are liquid repellent. The outside layers made of anti fluid treated fabric create a special shield that makes the garment fluid and moisture resistant thus reducing the contamination from liquids and bodily fluids.
In addition to face masks, the collection offers protective face scarfs, hoodies as well as gowns and overall uniforms.

I'd like to think of Annette's intimate pieces as friendly smiles and hugs that have materialized into apparel garments. They instill confidence and inspire emotion. In the post-COVID-19 world, a balance, as fragile as it may be, is hoped to be restored. Turning attention towards women and carefully guiding them through the delicate stages of their lives is a way of achieving that balance. 
Through its 40-year history, Annette International has enriched and inspired the environment of purposeful and wellness innerwear. 
"At Annette International, we strive to reverse the negative results encouraged by greed that markets addictions, over-consumption, and pharmaceuticals. It has resulted in an unhealthy lifestyle for people. We want to heal them from the inside out by developing healthier products", said Sharon.
I hope to see more exciting innovative collections in the company's future.
Until then…
Asi Efros
To learn more about Annette International visit: www.annetteonline.com
Contact: Sharon Singer
Managing Director Annette International, the US division
sharon@annetteinternational.com
+305.332.5587