Maygel Coronel Swimwear ~ One-Size For All
By ALISON CONNOLLY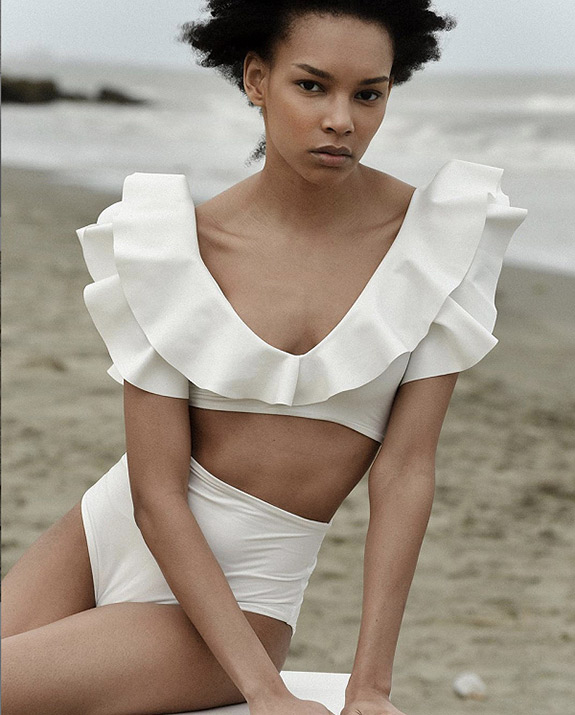 If it wasn't already obvious, I have a tendency to feature swimwear brands that are more fashion than function (as in, you're not going to enter any swimming competitions in the brands I feature), but that's not to say a brand cannot accomplish both. Colombian brand Maygel Coronel clearly captures the fashion element, but it's just as functional when it comes to fit, its ability to crossover from swim to ready-to-wear, and its undeniable ability to make a poolside statement.
Established in 2017 in Cartagena (Colombia), Maygel Coronel is a swimwear brand handmade by local artisans using sophisticated, ecofriendly materials. I emphasize the word sophisticated because all of the swimwear is one-size, and that can only successfully be accomplished using smart silhouettes and high quality fabric that has the ability to stretch without losing its form.
The combination of voluminous details, ruffle trims and solid-colors are what make this couture brand easily identifiable in a very crowded swimwear industry.  Another distinguishing feature of Maygel Coronel, if you look through brand's campaigns over the past few years, is the use of models that represents a refreshing array of skin tones, age groups and body shapes.
Given the One-Size option (I'm interpreting this as fitting S-M-L), I'd love to hear feedback from anyone who's worn the brand! Clearly the demand for Maygel Coronel within the luxury market speaks volumes about the fit, but I am intrigued.  Do share!