HERVÉ by Celine Marie ~ Mistress of Illusion
By ALISON CONNOLLY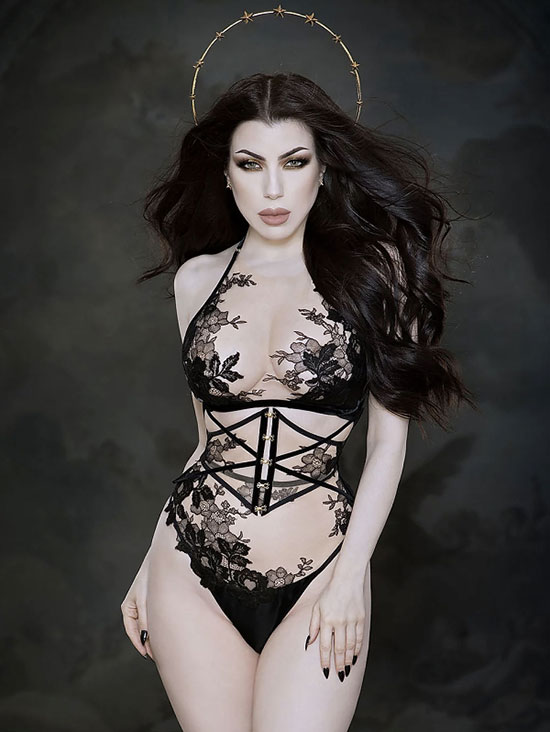 I'm always on the hunt for lingerie that's inspiring or unusual because it brings me great joy to share these findings with all of you!  Recently, I came upon this image of Threnody in Velvet wearing HERVÉ by Celine Marie and it immediately became one of my high priority discoveries to share.
This isn't the first time I've been quick to share the work of HERVÉ by Celine Marie.  In fact, I first featured the brand in our Gallery over a year ago.
Today's post focuses on the latest collection Symboiticy, which features mesh so sheer, you can't tell whether it's tattoo or lace.  Basically, all of the pieces are like a lingerie trompe l'oeil.
Not only are the designs stunning, they are locally handmade with an emphasis on sustainability.  HERVÉ uses 3d technology, laser cutting and traditional handcrafting techniques to create made-to-order collections with sustainably sourced textiles.  Designer Celine Marie hopes to redefine luxury as ethical awareness through her label, and also hopes to highlight inclusivity creating styles that cater to a variety of skin tones (there's a Find Your Nude section on her website helping you navigate which barely there color will best suit your skin).
The details of her work with the ultra-sheer illusion mesh and French Leavers lace are worth taking an extra look, which is why I shared quite a few detail shots in this post.
All of these styles are currently available for special order on the HERVÉ website, which you can shop from here: https://www.celine-marie.com/shop