Chanty Lace ~ Recycle, Rethink, Recreate
by ASI EFROS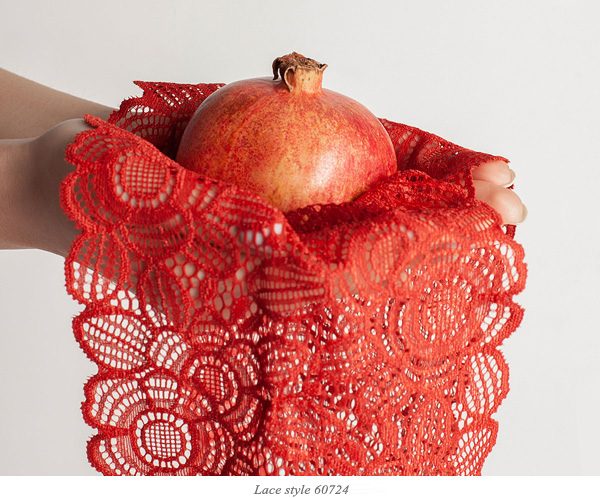 Following a trail of the virtual bread crumbs through the dark forest, I finally reached a magnificent garden of gently knitted transparent patterns, enchanting colors, and natural yarns. For me, a lingerie designer by trade, this is how discovering this incredible company felt like. 
Chanty is a creator of fine 2-way stretch jacquardtronic, and textronic laces based near Frankfurt am Main, Germany, and a place of origin to many wonderful ingenious and prolific conceptions. Chanty's goal, above all, is to anticipate demands and satisfy tastes of all women, stylish and romantic, active and elegant, minimalists and lovers of all lavish.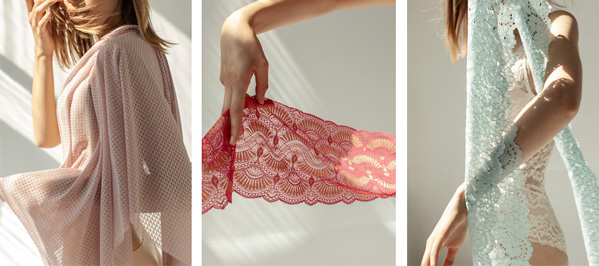 Lace styles from left to right: 61880, 64343, 61887
Chanty today is home to the state-of-the-art Raschel knitting machines manufactured by the well-known enterprise of technology, Karl Mayer. This utmost respect for machinery and love for hand-craft seamlessly unite at Chanty while braiding smart yarns into sheer fields of organically designed patterns. 
All Chanty's laces (originating from the name of the Chantilly lace) are tenderly crafted in their facility in Rödermark, Germany, since the founding of the company in 1957. This allows for incredible flexibility, complete transparency, and absolute control of all processes. Strict quality assurance is the best guarantee of excellent Chanty quality.
"A high-quality standard, for which "Made in Germany" stands for, combined with an honest regard for our nature and respect for our environment, is what Chanty has always incorporated and embodied. This has been and still is a prime value for more than 63 years of our company's history."  Zoya Rutskaya-Sebek, Sales Director, Chanty.
The philosophy of technical innovation and respect for traditional design is tightly woven into Chanty's DNA. No effort is spared in creating delicate and refined, but at the same time, the most technically advanced styles. Extravagantly soft and sensuous body-shaping laces go hand in hand with dainty and romantic flowers that gently envelope the female form.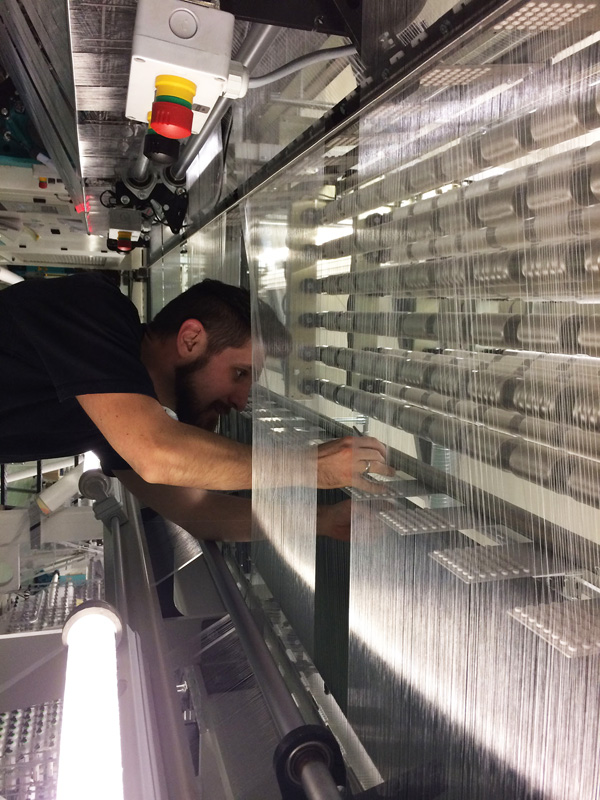 Jacquardtronic lace machine
These are the most recent leading-edge original additions:
Soft-back Lace

features an exceptionally high yarn count on the next-to-the-skin side of the lace assuring perfect comfort and softness.

Soft Edge

adds the subtle shape enhancement to bras and panties with the masterfully engineered built-in imitation of ribbon.

Shapewear Solutions

combine the gorgeous look of Leavers and robust support. The elastane content in these styles is extraordinarily high.

Lace 65091 (55% Polyamide 6.6, 45% Elastane)
All yarns used by Chanty fulfill the STANDARD 100 by OEKO-TEX®, which is the most established testing label for harmful substances worldwide. This label confirms the absolute safety of the fabric for the human body.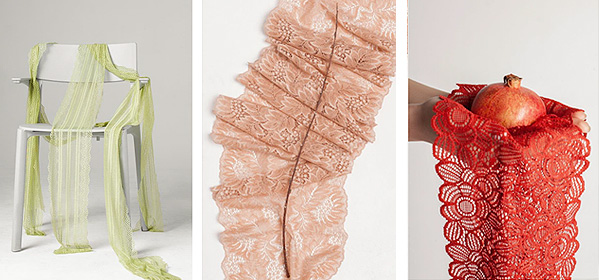 Lace styles from left to right: 65483, 64133, 60724
RECYCLE, RETHINK, RECREATE
While exquisite seasonal collections continue to inspire the senses, there is also a constant theme that is prevalent at Chanty. Keeping up with the ever-changing laws of a new reality, the dynamic team reimagines the familiar by creating exciting ways of engaging with their community of clients: traditional brands, "new generation" creative labels, and big-volume chains and groups. 
New this year, is a decision to offer stock laces to brands looking for small minimums. This is an invitation for all indie designers to explore Chanty's inventive laces in their future collections.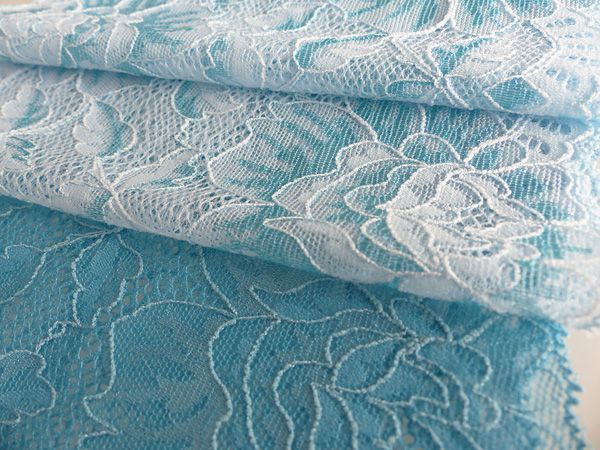 Stock laces, Summer 2021 collection
"At the beginning of each season, we develop new patterns and run about 1000 yards of various designs through our machines for customer sampling. These are newly produced laces of perfect quality that we would like to up-cycle. It's a fantastic opportunity for designers who are looking for small quantities to build their curated lines," said Zoya.
Chanty's revamped Instagram account renders full transparency to the portfolio of enticing styles at hand and explains what these expressive laces are and why the stock is impossible to avoid. The expanding demand for small-badge lace runs from the boutique brands creates a perfect habitat for this soulful initiative. 
THE UP-CYCLING INITIATIVE
Chanty's up-cycling strategy is not a trend but a stirring devotion to clean manufacturing and an eco-conscience way of life. There are 2 main ways in which Chanty up-cycles their laces while dramatically decreasing their water and energy use and finding a loving home for already created styles:
The

Mask Project

is a resourceful way of utilizing unique laces to craft awe-inspiring face masks by combining function, beauty, and comfort in one charming accessory. Find a selection of dazzling styles on

shopchantylace.com

and lose yourself in a gentle embrace of the sumptuous lace.

Delicate "filigree by the yard" awaits on

shopchantylace.com

where precious laces are sold to individuals, designers, and start-up brands. Every designer will discover the style that excites their imagination and nourishes their creative mind because the freedom of expression goes hand in hand with Chanty's tenet.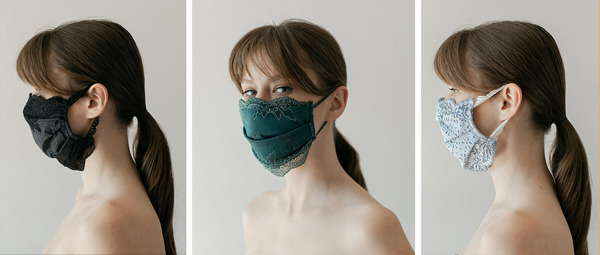 Chanty's Lace Face Masks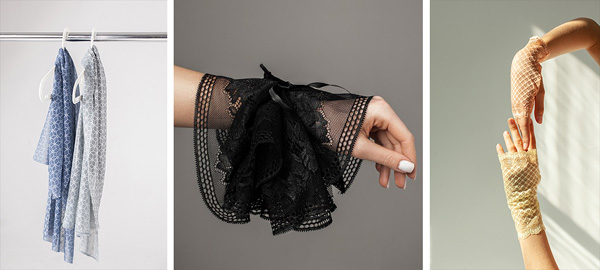 Chanty's Lace Accessories
Each customer, from a conceptual lingerie start-up to an established intimate apparel conglomerate, will be greeted with the same reverence by Chanty's attentive sales team. 
"We love to work with our clients and showcase a multitude of choices they can explore in yarn composition, designs, and levels of sustainability. There are different groups of lace collections", said Zoya. "Brands can choose between organic, recycled, natural, and classic laces."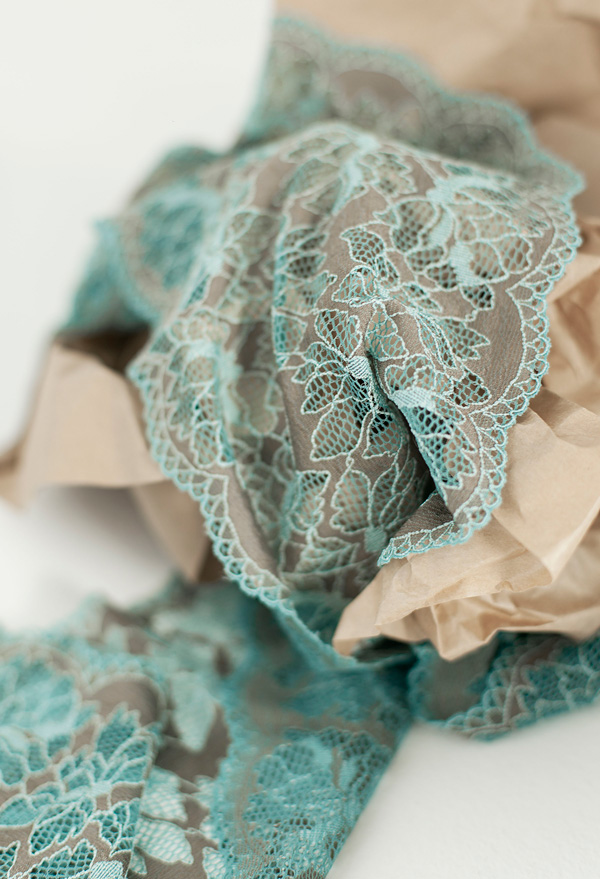 Lace style 64452. Content: 59% Polyamide 6.6, 25% Modal, 16% Elastane
RECYCLED RANGE:
Located in one of the most eco-friendly regions of Germany, Chanty ensures that production complies with the most demanding environmental norms. 
All laces in the recycled range contain high amounts of smart and eco-conscience yarns like ROICA™ (recycled stretch yarn developed by Asahi Kasei) and Q-NOVA (environmentally-sustainable recycled Polyamide 6.6 fiber).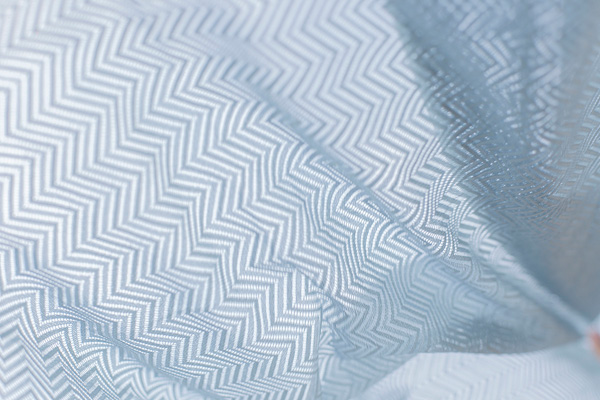 Lace style 61515. Content: 80% Recycled Polyamide 6.6, 20% Roica
NATURAL RANGE:
The Natural range is supple to the touch and is a promise of comfort and pleasure. Eastman's NAIA™, EcoCare® by Nilit, Dorlostan®, Modal®, TENCEL™ by Lenzing, Lurex®, and Green Cotton are abundant in the laces of that range and are engineered to occupy the maximum area next to the skin.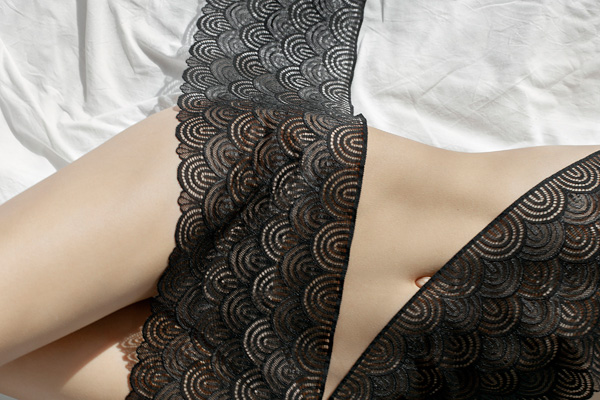 Lace style 64439. Content: 65% Polyamide 6.6,15% Organic Cotton, 25% Roica
At Chanty company there are 2 distinctly different and equally intriguing brands to choose from Chanty and Corvett Spitzen.
CHANTY LACE
Contemporary and stylish is the Chanty collection, which is comprised of vibrant colors, dynamic patterns, and daring designs. It's an extensive line that satisfies the immediate demand in modern noteworthy lingerie, sun-loving beachwear, and swim apparel categories. Activewear and performance attire also find their inspiration in this versatile range.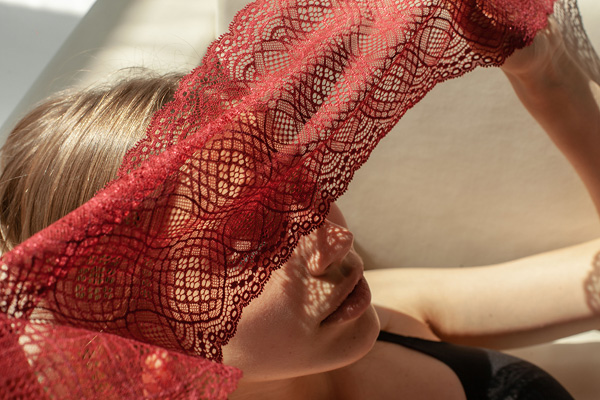 Lace style 61891. Content: 52% Polyamide 6.6, 29% Modal, 19% Roica
CORVETT SPRITZEN 
Corvett Spitzen is a wealth of sophistication and poise which supplies classic patterns for shapewear and bras with the larger bra cups. The collection is sustainably utilizing a high percentage of natural yarns like TENCEL™, modal, organic cotton, and recycled stretch yarn ROICA™. Motifs of timeless florals elevate the mood while an intricate yarn composition gives just the right balance of tension and ease.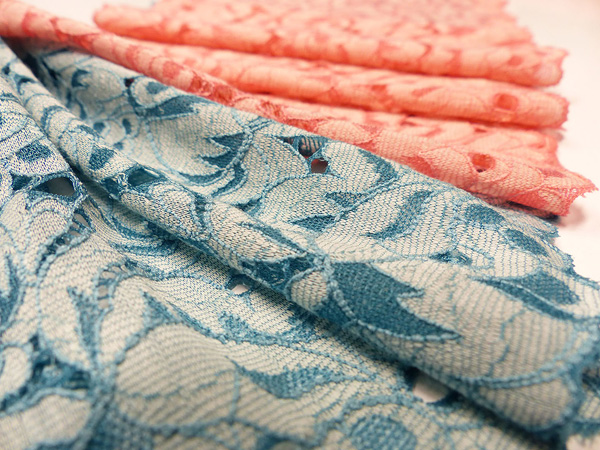 Lace style S7568. Content: 70% Polyamide 6.6, 30% Cotton
FALL/WINTER 2020/21 COLLECTION celebrates Home as a sanctuary of tranquility and wellbeing. 
GREEN HOUSE: 
The shades of green softly persuade to relax and let go. Sheer cotton layers of modern organic motifs play with the light on a sunny afternoon. This theme emphasizes our bond with nature more than ever before.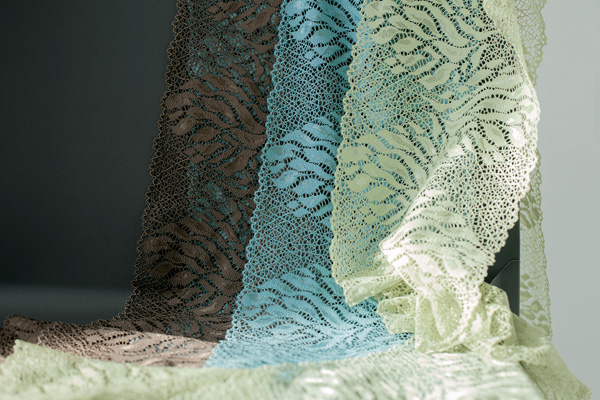 LOFT: 
Architectural lines and rich textures of that range mirror large loft spaces and are conducive to the active lifestyle. Strong graphic patterns radiate energy and stimulate action. The details are lively, clear, and expressive.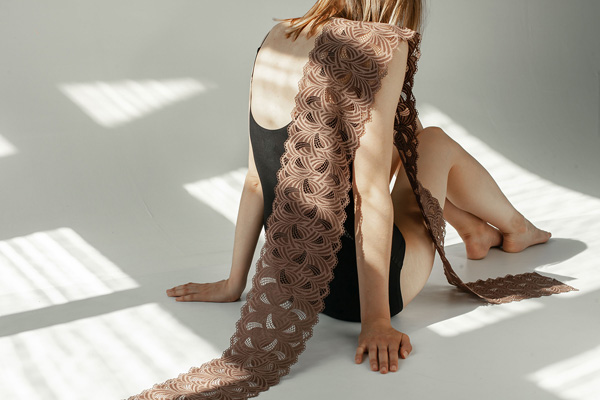 Lace style 64361. Content: 83% Polyamide 6.6, 13% Elastane
SUPERIOR SUITE:
The extravagance of the theme transcends to the place of longing and the era of opulent boudoir. A sophisticated palette of slate grey, praline pink, and blue velvet enhances the richness of patterns and the multidimensional feel of surfaces. Nostalgically ethereal flowers are an echo of an everlasting beauty.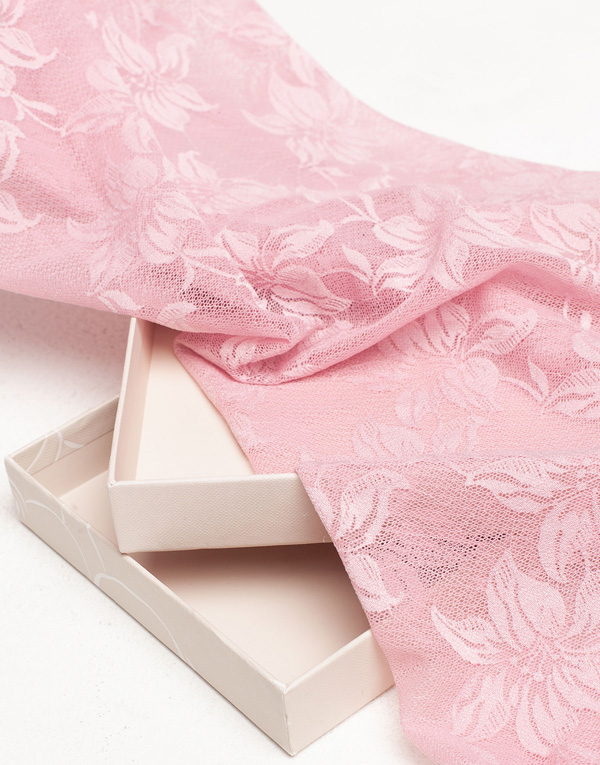 Lace style 50470 – 2 ways stretch all-over for body shaping and transparent tattoo effect. Content: 52% Polyamide 6.6, 47% Elastane
PRIVACY BY CORVETT SPITZEN:
Narratives of self-love and inner peace are organically interlaced in this fall vignette. A harmonious feeling of tranquility is projected by colors and designs carrying an aura of calm and balance.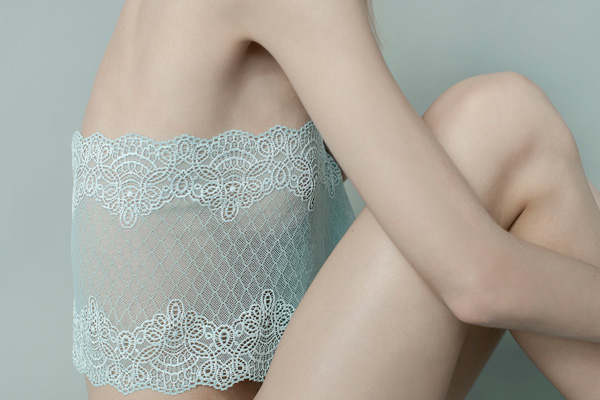 Lace style 66142. Content: 77% Polyamide 6.6, 7% Organic Cotton, 16% Recycled Elastane
So whether you are a designer of your own progressive lingerie label or a member of a well-established intimate apparel multi-brand group, Chanty is the right destination. 
As a creator, you will feel unlimited and empowered but, at the same time, carefully guided through the multiverse of choices. Entertain your eco-conscience side with the smart sustainable yarns. After all, the smart laces conceive the smart garments. Be tactile savvy by engaging with super-soft fibers for a soft-to-the-touch feel and a second-skin experience. Exercise your need for control of shape by varying levels of stretch. Lose yourself in the sensuous ocean of colors, patterns, and textures. If you can imagine it, you can create it…
Until then… Asi Efros
To learn more about Chanty visit: https://www.chantylace.com/
Contact: Zoya Rutskaya-Sebek
Sales Director, Chanty
e-mail: Zoya.Rutskaya-Sebek@chantylace.com
+49 6074 8684 17
Photographer: Anna Yarosh
Insta: @asanya_photo