VOTE-Power to the Polls
By TINA WILSON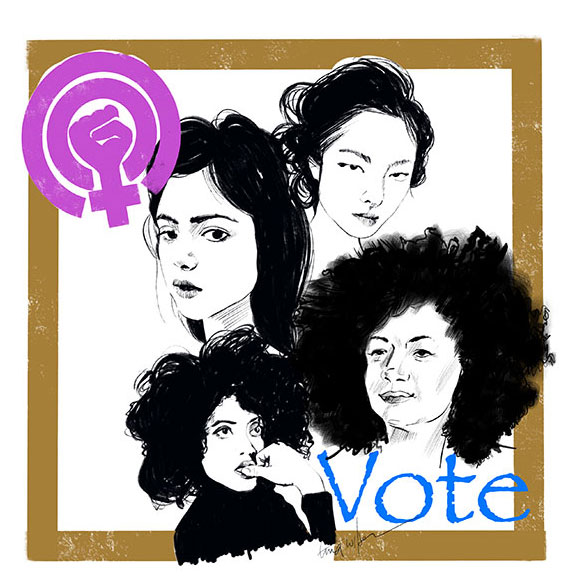 Long lines, voter suppression, voter aggression and intimidation, it's enough to make you want to stay home…Do not be deterred. Democracy needs you.  Women can be the voice that brings us out of the abyss. Women have so much to lose so we must show up.
Which brings us to what to wear, when voting?
It never mattered before. It does now.  A women's guide to dressing for the vote is in order.
VOTER WARDROBE KIT
leak proof/resistant panties
wireless excessively comfortable support bra
comfy leggings
loose top
socks made for long waits in lines
antibacterial PPE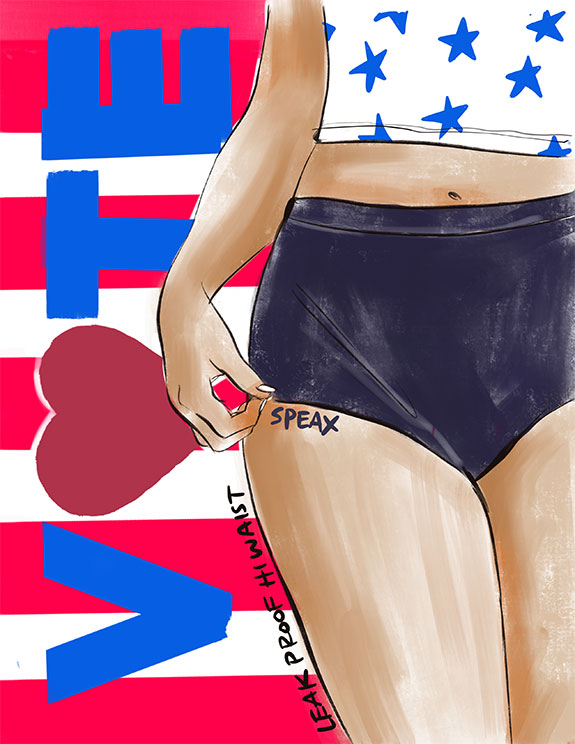 Never have leak resistant panties been more necessary than in our pandemic age.  We can't dash into a restaurant or store to go the bathroom like we used to and waiting in a 6 hour line to vote is sure to invite disaster. There are a few great go to brands such as proof., Speax, and Thinx that offer different degrees of absorption…and there's always Depends, and don't pretend they haven't crossed your mind.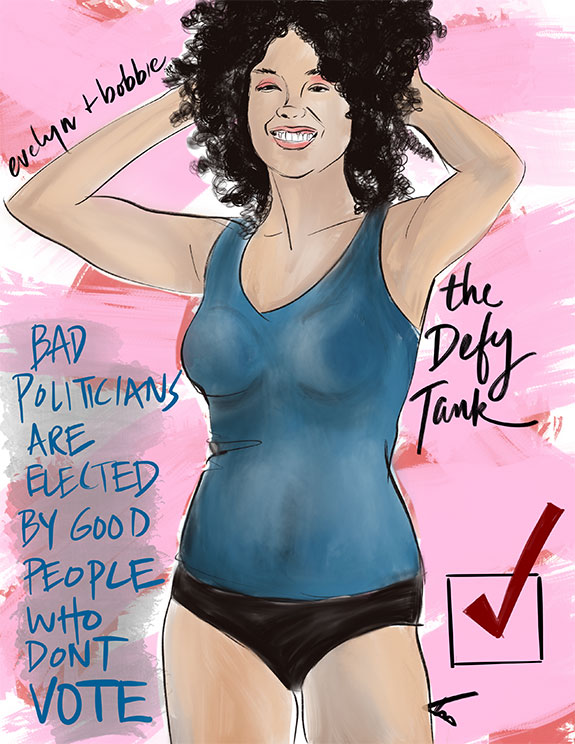 A comfortable bra or a bra stand-in is a good investment any time.  Evelyn & Bobbie's Defy Collection is perfect. Choose the seamless tank or bra and you choose "unexpected lift, all day comfort and no pain"…it's going be painful enough standing for hours.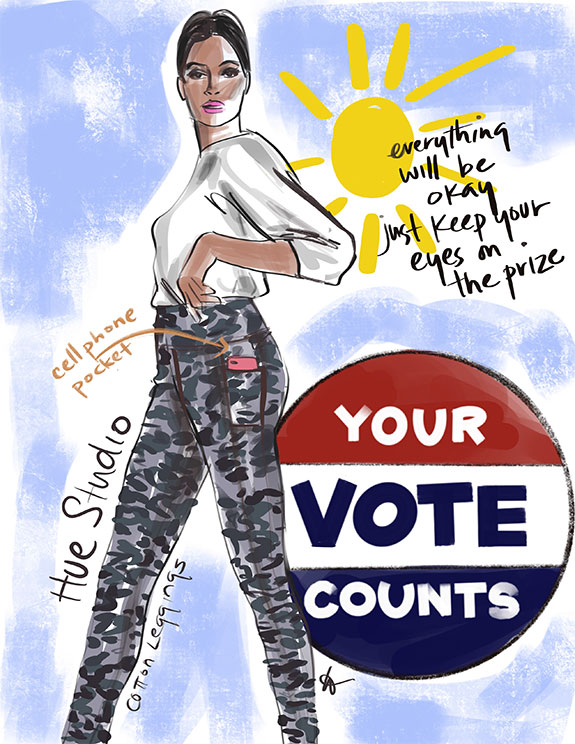 Leggings have gained much respect over the years, remember decades ago when people made fun of them? No more. A good voting line legging has pockets, stretch recovery and is never too tight. HUE Studio has a cotton cell phone pocket legging in a less traditional colored camouflage print that sends the message that you are prepared to defy intimidation.  Camouflage says you are ready if necessary to defend your right to vote.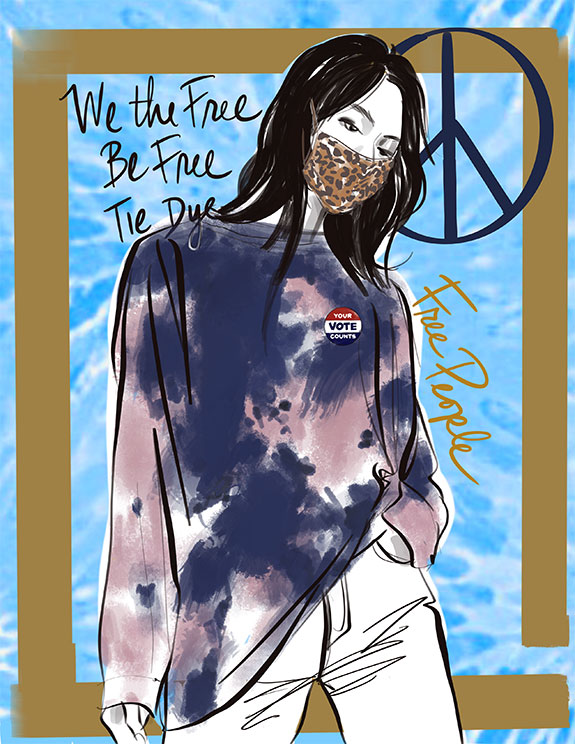 I chose the We The Free, Be Free Tie Dye knit top from Free People because nothing says love and peace like tie dye. I believe it's resurgence and its longevity is a sign that we are all exhausted by the loud voices of hate, enflamed over the last few years. Mixing camouflage and tie dye says "I come in peace"…but do not mistake kindness for weakness.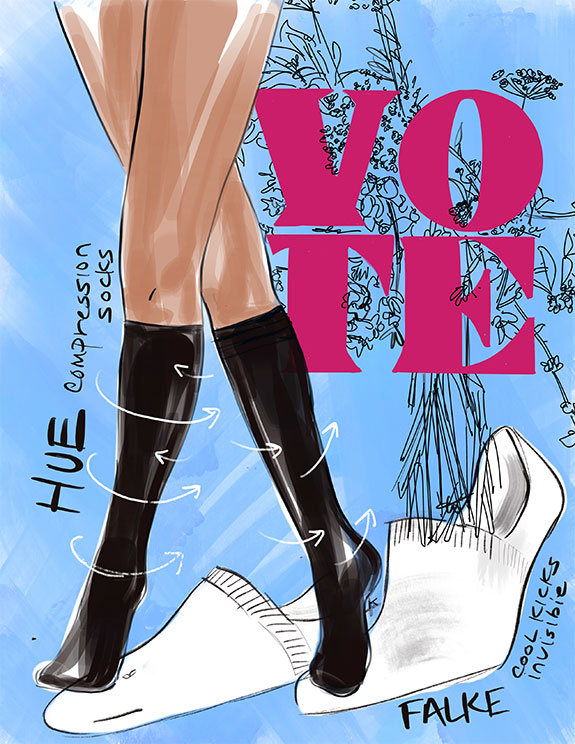 What you wear on your feet may be the most important decision you make before you leave the house. Compression socks are definitely a wise move, depending on the level of compression they can boost circulation, support veins, and  diminish swelling. There are great brands out there, one of them being HUE, they have a nice range of Compression and Cushioned socks that are Made in the USA, another reason to wear them when voting. If you really want to splurge perhaps Falke's Cool Kick Invisibles are in order for their plush sole, and sweat wicking properties. Take care of your feet, they will appreciate it.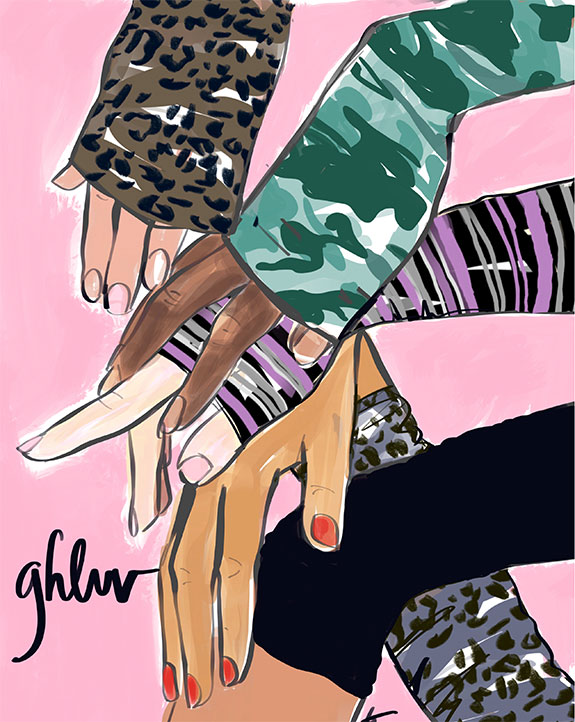 Last but never again to be least… is personal protective equipment. The choices are endless, masks are everywhere, it's hard to choose. Ghluv makes knitted breathable masks and hand protectors in the USA. They are patterned and solid in easy to wear animal prints, stripes and camouflage but most of all they have built in antimicrobial properties.
Not going to preach anymore about voting, we all know what we have to do. Whatever side you are on, I believe a resounding victory and a stunning defeat is the best outcome we can ask for and a massive turnout is the way to achieve that.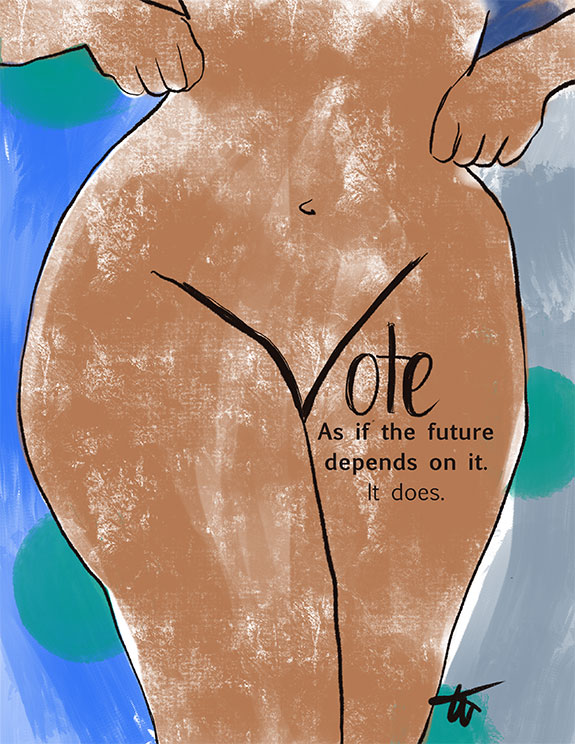 Let's arm ourselves in comfort, protection and patience and Do The Right Thing. VOTE like the future depends on it, it does.
Peace, Love and Tie Dye