LEGOPLAST – Packaging For a Green Future
By ASI EFROS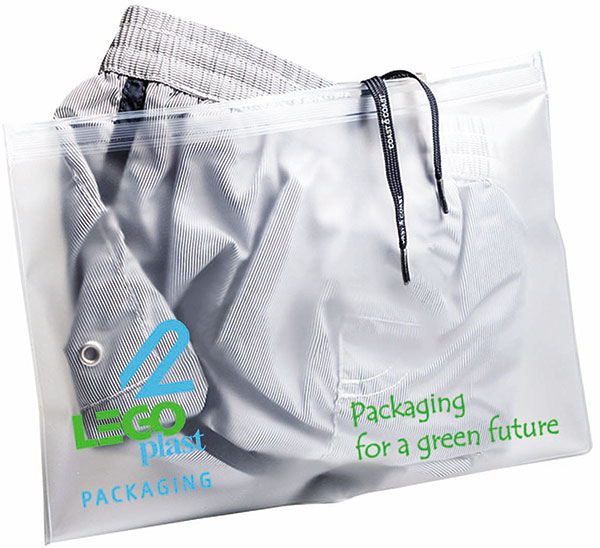 The resounding success of the Italian packaging company Legoplast hasn't come as a surprise. In the demanding global market, it takes a very special team of dedicated professionals, unmatched creativity, cutting-edge technology, and the latest trends in material science to thrive. 
"Customers around the world trust our packaging with the delicate task of protecting and promoting their products," said Federica Mazzon, Sales Executive, Legoplast, during our virtual meeting.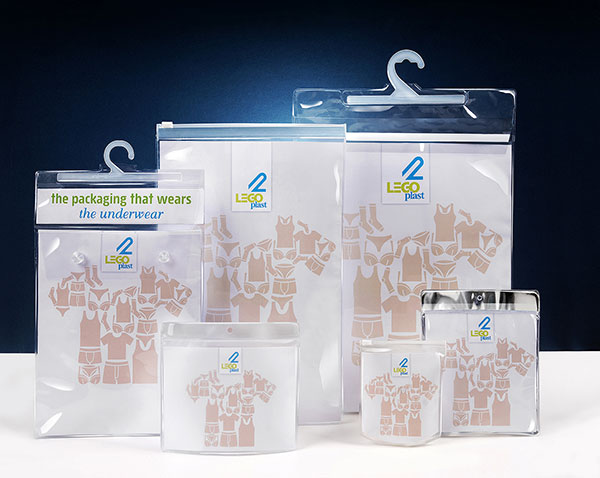 A multiverse of shapes, finishes, and closure techniques are just a few of the elements that the company offers to its customers. From transparent films in slick shapes to complex combinations of forms, materials, and textures, Legoplast is all you need to find the most unique and stylish way to package your products. If a special custom packaging solution is paramount, the company's creative team will masterfully implement it from the initial concept to the finished product.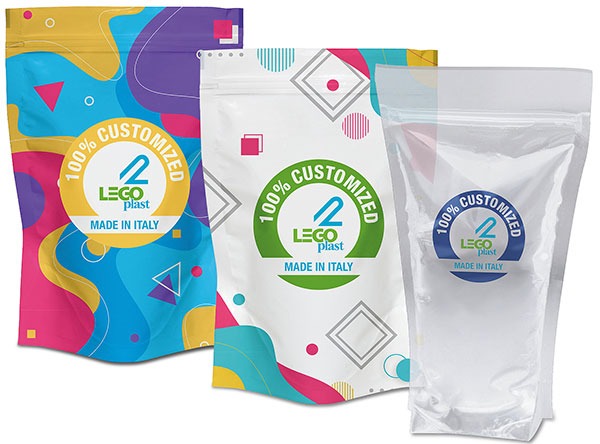 INTIMATE APPAREL AND LEGWEAR
Trendy intimate apparel and legwear brands loyally entrust Legoplast to display and protect their dainty creations. The unique clarity and transparency of the polymer materials spotlight the precious contents while highlighting their delicate esthetic. A subtle play on surface textures, comprised of rhythmic patterns of clear and matte areas, adds sophistication. Clever closures, like zip locks, double-sided adhesive strips, snaps, and buttons, assure the longevity of the product while the convenient hooks elevate versatility in display options.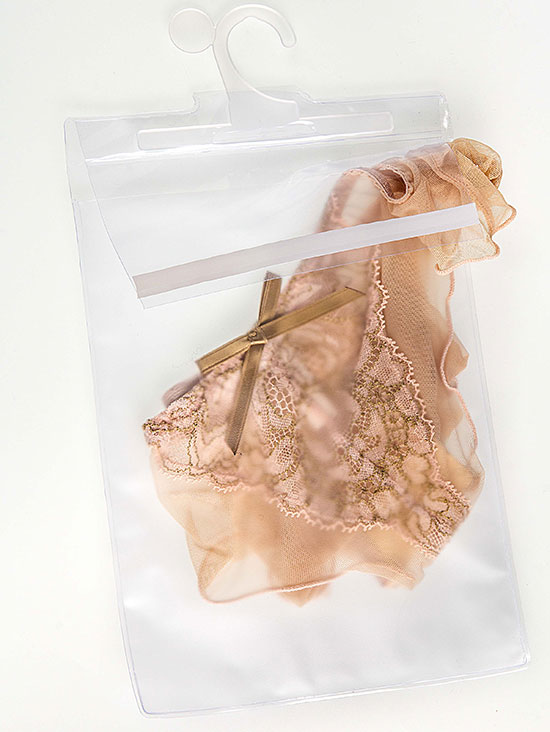 Legoplast – lingerie packaging with the adhesive strip and customized hook
SWIMWEAR AND ACTIVEWEAR
The water repellent qualities of plastic and re-closable construction propel swimwear and activewear packaging into the category of essential beach accessories during their post-store life. Smart plastic envelopes and pouches, not only help to separate wet clothing from dry, but also become all-purpose vessels for cosmetics, sunblock, sunglasses, and gym or pool must-haves.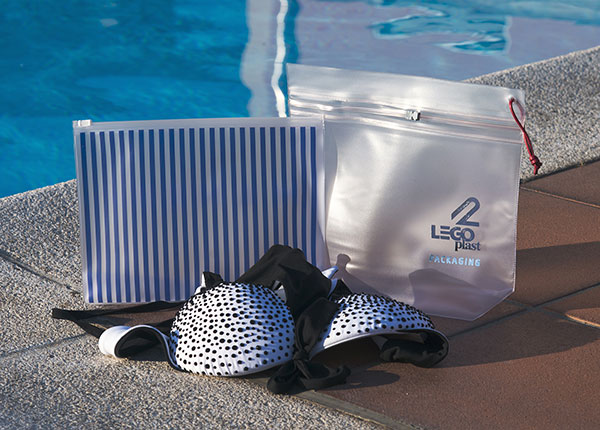 Legoplast – zip-lock swimwear packaging, printed using non-solvent UV-LED inks, matte finish
SLEEPWEAR AND LOUNGEWEAR
Smart plastics of brilliant clarity paint a complete picture of the enclosed garments providing full visibility to all of the highly anticipated details like belts, pockets, bindings, elastics, and other lovely aspects of the comfy attire. Outfitted with handy hooks and handles, the sleepwear and loungewear packages double as convenient storage solutions for seasonal wardrobe items and during travel. Strategically-placed buttons, grip seals, zip-locks, and sliders provide multiple levels of protection for the enclosed garments while making these packages so much fun to open and close.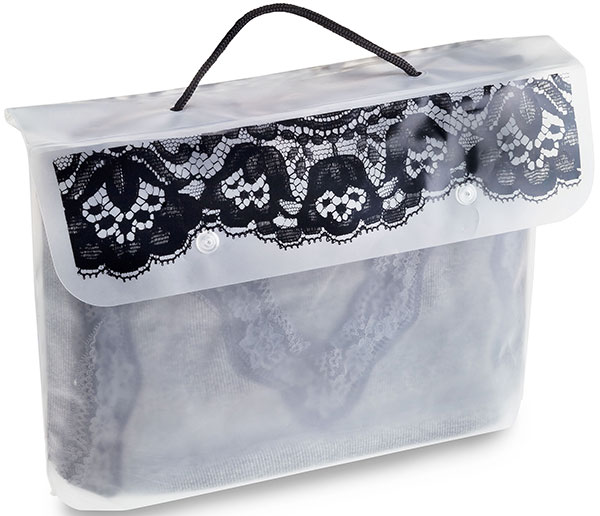 Legoplast – sleepwear packaging with handle and snaps, printed using non-solvent UV-LED inks
GO-GREEN CAMPAIGN
Company's ECO-conscious campaign underlines all of the practices at Legoplast, from choosing the packaging components and special inks to optimizing all of the technological processes. 
A company-wide initiative assures that energy has been used from renewable resources for the last 20 years.
Strategically installed automated system, which regulates the consumption of energy, reduced its usage by 20%. 

Legoplast's industrial waste is utilized by other industries for the production of garden furniture and other products. 

Only non-solvent UV-LED inks are applied to all packaging.

The company only uses LED lighting.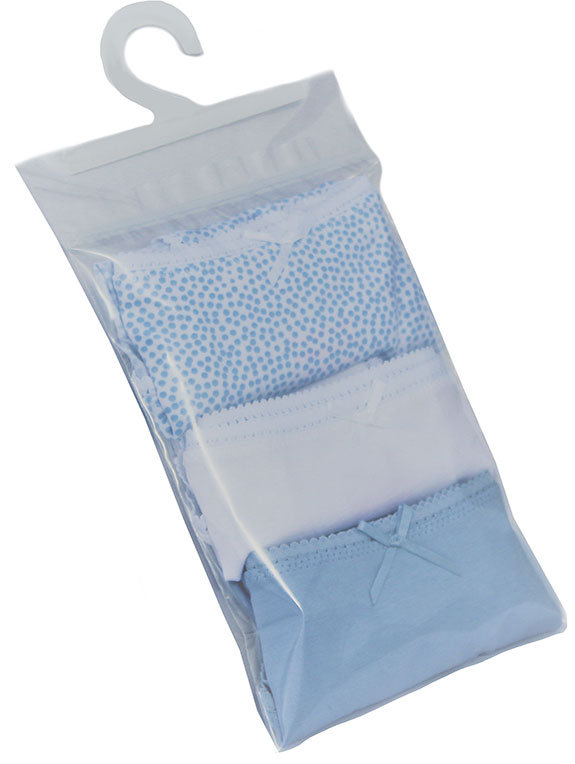 Legoplast – lingerie packaging with zip-lock and hook
Located near Milan, Legoplast is in a unique position to expedite its innovative products to all European countries as well as North/South America, Russia, and Asia. Their own state-of-the-art manufacturing facility and innovative design lab are located in charming Romentino which allows for incredible flexibility and immediate customization. A collaborative process between brands and the Legoplast team consistently leads to the successful integration of their exciting materials into a variety of packaging designs.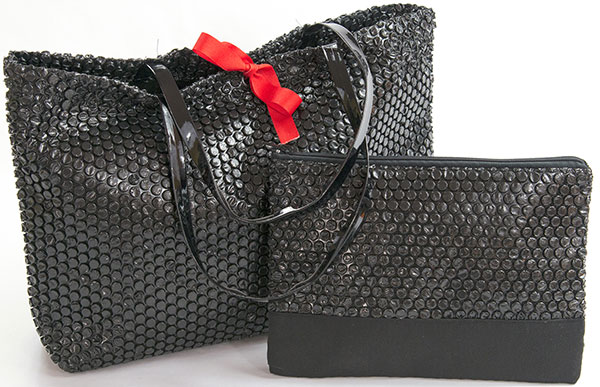 Legoplast – combination bubble-wrap packaging with zip-lock, handles, and bow closure
Continuing its 60-year legacy, the company is keeping ahead of the growing demand for sustainable products. At Legoplast, brands can find the latest innovations like bioplastics as well as degradable, recycled, and compostable materials.
DEGRADABLE PP AND PE
Degradable PP-ECO (Polypropylene) and PE-ECO (Polyethylene) are produced with an organic compound that attracts microorganisms exclusively in active microbial environments but allows for safe storage in warehouses, offices, and shops. Microbes colonize on the plastic and secrete acids that break down the polymer chain by using the carbon backbone of the polymer as an energy source. As a consequence, when disposed of, the eco plastics degrade with an accelerated speed compared to regular plastic. 
The PP-ECO and PE-ECO are completely recyclable and showcase the same durability and performance as regular polypropylene and polyethylene. These smart materials are under tests and certification is expected shortly. An overwhelming majority of Legoplast customers opt for these environmentally safe plastic alternatives.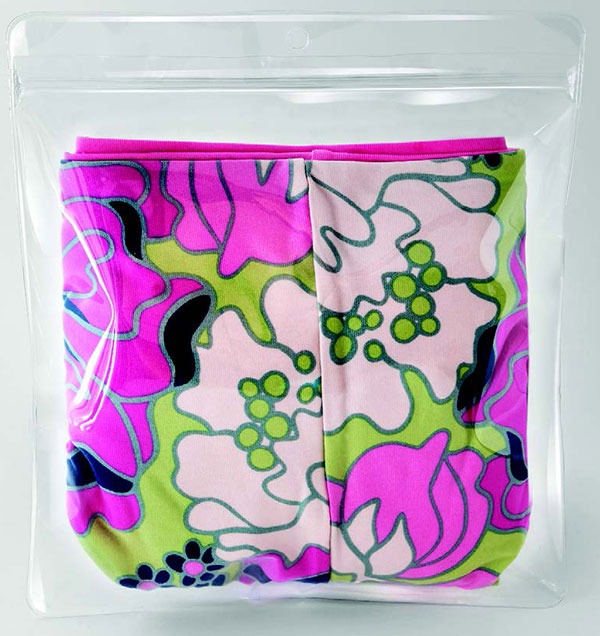 Legoplast – packaging made of degradable PP-ECO
RECYCLED PE
Legoplast uses recycled polyethylene produced from industrial waste. This progressive method amounts to substantial energy savings and keeps already produced plastics away from landfills. Recycled PE is durable, it performs just like virgin plastic, and is completely recyclable. The only downside to using recycled PE is its non-homogeneous quality.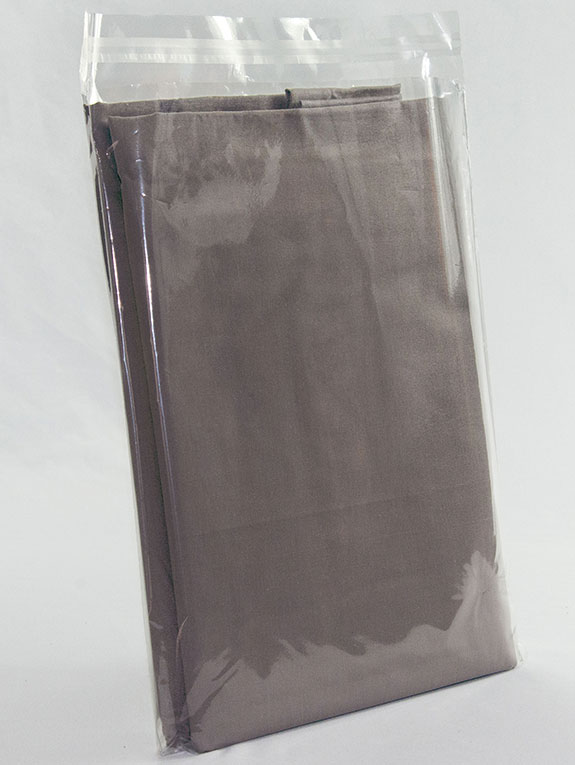 Legoplast – packaging made of 100% recycled PE
BIOPLASTICS
Bioplastic packaging, created at Legoplast, is produced using renewable plant-based raw materials and is famous for its small carbon footprint and low environmental impact. The biobased polyethylene is obtained from the third pressing of the sugar cane. During the production of biobased polyethylene, the CO2 emission is nominal. On the contrary, while being cultivated, the plant absorbs carbon dioxide. Moreover, the sugar cane doesn't contribute to deforestation because it is grown in plantations and far away from forests. Historically, in those areas, the workers have been protected from labor exploitation.
The bio-polyethylene exhibits stellar performance in both high and low temperatures and stores well in warehouses. The material is durable and 100% recyclable.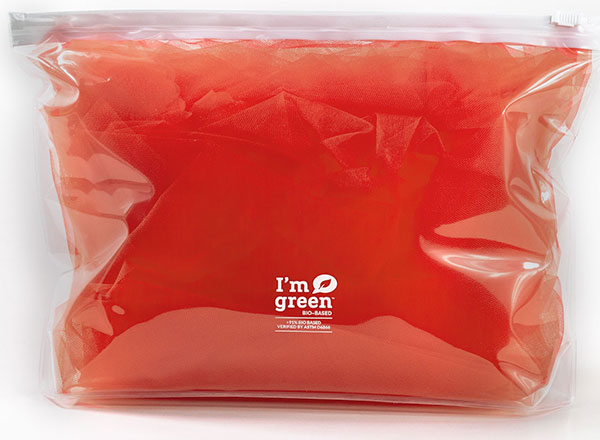 Legoplast – packaging made with 91% bio-based polymer 
COMPOSTABLE PLASTICS
Legoplast offers a variety of smart compostable materials that completely degrade in an industrial composting plant within a few weeks. These materials are made mostly from vegetable sources. The material structure of the compostable plastics is designed in such a way that the products only fully biodegrade in the compost after use.
The compostable materials are resistant to mechanical stress and moisture. Packaging made with compostable plastic is just as high-performing and strong as products made of conventional plastics. 
Legoplast – packaging made of compostable material derived from corn starch
If your products are in urgent need of a modern makeover or you are working on your brand-new creation, head to Legoplast. It is there that awe-inspiring ingenuity, the latest sustainable materials, artistic thinking, and a tad of whimsy, are magically combined to envelope your products in love and care. The exciting array of packaging choices is already impressive, but the best wonders are yet to come… 
Until then…Asi Efros
To learn more about LEGOPLAST visit: https://www.legoplast.com/
Contact: Federica Mazzon
Sales Executive, LEGOPLAST
E-mail: packaging@legoplast.it
+39 0321 868001